Burchfield's Journals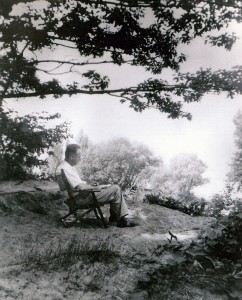 Thoughts for a Rainy Day: An Excerpt from the Journals of Charles Burchfield
Cleveland, Ohio
October 26, 1914
"...Rain ceases at noon and afternoon is cold and windy with white-rifted cloud-rolls tearings out the Northern Lake. I could not concentrate my mind on my work. Once or twice I went outdoors and swelled with the cold buoyancy of the day. Leaves shooting streak-like thu the air! Leaf-cyclones capering in whirling course over the emerald grass! Half-nake trees wind riddled! Towards close of school while looking out of window I was delighted to note on how the shot like wind streaked over the flattened grass, the gloss spots of the rippling blades appearing like finely sifting snow! At 3:30 thru Park (1) to room. A sleet show wind whistled. Thence to Library (2) afoot. I walk head high & chest out exultant in the wind."
Footnotes
1) A public park in the eastern part of Cleveland, bounded by Euclid Avenue, East Boulevard, and 105th Street, in which the Cleveland Museum of Art, the Natural Science Museum, and other cultural institutions are located.
2) Probably that of Cleveland Museum of Art in Wade Park, rather than the Cleveland Public Library, three and a half miles away.
Filed under:
Tags: charles burchfield, heat waves in a swamp