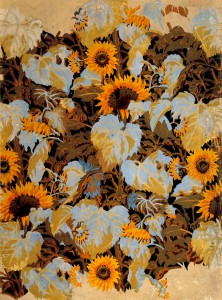 Sunflowers (design for M. H. Birge & Sons Company wallpaper), 1921. Watercolor and graphite on paper mounted on board, 27 1/2 x 20 in. Burchfield Penney Art Center. Gift of Charles E. Burchfield Foundation, 1975.
Climbing the Walls
From 1921 to 1929 Burchfield worked as a designer at the M. H. Birge & Sons wallpaper factory in Buffalo, New York. While he viewed the wallpapers he created there as independent from the art he produced during this time (he once referred to the wallpaper as "hack" work), their designs were, like his art, all based in nature, and they reflected the art-historical influences that had excited and informed him as a student at the Cleveland School of Art, which he attended from 1912 to 1916. Diverse influences such as the Japanese woodcut prints of Katsushika Hokusai and Ando Hiroshige, Chinese scroll paintings, and the decorative illustrations of Arthur Rackham are all visible in his design work from this time.
Burchfield left M. H. Birge & Sons in August 1929. He had been successively promoted within the design department but ultimately found the job of chief designer debilitating in its responsibilities. With the pressures of work and the demands of a growing family, he had created relatively few paintings during his eight years at the company. With the support of his wife, Bertha, and the opportunity to exhibit his paintings with the Frank K. M. Rehn Galleries in New York, Burchfield, on the eve of the Great Depression, made the gamble to leave his job and paint full time.
(From Heat Waves in a Swamp or ... "the healthy glamour of everyday life" by Robert Gober, as assisted by Becky Kinder in the exhibition catalogue. Published in 2009 by the Hammer Museum and DelMonico Books, an imprint of Prestel Publishing.)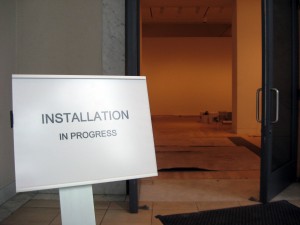 In the third room of the Burchfield exhibition a re-print of one of Burchfield's wallpaper designs covers the walls. Paintings from this period of his life are hung here.