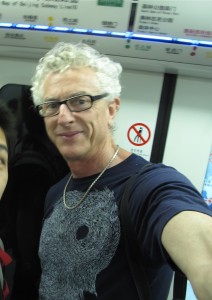 With a prestigious grant from the Asian Cultural Council, Hammer adjunct curator James Elaine moved to China in April 2008 to seek out emerging artists within China and throughout Asia. This blog provides a fascinating insight into Jamie's travels and the art world in China.
Guangzhou Photo Biennial
Guangdong Province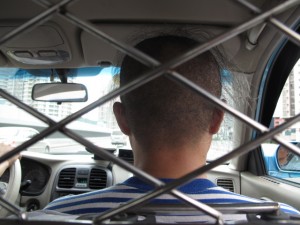 Wang Qingsong in taxi.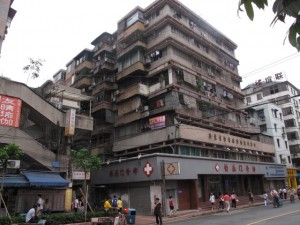 Guangzhou
Wang Qingsong and I traveled south together to attend the opening of the 3rd International Guangzhou Photography Biennial, which was to open on May 18 at the Guangdong Museum of Art. Guangdong is a southern province near Hong Kong and is the area westerners have always called "Canton." It is a long flight from Beijing and the culture, climate, food, and dialect are also a long way from than that of the north. The official language of China is Mandarin or Putonghua, "common language," but native Mandarin speakers from other areas cannot understand the Cantonese spoken in Guangdong. I have studied Mandarin and usually feel a little lousy in Beijing because I still cannot keep up with conversations. But I don't feel so bad in Guangdong, even my Beijing artist friends have the same trouble I have, they can't understand what the taxi drivers are saying either.
Wang Qingsong is internationally known for his epic styled narrative photography, but has recently ventured into filmmaking and stop-action animation. This spring the Hammer Projects showcased his new and first film, Skyscraper, which shows a giant golden building growing all by itself in hyper-drive and as if by magic up out of a rural desolate field. When the towering structure stops growing, night suddenly falls and fireworks explode from the top of the building to the tune of a Chinese version of Silent Night. It is a beautiful and haunting film. This years Guangzhou Photo Biennial featured Qingsong's recent photography.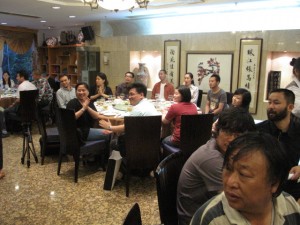 Biennial artist dinner.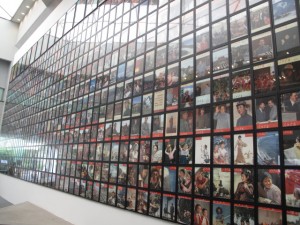 China Daily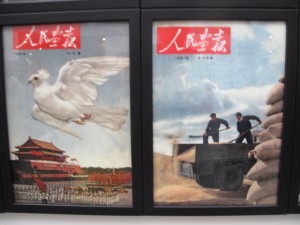 China Daily
The Biennial was interesting and a historically educational experience for me, but it was predominantly focused on historical work and documentary and not about the past 2 years of international photography as contemporary art. I believe that less than 1/3 of the exhibition was devoted to contemporary photography. It was disappointing not seeing more up to date work, but there were some great pieces included such as an entire wall of the 729 covers of China Pictorial, the main Chinese government propaganda magazine from 1950 to the present. This was one of only four presses that were maintained during the Cultural Revolution and the covers over the past 60 years have depicted every segment of the new China's history from Chairman Mao to Hu Jintao. The curator of this piece mentions that while looking at these covers and the history it represents "we should not overlook the complicated context behind the images."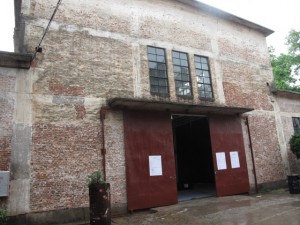 Ping Pong art space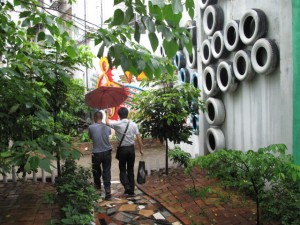 Ping Pong Complex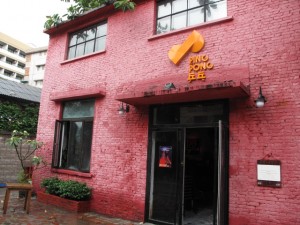 Ping Pong Cafe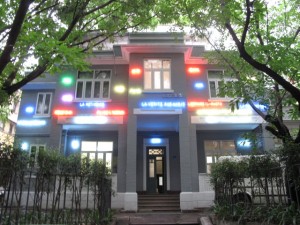 Librairie Borges Institut d'Art Contemporain
Some other out of the way spaces we visited were Ping Pong, which is a multifunctional space to promote contemporary art and a dialogue between east and western cultures, and the Librairie Borges Institut d'Art Contemporain. But one of the highlights of the trip to Guangzhou was a visit to the Vitamin Creative Space, a hybrid non-profit/commercial organization in a very hard to find down a narrow market alleyway above a netbar location. It has a physical space but it also exists in a more conceptual way through its publications, an internet shop, outside public venues, performances, media, and various other artist's conceptual practices. It may be the most interesting alternative space in China. You can check out their website at: http://vitamincreativespace.blogbus.com/tag/EnglishVersion/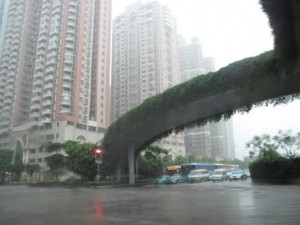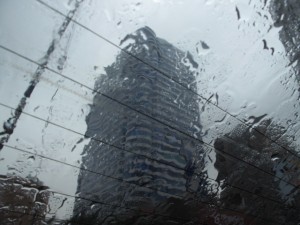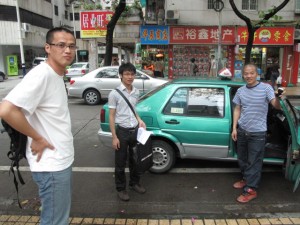 Li Lang, Yuanzhou, and Wang Qingsong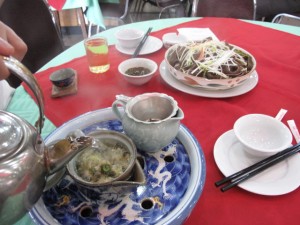 Tea and stomach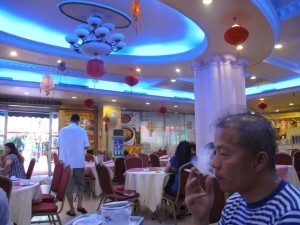 Wang Qingsong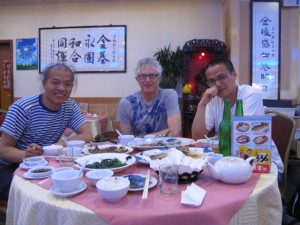 Wang Qingsong, Me, and Li Lang
Before we left Guangzhou and its lush vegetation and daily rains we had one last delicious lunch of "Cantonese" food at the invitation of Li Lang, a very talented photographer whom I had previously met in Sichuan. Li Lang is from Chengdu but now lives in Guangzhou and works as a photographer for one of the most important news agencies of the South. His series of very personal and striking portraits of the Yi people, a minority population of his native Sichuan Province, won him the Motherjones Medal of Excellence for documentary photography in San Francisco 1999. I am a fan of his work.
I am also a fan of the spicy foods of Sichuan and Hunan. But after a few days in Guangzhou and eating the food there, which is milder but more complex in its layering of flavors than the boldness of the spicy foods of Sichuan and Hunan, I am now a fan of Cantonese food also, but I love it even more when I can find a really hot dish to eat along side the milder ones…