Nine Lives artist Lisa Anne Auerbach shares her reflections on Los Angeles, art-making and commuting by bicycle in this weekly blog.
Other People's Cats
Wednesday, April 8
A cat cafe recently opened in Tokyo: Calico Cat Cafe. It's a place where you can take your shoes off, have some tea, and pet some cats. The 14 cats in residence are there for the guests to stroke and ogle. It sounds kind of perfect. There are rules. No waking cats up from naps. It should be enough to have the honor to watch them slumber. Do not hold a cat that does not wish to be held. I wish someone would open a branch of the Calico Cat Cafe here in Los Angeles. I have two delightful felines already, but I enjoy the occasional company of others.
So while I wait patiently for cat cafes to catch on in the US, I've been making do with visits to various cats around town. Below is Charlie, Susan's cat. I've known Charlie since she was a very small kitten living in South Pas. Charlie was featured in the January, 2000 issue of American Homebody.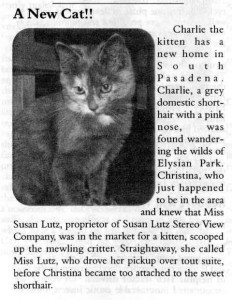 She was sweet and spoiled, a petite primadonna, living alone with her human companion for many years until Susan brought Charlie into her marriage, and now the cat is in residence in a bustling household that includes a a teenager, a two year old, and a husband. By the time this gets posted, there might even be another small human in the mix! Charlie has weathered the changes admirably, hanging on to her panache and lust for life. Here she is in the garden, where she spends some of her daylight hours. She is careful not to go too far. There have been "incidents" and she does not want to be a statistic.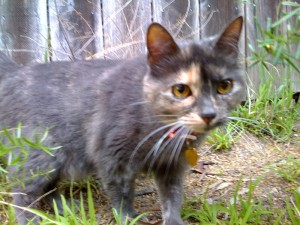 Pancake and Bunny live in Cypress Park near the base of Mount Washington. They come and go as they please, and they don't even have a litter box! Pancake is a sweet tan cat with a slight cross eye and Bunny is a very fluffy gray kitty. Pancake has his own facebook fan page. I'm not sure if he maintains it himself or subcontracts. Jen has lived with Pancake for awhile, but I'm not sure how many years. Last summer, Bunny moved in from the streets. She cannot seem to get enough affection. These are two kitties that love to be petted. Jen's house is only 12 cats shy of a proper cat quorum for a cat cafe and with her idyllic garden setting and endless supplies of tea, perhaps she might consider transforming her home into an informal cat cafe (not to be confused with a cat house).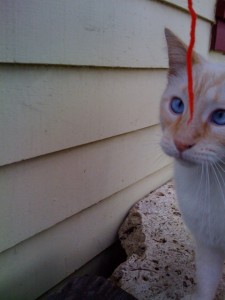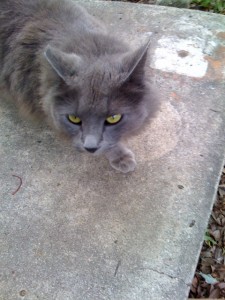 We at the Meow love the kitties, but we remind readers to always spay and neuter their companion animals and any other animals that seem to be making their backyard into their home. One cat who will not be getting any employment at the cat cafe is our very own backyard feral cat, Abby Tabby. Miss Tabby will not let humans near her unless she is in a cage on her way to the vet to be spayed. The only time I ever touched her was when she was still under the spell of the anesthetic. Miss Abby Tabby gave us four delightful kittens and raised them in our garden as a single mother. Once they were weaned we took away her fertility, which I know is unfair since making kittens may in fact be her raison d'etre. Now her reason for living seems to be eating. She's gotten quite pudgy.