Bike Night at the Hammer!

Nine Lives artist Lisa Anne Auerbach shares her reflections on Los Angeles, art-making and commuting by bicycle in this weekly blog.
Bike Night at the Hammer!
Friday, April 17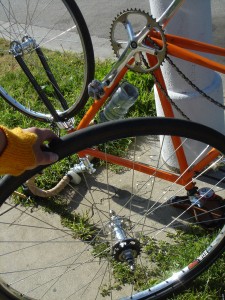 Like the universe itself, Bike Night started with a big bang.
I was about five blocks from my house when it happened. I had already gotten a late start, because ten minutes before I was supposed to leave I decided I wanted to write a speech to introduce the film. Then I got all nervous because of the speech and I felt icky and sweaty so I had to jump in the shower for a quick spritzdown. So then I was late and nervous and wearing a spanking new black and white sweater/skirt combo. I leapt on my bike and tore down the road.
Then the road tore me. Right before that hill on Cimarron, the bike felt a little funny and I looked down at the back tire, which was completely flat.
Great.
So my head was spinning as fast as I wished my tire was. Should I walk back to my house and grab a different bike? Or change the flat here? Which takes less time? Are the bikes at home in ridable condition or did I steal lights off them for this bike? Do they have air in the tires? I got this new bike about a month and a half ago and it's all I've been riding since then, so I just wasn't sure if the others were road-worthy at this very moment.
I decided to change the tire, and I called Jen to see if she was going to get to the meeting place before me. She and I were supposed to lead the ride to the Hammer, but she was sick and couldn't make it, but amazingly, generously offered to come meet me at Scoops beforehand for ice cream and support. So I called to tell her what was up and I think I was weirdly hysterical, yelling, I DON'T KNOW HOW TO GET MY BACK WHEEL OFF! Which of course, I do know how to do. But at that moment, nervous, flustered, on the phone, people staring at me. I'm the crazy white lady with the white dress, a bike upside down, my hands covered in bike grease, clutching an allen wrench and yelling on a cell phone. Not the norm in my neighborhood, certainly.
Amazingly, it took very little time to change the tire. Since the tire was new, I was worried it would take five hundred levers to get it off and way too much patience to get it back on the rim. A miracle. Only one lever to get it off and no time to coax it back in place.
Got to the meeting place with time to spare, bought a fresh tube, put some air in my front tire and got on the road with a huge crowd of art lovers.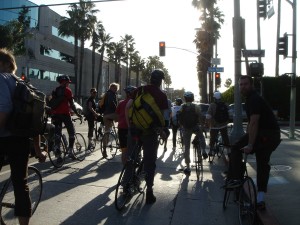 Always tough to photograph these big group rides, so here's a photo that does the experience no justice, but you can see we're riding into the sunset and it's a beautiful evening and everyone is on their bikes. We made it to the Hammer by 6:45, which I thought was pretty quick, and we all Bike Valet-ed with the LA County Bike Coalition.
There was a line-up for the all vegan grillfest which stretched around the courtyard. I cut in line, sorry everyone. Then a couple people I know who had chosen to ride Mulholland instead of Santa Monica Blvd showed up, which was a bit shocking. They'd left the same time we did; how did they get here so fast? So I grabbed some extra burgers for them, which I think annoyed people behind me, so sorry again everyone for being so brazen.
There were tons of people there, and the amazing thing is that I knew barely any of them! So who were all these people who valet parked there bikes, filling up bike valet completely?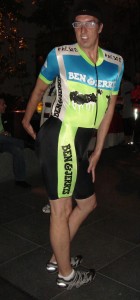 Maynard got the chance to show off his B&J onesie that I've been hearing about seemingly for decades. That color certainly provides great visibility on the road, and it's even better for an evening soiree!
At 8:30, Breaking Away screening in the Billy Wilder. Since I had that bright idea to write a speech, I introduced the film, which was sort of fun. Great to see it big and there were scenes in there I'd completely forgotten about, like the ones shot of stonecutting.
My bike came back from Bike Valet with a flat front tire. It was the back tire that had been flat earlier in the evening, but when I was putting air in the back tire at Orange 20, Morgan noticed that the front tire could really use some air too. I'd checked it before I'd left the house, and thought it was OK, but I am a notorious under-filler of tires, so I topped it off and didn't think much about it. When the second flat happened, I thought there perhaps had been some trauma in Bike Valet, and I started taking off the tire but then someone showed up with a pump and it seemed to hold air so I just decided to take a chance and ride home. Wilshire Blvd sucks. Full of cracks and potholes and I didn't want to jar the bike too much for fear of the worst, so tried to take it slowly. Started with a pack of people, that turned into about ten people soonafter, which dwindled drastically at an intersection (can't remember where exactly) and then just two, until I peeled off and went south. The air held, I made it home with no problems. This morning, it was flat again.