Nine Lives artist Lisa Anne Auerbach shares her reflections on Los Angeles, art-making and commuting by bicycle in this weekly blog.
Anger at the Hammer
Thursday, March 19
The Satanists were out in full force at the Hammer tonight for the talk and films about Aleister Crowley by filmmaker and man-about-town Kenneth Anger. The courtyard looked like a black mass or something, with all the cauldrons, human sacrifices, sheepsblood, etc. What a mess.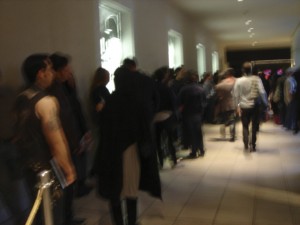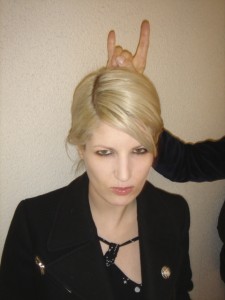 Demons lurked in every corner, jumping into photographs when the subject would least expect it, the beastly version of the light-hearted "bunny ears" sprouting from behind unsuspecting heads. We almost had to call an exorcist, but then the line started moving, and the crowds of doom and gloom swept into the pink seats of the Billy Wilder. Inside the theater, things were just as grim and horrific, with the throngs of black-hearted revelers prowling and growling.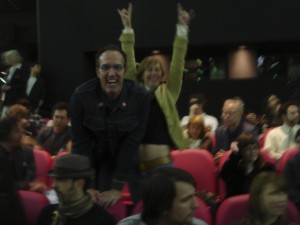 Anger appeared in a natty outfit consisting of a custom hockey jersey and some incredible orange pants. The fabric was chic and had a sheen to it that could see from the seventh row. There were rumors flying around the theater that they were prison pants, but there's no way. They were too beautiful. He spoke about Crowley, about his former patron, and showed films he'd made of artwork done by Crowley long ago.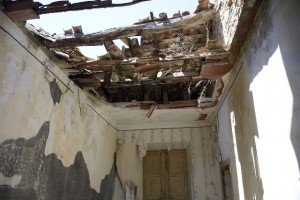 Last spring, I had the pleasure of visiting Crowley's Cefalu home, which Anger spoke briefly about during his presentation. Crowley lived there for a short time in the 1920's, before being kicked out of Italy for some sort of hogwash. The paintings on the walls of this home are rumored to have been made by Crowley himself. As you can see from these photographs, the place is in quite a bit of disrepair. Visitors must enter through a broken window and not all who visit restrain themselves from adding their own personal touch to the walls. The films Anger showed this evening were ones he'd made of Crowley's paintings and drawings, which looked very much like the images on these walls.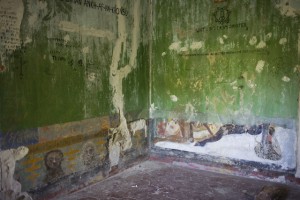 It is rumored that Anger made a film of these paintings decades ago, presumably while they were in better shape, but the rumor goes on to say that this film has been "lost." Anger does not do Q&A sessions, but he does accept mailed letters. I had my pen poised, but he did not come forth with his address. I will track him down. I will get the story about these paintings. THE MEOW does not take no for an answer!