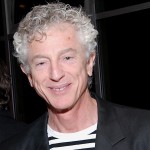 With a prestigious grant from the Asian Cultural Council, Hammer adjunct curator James Elaine moved to China in April 2008 to seek out emerging artists within China and throughout Asia. This blog provides a fascinating insight into Jamie's travels and the art world in China.
Shanghaied in Hangzhou
A short train ride southwest of Shanghai is the Westlake region of Zhejiang Province, one of the most beautifully serene areas in all of China. It also has one of the most important art schools in the country, the China Academy of Art, with many artists working there. This past fall, after my trips to the September Chinese biennials and art fairs, I went to Hangzhou to visit Hammer Projects artist Sun Xun and to meet Zhang Peili, artist and director of the new media department at the China Academy. Under Zhang Peili's direction, this art school has become one of the best two or three art schools in China, competing mainly with Central Academy of Fine Arts in Beijing for the top honors.
This visit happened to coincide with the Mid Autumn Festival. On the fifteenth day of the eighth month of the lunar calendar, when the moon is at its maximum brightness for the entire year, the Chinese celebrate the harvest moon. People travel home from all over China to be with their families, feast, and eat moon cakes with their lovers underneath the full moon. These cakes are disc shaped pastries with various fillings often filled with a very sweet dense bean paste with an egg yoke at its center.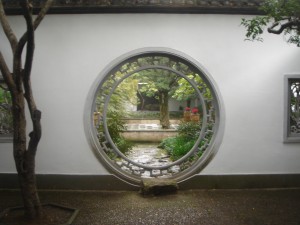 Hangzhou is the perfect place to be for this festival. The city has grown around Westlake, a gorgeous weeping willow ringed lake with ancient pagodas watching over mist-laden hills. On my first Hammer blog I quote an old Chinese saying, "Above there is heaven, below there is Su Hang " (Suzhou and Hangzhou). It really is heaven on earth here. But Westlake is just the beginning. The entire area is a wonderland of natural beauty with ancient villages, ornate temples, lush green hills, tea farms, trickling streams, and amazing restaurants. What a perfect place to go to art school.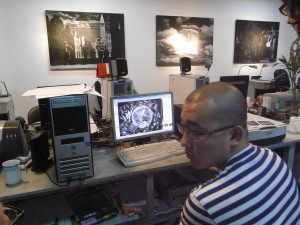 After my arrival in Hangzhou, Sun Xun met me at the China Academy of Art to have coffee with Zhang Peili who is considered to be one of the most important figures in contemporary Chinese art and the father of new media in China. He has lifted the China Academy from a respected bastion of traditional Chinese painting to arguably the most important and influential contemporary art school in all of China. Sun Xun, who currently lives and works in Hangzhou, also teaches animation in the film department of the Academy. After touring the new media department and the schools' two campuses, we visited Kogo Art Space; a commercial gallery that operates more like a non-profit, showing cutting edge work in unique ways that often defies the market. Kogo had a yearlong show up of Zhang Peili, Ai Weiwei, and Tang Song, three very influential artists in Chinese contemporary art.
Oftentimes a visit to a gallery or an artist's studio in China includes drinks and a meal of delicious local foods. Yang Hongdi, director of Kogo, invited us to stay for lunch. We sat outside in a garden surrounded by the larger garden of Hangzhou eating, drinking, and talking until Sun Xun thought it time to take me to one of his favorite tea houses before I had to depart for the airport to return to Beijing. (This is where the "Shanghaied in Hangzhou" comes in.)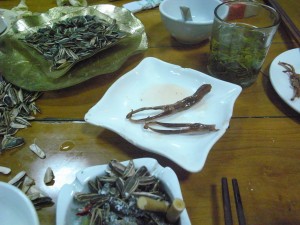 As we pulled up in front of the teahouse his car broke down. Perplexed but undaunted, we went ahead to have tea and wait for a tow truck. When he was informed it would be a few hours before one could reach us I told Sun Xun to not worry and forget about my flight for that day. Down a winding lane just across the road from the teahouse and the broken down car was an ancient Buddhist temple we explored. It was the perfect setting to meditate and wait to be rescued. We were in Hangzhou after all, a place unlike its congested neighbor Shanghai or my new home Beijing- a place where time seems to stand still and hold you there in the contentment of the moment, a place you really don't want to be rescued from.