Nanjing & Shanghai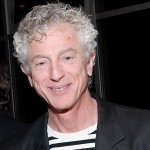 With a prestigious grant from the Asian Cultural Council, Hammer adjunct curator James Elaine moved to China in April 2008 to seek out emerging artists within China and throughout Asia. This blog provides a fascinating insight into Jamie's travels and the art world in China.
Nanjing & Shanghai
In early September Shanghai hosted two art fairs and a biennial concurrently. This was a part of a larger Asian collaboration of fairs and exhibitions: Art Beijing and Showcase Singapore art fairs, Guangzhou, Nanjing, and Yokohama Triennials, and Singapore, Gwangju, and Taipei Biennials. It looks as though the Grand Tour has relocated to the east.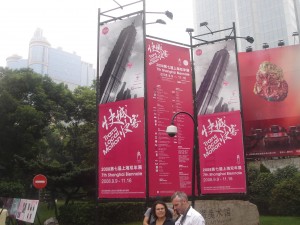 After my short trip to Guangzhou and the Triennial I flew to Shanghai for several days of openings and exhibitions including the 7th Shanghai Biennale and the Shanghai Contemporary Art Fair. This years' biennial, Translocalmotion, focused thematically on the heart of urban design: the public square. Peoples Square, the immediate area surrounding the Shanghai Art Museum could be seen as the city's center as it is a crossroads for the dynamic urban space. China is rapidly moving from an agricultural society to an industrialized information society and market economy. The Biennial poses and reflects on questions concerning the cultural and socio-economic implications of urbanization including issues of migration and identity. The curators invited 20 emerging and recognized artists for a special section of the biennial to make work using the actual or metaphoric space of the Peoples Square as a starting point in creating their work. These invited artists also filled the main floor of the museum and were the strongest part of the biennial exhibition.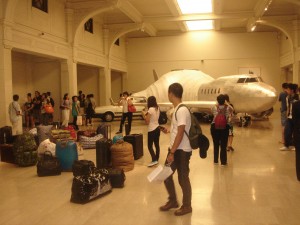 Wang Qingsong, who is better known for his monumental photography, had a wonderful installation of over 31 suitcases trailing across the floor replicating the history and evolution of luggage in Shanghai. The pieces looked to be absolutely real but were actually made of copper and painted to look exactly like the originals. I even found some luggage of mine in the mix, an antique black vinyl bag from Tian Jin, a city about an hour south of Beijing. Wang's bag was a Shanghai version of my Tian Jin suitcase. The mezzanine presented a didactic installation of the history of Peoples Square and the remaining top two floors of the museum showcased several artists' work in depth and also a larger group of international artists. Besides the Biennial and the art fairs Shanghai was buzzing with activity in different parts of the city with special exhibitions, lectures, and performances.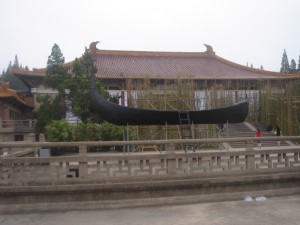 A quick three-hour train ride northwest of Shanghai is Nanjing. I decided to go to see the Triennial and had just one day to do it. Reflective Asia, the 3rd Nanjing Triennial, presented about 100 artists from over 20 Asian countries and thematically attempted to construct an imaginary space, or a platform for dialogue to explore identity and new perspectives within the Asian community through its current rapid urbanization and social changes, diverse cultural values, daily life, religion, customs, traditions, and issues of modernity. After all of the art fairs and biennials I had seen in the past few days I didn't know if Nanjing would be able to offer anything new. I had not heard anything about the triennial except how unfortunate the installation design was. But I was so close I wanted to go. The Nanjing Museum is a beautiful old historic building not necessarily fitting for a contemporary exhibition. Many of the Chinese contemporary art museums are historic buildings but what separated the Nanjing Triennial from the others was not the art, even though it was a good show, but the installation design. From what I was told, Nanjing, like Guangzhou, did not have a lot of money to spend, so the exhibition designer, Zheng Yunhan, kept to a bare bones but sensitive and intelligent approach. The results were simple, coherent, and beautiful.
Zheng Yunhan is an artist (also included in the triennial) and designer. I recently saw one of his videos in a group show at Arrario, a gallery in Beijing. Zheng basically fitted a new museum into the old one. For the most part it was seamless. Even though it did not necessarily follow the older, more formal architectural pattern, he created a fluid viewing experience from room to room and gave the work a more neutral environment to exist. His choice to use a gray industrial unpainted dry wall was the key and a cost effective and elegant decision. The panels were not taped and bedded but were fitted perfectly together seemingly without support. Perhaps this raw material is what disappointed the public the most but I thought it was graceful and worked harmoniously with the historical architectural elements that were left in view. Not an easy task.
One of my favorite moments was a large square hole cut in into the middle of a wall revealing a hidden freestanding air conditioner. The galleries needed air so he took a dry wall knife and sawed a chunk out of the wall to let the air flow in. It was an honest, if not even a bit humorous, solution and worked perfectly, conceptually and aesthetically. Instead of using printed wall labels the info was applied to the drywall with ink and brush in a calligraphic style. Again, it was beautiful and refreshing. As you walked through the show you experienced history, modernity, and art simultaneously. The IKON-Design exhibition catalogue is also one the most beautiful I have seen. If you can get a copy of the catalogue you should try. It will give you, through its design, a sense of the art and atmosphere of Reflective Asia.
View Slideshow
Run Time: 42 sec.
Filed under:
Tags: China, James Elaine