Kara Walker's Video Installation Added to Collection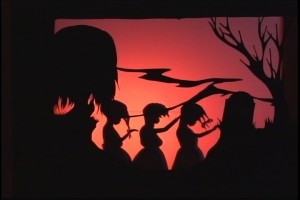 Kara Walker's most recent video installation, …calling to me from the angry surface of some grey and threatening sea, I was transported, has recently been jointly acquired by the Hammer Museum and the Whitney Museum of American Art, New York.
This five screen projection was completed by the artist in spring 2007 and premiered at the Venice Biennale that summer, before being added to her retrospective and shown at the Whitney Museum and the Hammer Museum.
While best known for her monumental black cut-paper silhouettes mounted on walls, Walker has been making short films since 2004, and three of these works were included in the survey of her work at the Hammer.
The newest work includes silhouettes of flat hand puppets depicting haunting emotional vignettes. For the first time Walker has set these black figures against intensely colored backgrounds, further set off by a soundtrack of music by a southern country band.
While some of the figures recall historical references, others echo contemporary events, such as the Darfur conflict.
As with so much of Walker's work, the overall effect is formally rich and alluring but reverberating with complicated and troubling issues of racism.