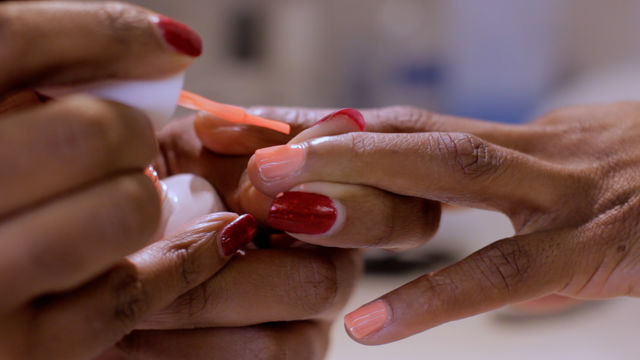 Rehana Zaman, Sharla Shabana Sojourne, Selena, 2016. Single-channel video, 22 min. Courtesy of the artist and LUX, London. Selected by Whitechapel Gallery, London
In Rehana Zaman's Sharla Shabana Sojourner Selena (2016), six female narrators share personal experiences in an audition roll call, some scripted, some spontaneous. Their testimonies describe perverse scenarios where racialization and gender dynamics inflect the encounters of each protagonist in the workplace, religious spaces, or sexual trysts. The script for the film references group dynamics (Experiences in Groups by W.R Bion) and experimental feminist films (Soft Fiction by Chick Strand and What You Take for Granted by Michelle Citron). Stories are intercut with moments of physical contact in a beauty salon, a space where inter-corporeality and pleasure is offered as an alternative to the anxieties of collective experience.
Biography
Rehana Zaman (British, b. 1982) is an artist and educator whose work questions how social dynamics are produced and performed. Her films speak to the entanglement of personal experience and social life, where moments of intimacy disrupt cultural orthodoxies, state coercion, and capital. Projects include British Art Show 9, Trinity Square Video, Canada and Serpentine Projects, London, UK (2021). Her work has been shown widely at art institutions, non-art spaces, and film festivals in the UK and internationally. In 2019 she co-edited Tongues with Taylor Le Melle, published by PSS, and was shortlisted for the Film London Jarman Award.