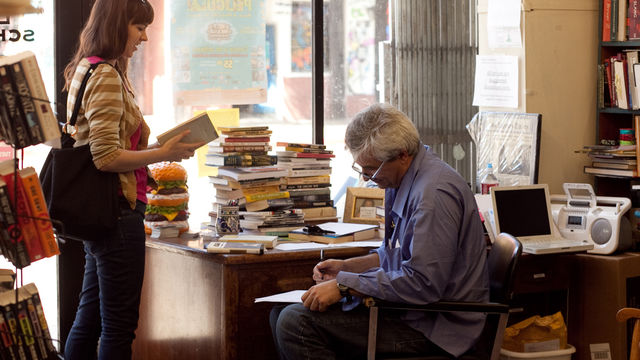 Libros Schmibros
–

This is a past residency
The Hammer Museum's Public Engagement program brought an artist project by David Kipen—an interpretation of Libros Schmibros, a nonprofit lending library and used-book shop in Boyle Heights—to Westwood. Libros Schmibros will be set up in the Hammer Museum's lobby gallery. Kipen, former Director of Literature for the National Endowment for the Arts and a past book critic for the San Francisco Chronicle, established Libros Schmibros in July 2010 with his collection of roughly seven thousand books, in response to the lack of accessibility to books in his Boyle Heights community.
Westwood has also seen the closure of several bookstores recently, as well as a reduction in some hours at nearby libraries. Libros Schmibros at the Hammer increased Westwood's access to books, while serving as a public square where visitors can check out, acquire, or donate books, and interact with Kipen, his team of volunteers, and other visitors. Authors served as bookstore volunteers and gave free readings in the intimate setting of the lobby gallery. This project furthered the Public Engagement program's commitment to strengthen the connections between artists and visitors.
The collection of available books included a strong selection of literature and Californiana, and gradually began to mirror the Westwood community, as residents donated books. Libros Schmibros in Boyle Heights remained open concurrently with Libros Schmibros at the Hammer.