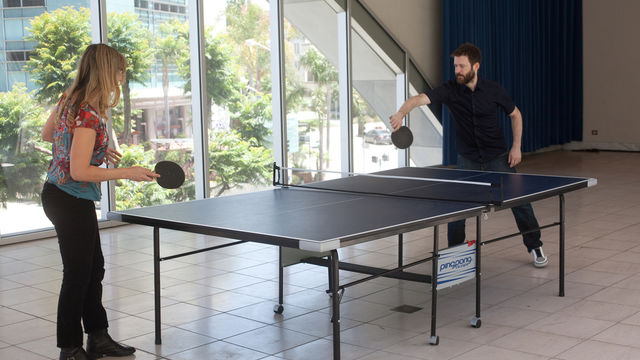 Machine Project
–

This is a past residency
In June 2009, the Hammer Museum was awarded a $1 million Arts Innovation Fund grant from the James Irvine Foundation to create a new model for visitor engagement, conceived and driven by artists. The grant will enable the Hammer to create a new kind of interactive museum: an artist-driven visitor engagement and education program that encourages daily contact among visitors, artists, and museum staff and activates the spaces, exhibitions, and website in imaginative ways.
To that end, Machine Project, the Echo Park-based collective, led by Mark Allen, was invited as our first Public Engagement Artist in Residence (A.I.R.). From June to October 2009, Mark Allen, along with his collaborator Liz Glenn, spent the summer researching for a yearlong series of artist-led interventions at the Hammer. They met with a variety of different artist collaborators at the museum and discussing ideas for potential activities and programs. They also explored the ways in which the physical facilities function and getting to know our staff, programs, and exhibitions. Machine Project then started their official A.I.R. in November 2009 with a series of interactive musical performances. From November 2009 – December 2010, Mark and his collaborators produced nearly 80 programs onsite including an overnight Dream-In; microconcerts in a coatroom-turned-theater; and needle pointing group-therapy sessions and a summer vacation at the museum for visitors' houseplants. 
Mark Allen is an artist, educator, and curator based in Los Angeles. He is the founder and executive director of Machine Project, a nonprofit performance and installation space investigating art, technology, natural history, science, music, literature, food, and whatever else humans like to do. Prior to opening Machine Project, he was involved with several alternative arts groups as a curator, board member, and director, and he cofounded the Los Angeles new-media collective c-level. He has taught at the California Institute of the Arts and the University of California, San Diego, and is currently an assistant professor of art at Pomona College. He also serves on the board of directors of the Andy Warhol Foundation for the Visual Arts in New York and is a member of the Artist Advisory Board of the Hammer Museum in Los Angeles. Mark received his MFA from the California Institute of the Arts, following a residency with the Core Fellowship of the Museum of Fine Arts in Houston.
Machine Project was a nonprofit performance and installation space investigating art, technology, natural history, science, music, literature, and food. It presents events, workshops, and site-specific installations using hands-on engagement to make rarefied knowledge accessible. Beyond its storefront space, Machine Project operated as a loose confederacy of artists producing shows at locations ranging from the Santa Monica beach to the Los Angeles County Museum of Art. Machine Project was founded by Mark Allen and incorporated as an educational nonprofit in 2005 and closed in 2018. 
REPORT
A year later, we authored a report (PDF, 26MB, 182 pp.) on the residency, co-authored with Machine Project. In an effort to embrace institutional transparency and reflection, this report describes the process, implementation, strategies, and challenges that arose during the year-long residency. Through essays, interviews with artists and staff, and descriptions of the projects with visitor responses, the report illuminates our practical and theoretical questions and approaches. As we all look toward the future of museum practice and audience engagement, we hope this report will be a valuable tool to other arts institutions and artists seeking to undertake similar initiatives.