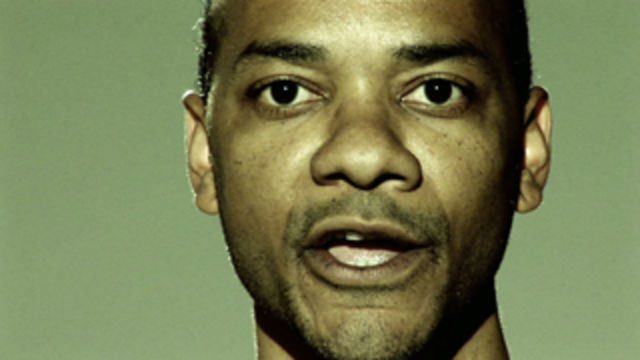 Rodney McMillian and Caroline Bergvall
2008–2009
This residency marked the beginning phase of an ongoing collaboration between Los Angeles-based visual artist, Rodney McMillian, and London-based writer, Caroline Bergvall. The artists spent several visits in residence at the Hammer Museum from November 2008 until July of 2009. Rather than focus on a particular end product or final exhibition, the residency was constructed to be an open-ended period of research and idea development in order to facilitate this unusual collaboration. Splitting their time between London and Los Angeles, the two artists found that one of them was always "out of place" and jet-lagged, which posed both challenges to the collaboration but also opportunities for exploring altered time-sense and the body. The greatest revelation and difficulty of the residency was the realization that although both artists deal with similar themes in their work and both frequently employ performative methods, their more specific skills (Bergvall's writing process and McMillian's visual art process) were surprisingly not that easy to reconcile as part of the collaboration. Finding a common ground in process and developing a shared vocabulary of words, images, movement, and music became the intangible product of this collaborative residency.
Artist Statement
But these, who chew their teeth and shuffle, and engage in interesting waiting: what is their plan? —(Samuel R. Delany)
As a way of coming to grips with our collaborative project, we decided to share a range of materials and to remain as open as possible to where this might take us. 
We shared our love of pop music by reading out song lyrics in the streets, in the car, in the studio. From David Bowie to Sly and Parliament via Stevie Wonder, Gloria Gaynor, Marianne Faithfull, Patti Smith, Bob Marley, the Pixies, Yo Majesty! and others. 
During Rodney's visit to London (January 2009), we listened to these artists, and started to develop a simple gestural vocabulary that we videoed. 
During Caroline's first visit to LA (March to April of 2009), we shared texts and selections from works by Doris Lessing, Milarepa, Samuel Delany and others. We read these out in studio and these too were videoed, this time courtesy of Jeremy Rall's camerawork. 
We audio-recorded a great number of our conversations as well as a range of ambient and aural noises. Most memorably, we recorded the GPS machine getting lost, turning the audio on and off with a loud bang, and a dog collar chiming on the patio. 
We were sad to lose the recording of a long conversation about the use of the bedsheet in art and life. As social material, it resonates intrinsically with bodies, sex, dreamlife, pleasure, violence, identity, temporariness, activism. These are motifs we explore in our respective work. The bedsheet is also of course much used in private settings as a make-shift projection screen. 
Aimee Chang, then Director of Academic and Residency Programs at the Hammer, interviewed us about our ongoing process and thoughts. The conversation was filmed in one take and is presented here. 
During Caroline's second visit to LA (July 2009), we edited our videos with editor Fil Ruting and molded them into a series of eight short videos. We started structuring some of our audio-visuals by throwing them on the walls and in the open space of the Hammer's multi-use space, Gallery Six. This ongoing collaborative production continues, and the challenge of culling such different processes into something unified has been a defining issue in this residency. 
—Rodney McMillian and Caroline Bergvall, August 2009
Caroline Bergvall
Artist Website
The Hammer Museum's Artist Residency Program was initiated with funding from the Nimoy Foundation and is supported through a significant grant from the James Irvine Foundation.