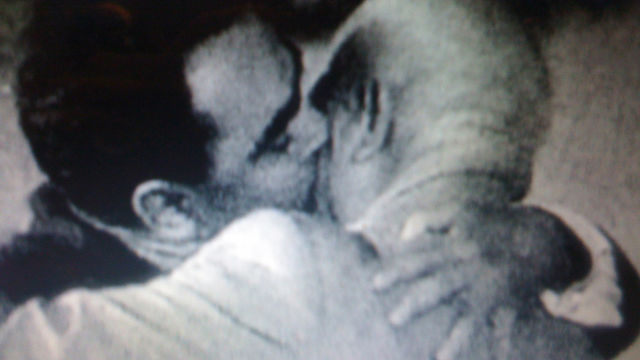 Johan Grimonprez
2007–2008
Belgian artist Johan Grimonprez was in residence at the Hammer from November 2007 to April 2008, and his residency complemented a long and continuing relationship with the museum and the university. This association began with his early film Dial H-I-S-T-O-R-Y (1997), which was first presented at the Hammer in Fair Use: Appropriation in Recent Film and Video, a 2005 exhibition organized by UCLA critical and curatorial studies graduate student and Hammer intern Matthew Thompson. Since then Grimonprez has given a number of lectures at the museum, and Dial H-I-S-T-O-R-Y was shown in the video gallery during his residency. He was also a key member of the Hammer's Artist Council, and his groundbreaking films continue to be discussed and shown in UCLA classrooms.
During his residency, Grimonprez developed Double Take (2009), a film centered on the figure of Alfred Hitchcock, the encroaching ubiquity of television, and its role in the commodification of fear during the cold war period. Hitchcock once famously noted that television "has brought murder back into the home—where it belongs." Grimonprez underscores this by interspersing footage from Hitchcock's The Birds (1963) with Folgers coffee commercials from the same time period, using the suspense thriller as a metaphor for how television and fear have hijacked reality. The theme of doppelgangers and doubling is layered throughout the film, emerging in the ideological divide of the communist East and capitalist West during the cold war, the opposition of television and cinema, a fictional confrontation between Hitchcock and his older self, and the real-life experiences of professional Hitchcock look-alike Ron Burrage.
Though Grimonprez entered the Hammer residency with a clear idea of the film (he had conducted Hitchcock look-alike casting sessions in 2004), his in-depth research over five months ended up taking him in new and unexpected directions. He employed two student interns to conduct research with him, including a CalArts MFA student and a UCLA MA student in moving-image archive studies. Utilizing the significant resources available in Los Angeles, including UCLA Film & Television Archive and the Academy of Motion Picture Arts and Sciences Film Archive, Grimonprez unearthed fascinating footage of the Nixon-Khrushchev Kitchen Debate as well as other cold war–era television broadcasts, shifting the final version of the piece. Grimonprez noted that "access to the UCLA archive, being able to watch footage really extensively, had a lot of bearing on the project. Plus, being in a city so infused with the history of cinema was a huge factor in getting the project in place."
Grimonprez also showed Double Take as a work-in-progress at the Hammer and at local nonprofit arts space Machine Project. In addition, he conducted a You-Tube-o-Theque at Mandrake, a bar in the arts district of Culver City. Double Take (2009) has since enjoyed critical acclaim, showing at several film festivals and multiple art spaces, including the Hammer Museum.
The Hammer Museum's Artist Residency Program was initiated with funding from the Nimoy Foundation and is supported through a significant grant from the James Irvine Foundation.