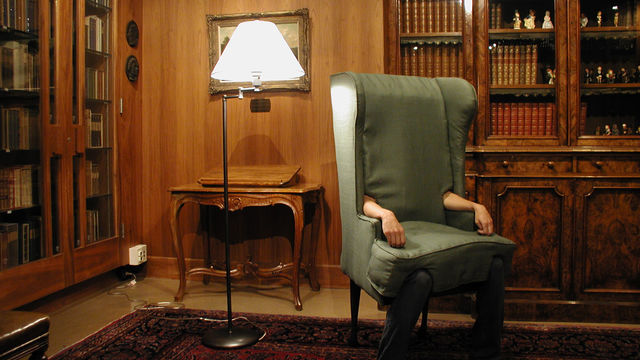 Jamie Isenstein was in residence at the Hammer Museum from September to November 2007. During that time she became an integral part of the museum, literally taking up residence in the galleries as part of her piece This Way to the Egress (2007) and working with former Hammer director of public programs James Bewley on a series of public programs, including a Vitaphone Pepper Pot, an artist talk, and a special vaudeville-inspired Halloween event.
For the Pepper Pot, the Hammer showed a series of Vitaphones, an early form of sound film produced between 1926 and 1930. These films, featuring vaudeville performers, replaced the tradition of live acts preceding feature film presentations. In a play on this history, Isenstein showed her piece Arm Chair (2006), in which the artist performs as an armchair with her legs and arms replacing the chair's arms and front legs. She was wheeled onto the stage with much fanfare and sat on the stage under dancing lights while old-time vaudeville music played. After a few minutes she was wheeled off, and the feature program of Vitaphones began.
According to Isenstein, the performance was "super ridiculous, more ridiculous than anything else I've ever done, and seemingly more pointless, but for me it was important to talk about the performance aspect of my work because so often I talk about my performances in terms of sculpture, trying to convince people they are not performances but sculpture with the human body as material. But in this case I was presenting it as a performance, which helped solidify its identity as an object."
In addition to the Vitaphone Pepper Pot performance, Isenstein also staged Arm Chair (2006) at the UCLA College and Young Research Libraries, where students reacted nonchalantly to the presence of the sculpture in their midst, falling asleep, studying, and otherwise largely ignoring her presence. These experiences, along with the opportunity to perform This Way to the Egress on an episode of Showtime's The L Word set at the museum and featuring her installation, proved to be an interesting exploration of some of the nuances of her practice. For the TV shoot her installation was re-created by the show's prop department, and part of the episode was filmed off-site. This experience inspired Isenstein: "Getting the props from The L Word is really great, because that's a whole new avenue of thinking about props that I want to go into now. The fact that I can take this show and the fake version of this show and show them together in some way is fantastic. I'm so excited about that."
The Hammer Museum's Artist Residency Program was initiated with funding from the Nimoy Foundation and is supported through a significant grant from the James Irvine Foundation.