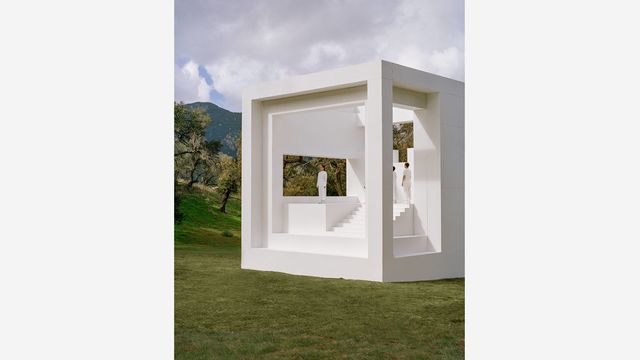 Metatronia (Metatron's Cube), 2018
An interdisciplinary performance piece and reflection featuring dance and sculpture directed and created by Solange Ferguson in partnership with Uniqlo.
Artist's Statement
Metatronia explores the process, and mapping of creation. The piece is an exercise on following the intuitive force that guides us, helping us to create space, and silence the mind to create the work. Continuing my practices and interest in exploring the relationship of movement and architecture as a meditation, Metatronia centers around building frequency and creating charge through visual storytelling.
Credits
In partnership with Uniqlo 
Director of Photography: Paul Ozgur 
Set Design and Architect: Solange Ferguson, Griffin Frazen
Associate Director: Carlos Soto
Choreographers: Gerard & Kelly
Choreographer Assistant: Julia Eichten 
Editor: Solange Ferguson, Drew Stubbs 
Producers: John Bogaard, Alan Ferguson, and Melissa Larsen Ekholm
Creative Agency: Droga5 London
Music Scored by John Kirby and Solange Ferguson 
Vibraphonist: Nick Mancini
Violinist: Bianca McClure
Dancers:
Dominique McDougal
Justin Porter
Delisa Bass
Maya Brown
Coral Dolphin
Nico Lonetree
Sam McReynolds
Sandra Ruiz
Jonathan Phung
Jinglin Liao
David McCall
Joye Forrest
Adama Ideozu
Tehran Dixon
Kehari Hutchison
Abril Gardner
Emily Pavelka
Megan Pavelka
Demontae Hack
Victoria Roman
Odessa Ono
Kar Williams
Edwin Osaze
Gigi Axel
Joan Padeo
Carissa Songhorian
Geneva West
Mona Sishodia 
Elmer Garlitos
Al Spencer 
Warner Adachi
Wilson Vu
Anthony Bryant
Micaela Taylor
Jessica Muszynski
Amaria Stern
Jasmine Sugar
Chris Bordenave
Brandon Mathis
Emara Neymour Jackson
Austyn Rich
Jalen Preston
Stephanie Dai
Alyse Rockett
Allison Fletcher
Sahannon Hafez
Jay Carlon
Kevin Zambrano
Mickey Mahar
Maya Allen
Stephanie Amurao
Damon Berry
Derek Tabada
Victoria Marie
Learn about the Hammer Museum.
Metatronia (Metatron's Cube) premiered at the Hammer Museum on April 13, 2018, and is now available exclusively on the Hammer's website.