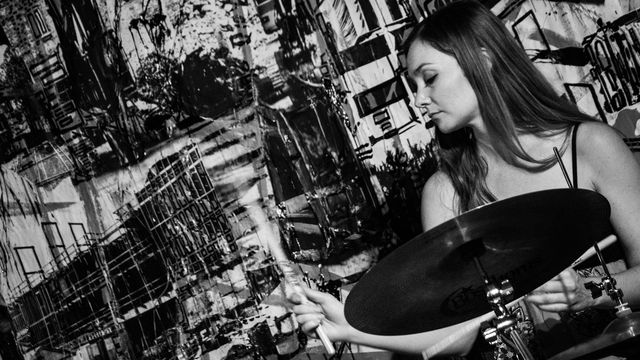 Andrew Renfroe, guitar
Karl McComas-Reichl, bass
Tina Raymond, drums
In her debut album, Left, Right, Left, Los Angeles drummer Tina Raymond explores America's polarized politics through a set of patriotic hymns, folk songs, protest anthems, and music by Woody Guthrie, Joni Mitchell, and Joan Baez. Her thesis is that concepts of left and right are integral to understanding both drumming technique and American political discourse. A first-call sideperson in the Southern California jazz community, Raymond has performed and recorded with Bobby Bradford, Jeff Parker, Art Lande, Dee Dee Bridgewater, and Vinny Golia, among many others. Here she leads her guitar-bass-drums trio through a set of new and recent music that showcases her stellar musicianship and broad musical imagination. "Raymond displays ferocious chops and a remarkable sense of balance, supporting the overall group sound as much as she asserts her individual voice" (Downbeat).
Tina Raymond photo: Violetta Markelou