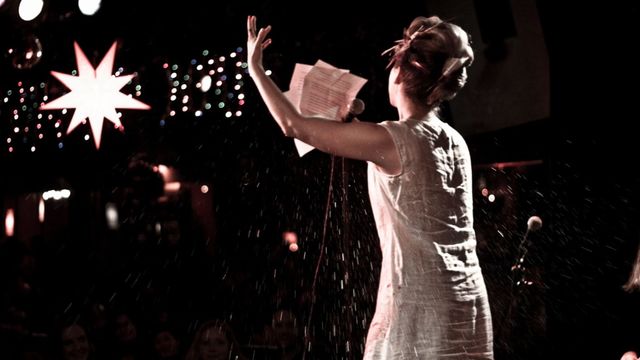 Literary Death Match
TUE OCT 18, 7:30 PM
"The most entertaining reading series ever" (Los Angeles Times), Literary Death Match brings together world-class authors to read their most electric writing for five minutes or less before a panel of all-star judges.
This edition features readings from authors Amelia Gray, Jean Chen Ho,  Rasheed Newson, and Prince Shakur, and includes judges Zach Anner,  Viet Thanh Nguyen, and Kristina Wong with emcee and LDM creator Adrian Todd Zuniga. After each reading, the judges take turns spouting hilarious commentary about each story, and then select their favorite to advance to the finals. The two finalists then compete for the Literary Death Match crown.
Hammer Channel includes 1,000+ talks, performances, artist profiles, and more. Search, clip, and share topics ranging from politics and activism to art, film, and literature.
Captions and full transcripts are available on Hammer Channel.
Judges
Literary Merit
Viet Thanh Nguyen, the Pulitzer Prize-winning novelist of The Sympathizer, has also receive the Dayton Literary Peace Prize, the Edgar Award for Best First Novel from the Mystery Writers of America, the Andrew Carnegie Medal for Excellence in Fiction from the American Library Association, the First Novel Prize from the Center for Fiction, a Gold Medal in First Fiction from the California Book Awards, and the Asian/Pacific American Literature Award from the Asian/Pacific American Librarian Association. HBO is currently developing a series based on The Sympathizer, directed by Park Chan-wook, for 2023.
Performance
A Pulitzer Prize finalist in drama, Kristina Wong is a performance artist, comedian, writer, and elected representative who has appeared across North America, the UK, Hong Kong, and Africa. She is the mind behind Kristina Wong, Sweatshop Overlord, and her recent Kristina Wong for Public Office is a real life stint as the elected Sub-district 5 representative of Wilshire Center Koreatown Neighborhood Council and rally campaign show.