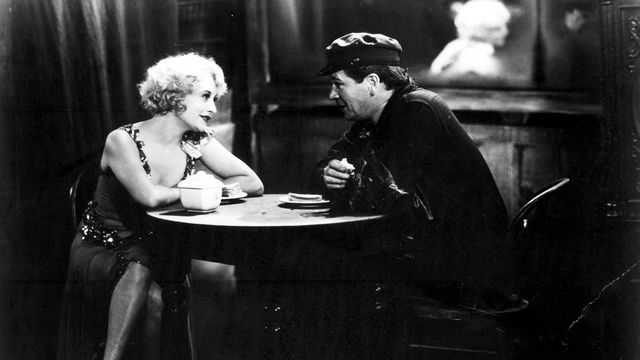 The Docks of New York / Thunderbolt
The UCLA Film & Television Archive presents classic film and contemporary cinema in the Hammer's Billy Wilder Theater. Register at cinema.ucla.edu to attend this in-theater screening.
This double-feature pairs director Josef von Sternberg's penultimate silent film—presented here with live musical accompaniment by Cliff Retallick—with his first sound film.
The Docks of New York, director Josef von Sternberg's penultimate silent feature (his final silent work, The Case of Lena Smith from 1929, is lost), displays the earliest, strongest evidence of the densely-layered ethereality that would distinguish his later collaborations with Marlene Dietrich. Set almost entirely in a seedy portside tavern where the doomed and desperate carouse, it stars George Bancroft as a brutish steamship stoker whose 24-hour leave becomes a transformational journey of the soul after he rescues Betty Compson's waif from the chilly waters and the two fall in love. Von Sternberg orchestrates Harold Rosson's transporting cinematography, Hans Dreier's textured set design and Helen Lewis's electrifying editing into an aesthetic crescendo for the silent era.
If The Docks of New York finds von Sternberg prowling the shadows of a self-contained world, Thunderbolt, his first sound film, finds him moving between worlds. Notorious hood Thunderbolt (an Oscar-nominated George Bancroft) is on the lam as the film opens, while his long-time moll Ritzie (Fay Wray) makes a play for a different future with a young bank clerk who lives with his mom. While Ritzie may yearn for staid routine, there's no doubt where von Sternberg's sympathies lie when Thunderbolt sneaks her out to an African American speakeasy teeming with life—and Black talent, including Louise Beavers and singer Theresa Harris. The compare and contrast continues after Thunderbolt lands on death row, where the condemned still form a more fascinating subculture than the straight world has to offer, making Thunderbolt's final refusal of it all the more powerful.
Program
The Docks of New York (1928, dir. Josef von Sternberg, 35mm, black and white, silent, 76 min.)
Thunderbolt (1929, dir. Josef von Sternberg, 35mm, b&w, 91 min.)