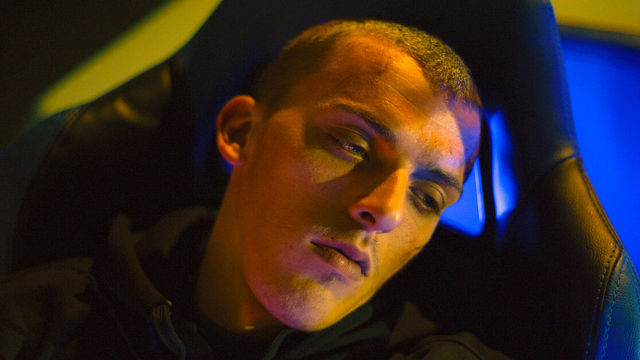 Atlantide by Yuri Ancarani
A young man from Sant'Erasmo, an island on the edges of the Venice Lagoon, dreams of a record-breaking "barchino" (motorboat). A vestigial tale of male initiation, violent and destined to fail, it explodes, dragging the ghost city along on a psychedelic shipwreck. (2021, dir. Yuri Ancarani, Italian with English subtitles, color, 100 min.)
Q&A with artist Yuri Ancarani, moderated by Fabrizio DiMaio, follows the screening.
Hammer Channel includes 1,000+ talks, performances, artist profiles, and more. Search, clip, and share topics ranging from politics and activism to art, film, and literature.
Captions and full transcripts are available on Hammer Channel.
Atlantide is a film that began without a screenplay. The story developed over four years of observation following these young people, their dialogues are taken from their very real lives. This working method gave me the opportunity to go beyond the limits of traditional film design: where first there is writing and then shooting. This way, the film was on hand to record a moment of great change for Venice and her lagoon, from an almost undetectable perspective, one attuned to the outlook of these adolescents. The intent to experience their lives up close, and in their boats, made all the rest possible: the film slowly created itself.
—Yuri Ancarani
Yuri Ancarani
Yuri Ancarani (b. Ravenna, Italy, 1972), is an Italian video artist. His works, which combine elements of documentary cinema and contemporary art, explore unnoticed aspects of everyday life. His way of focusing and using the camera with meticulous precision creates his distinct aesthetics, marked by the sculptural depth of the shots and of video works that investigate the hidden elements of daily life and of social codes. His works have been presented in numerous exhibitions and museums in Italy and abroad, including the Fondazione Sandretto Re Rebaudengo (Turin), MAXXI (Rome), the Hammer Museum (Los Angeles), and the Guggenheim Museum (New York). In 2016, his feature film The Challenge won the Special Jury Prize at the Locarno Festival.
All public programs are free and made possible by a major gift from an anonymous donor.
Generous support is also provided by Susan Bay Nimoy and Leonard Nimoy, Good Works Foundation and Laura Donnelley, the Elizabeth Bixby Janeway Foundation, The Samuel Goldwyn Foundation, the City of Los Angeles Department of Cultural Affairs, an anonymous donor, and all Hammer members.
Digital presentation of Hammer public programs is made possible by The Billy and Audrey L. Wilder Foundation.
Hammer public programs are presented online in partnership with the #KeepThePromise campaign—a movement promoting social justice and human rights through the arts.