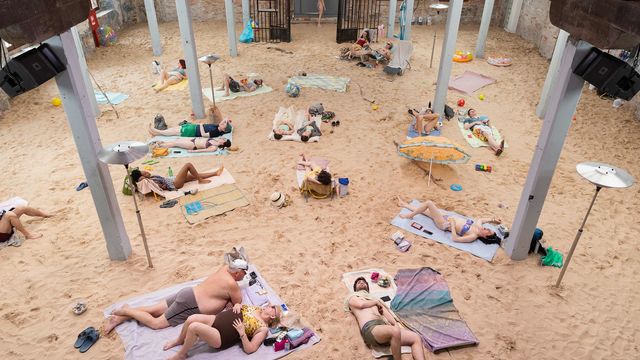 Sun & Sea
October 14–16, 2021
Presented by the Hammer, MOCA, and CAP UCLA
An opera-performance by Rugilė Barzdžiukaitė, Vaiva Grainytė, and Lina Lapelytė
Ticket sale information is below
Step into a sunny day by the sea. This theatrical installation stunned audiences at the 2019 Venice Biennale, earning its all-female creative team the coveted Golden Lion. The Hammer, MOCA, and CAP UCLA present Sun & Sea's Los Angeles premiere, transforming The Geffen Contemporary at MOCA with 13 vocalists and 10 tons of sand. Sunbathing characters offer up a range of seductive harmonies and melodic stories that glide between the mundane, the sinister, and the surreal. From the sprawling tapestry of their lives emerges a piercing exploration of the relationship between people and our planet, captured in one afternoon on a crowded beach. The touring vocalists will be supported by members of L.A.-based choral group Tonality, best known for concerts on themes of social justice.
Attending this Program?
This special ticketed program takes place at The Geffen Contemporary at MOCA.
Tickets: $25 General Admission
Sun & Sea tickets are sold out. Please check back for any tickets that may become available due to cancelations. Due to limited capacity, there will not be a standby line at the venue.
About the Production
An opera-performance by Rugilė Barzdžiukaitė, Vaiva Grainytė, and Lina Lapelytė
Concept and development – Rugilė Barzdžiukaitė, Vaiva Grainytė, and Lina Lapelytė
Director and set designer – Rugilė Barzdžiukaitė
Lyrics – Vaiva Grainytė 
Music and musical direction – Lina Lapelytė
Curator – Lucia Pietroiusti
Tour producer – Aušra Simanavičiūtė
Tour coordinator / stage manager – Erika Urbelevič
Technical director – Lique Van Gerven
Translator (Lithuanian to English) – Rimas Užgiris
Sound engineer – Romuald Chaloin Galiauskas
Live soundtrack – Salomėja Petronytė
Singing performers – Evaldas Alekna, Aliona Alymova, Svetlana Bagdonaitė, Marco Cisco, Auksė Dovydėnaitė, Saulė Dovydėnaitė, Claudia Graziadei, Artūras Miknaitis, Vytautas Pastarnokas, Eglė Paškevičienė, Kalliopi Petrou, Ieva Skorubskaitė, and Nabila Dandara Vieira Santos. 
Performers – Raminta Barzdžiukienė, Dovydas Korba, Vincentas Korba, Jeronimas Petraitis, Juozas Petraitis, Mantas Petraitis, Pranas Petraitis, Jonas Statkevičius, and others.
Visual identity – Goda Budvytytė
Catalogue and vinyl concept and design – Åbäke
Founding producer – Neon Realism
Co-producers – Nida Art Colony of Vilnius Academy of Arts, Akademie Schloss Solitude Goethe-Institut, Münchner Kammerspiele, National Gallery of Art in Vilnius, Staatsschauspiel Dresden, The Momentary, Arkansas
Sponsor – JCDecaux
Commissioner (Sun & Sea (Marina), Venice, 2019) – Rasa Antanavičiūtė
Founding Patrons (Sun & Sea (Marina), Venice, 2019) – Lithuanian Council for Culture, Ministry of Culture of the Republic of Lithuania, Laurenz Foundation in Basel, Vilnius City Municipality
Major support of Sun & Sea is provided by the Annenberg Foundation, the Getty Foundation through Pacific Standard Time, and the LLWW Foundation, with generous funding from Laura Donnelley, Lenore and Bernard Greenberg, Michael Silver, Hope Warschaw and John Law, and the MOCA Environmental Council. Additional support provided by David D. Colburn and Los Angeles County Supervisor Sheila Kuehl.
Champion supporters: Anna Wong Barth & Donald S. Barth, Marcy Carsey, Carla Emil and Rich Silverstein, Jackie Gottlieb, Alan Hergott and Curt Shepard, The Herzer Foundation, Suzanne and David Johnson, Cindy Miscikowski, Carolyn Clark Powers, Pamela West, and Sonya Yu.
This exhibition is net-zero. Special thanks to the MOCA Environmental Council.