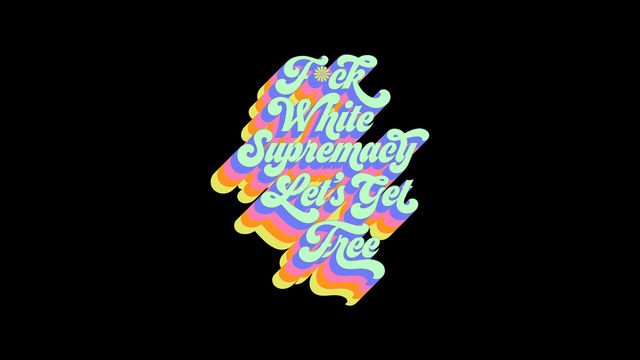 Patrisse Cullors: F*ck White Supremacy, Let's Get Free
Sunday Apr 11, 2021 12–6 PM PDT
Join in on a worldwide electric slide, online with artist Patrisse Cullors and DJ sets by collectives Everyday People streaming live from Elsewhere in New York City, and Cumbiatón in Los Angeles. This program invites everyone around the globe to move together, united by a groove and the freeing act of dancing. Share your own electric slide online with #LetsGetFree.
This live, online performance includes DJ sets introduced with a conversation between Cullors and Hammer Museum associate curator Erin Christovale.
Cullors previously performed F*ck White Supremacy, Let's Get Free in early 2020 for the Frieze Los Angeles art fair. Led by Cullors, dancers wore headphones and moved together silently through the fair. It was accompanied by video documentation in a storefront with merchandise and information in support of the nonprofit foundations Reform L.A. Jails and Black Lives Matter. For the Hammer's edition of the event, Cullors has moved the entire performance online in response to the global Covid-19 pandemic.
Set Times
All times are PDT
12:00 p.m. Conversation: Patrisse Cullors & Hammer Museum associate curator Erin Christovale
12:20 p.m. Set 1 with DJ Moma
1:05 p.m. Set 2 with DJ K-Meta
2:00 p.m. Set 3 with Dana Lu
2:45 p.m. Set 4 with Get Live
3:30 p.m. Set 5 with Quiana Parks and Niara Sterling
5:00 p.m. Set 6 with DJ Sizzle Fantastic
5:50 p.m. Closing remarks: Patrisse Cullors
Made possible by UGG


Media sponsor