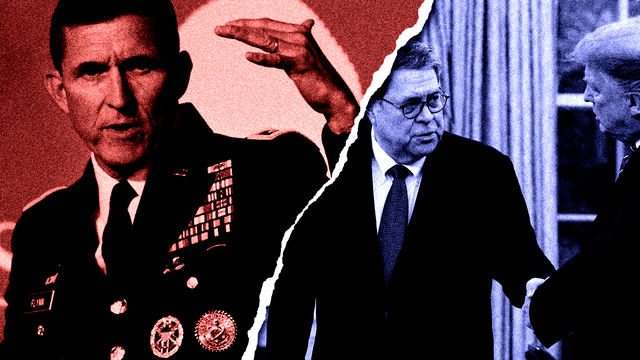 Tampering with Justice: DOJ Drops Case Against Michael Flynn
Tampering with Justice: DOJ Drops Case Against Michael Flynn
Hammer Forum is made possible by the Rosenbloom Family
At the direction of Attorney General Bill Barr, the Department of Justice moved to dismiss charges against Michael Flynn, President Trump's former national security advisor. Flynn was charged with, and plead guilty to, lying to members of the FBI about his dealings with a Russian ambassador during Special Counsel Robert Mueller's investigation into possible collusion between the Trump campaign and the Russian government. What does this decision mean for the future of law enforcement in the United States? Moderator and Loyola Law School professor Jessica Levinson is joined by professors and legal commentators the Honorable Joyce A.W. Vance and Yale lecturer Asha Rangappa.
ATTENDING THIS PROGRAM?
Join live: RSVP to receive an email reminder on the day of the program with the link to tune in. The link to join will also be posted here 2 hours before the program starts. Note that this program has a capacity limit of 1,000 concurrent viewers.
Watch later: This program will be recorded. The recording will be available soon after on Hammer Channel, our video platform where you can watch 1000+ talks, performances, artist profiles, and more.
Help with Zoom: If you have never used Zoom before, you will be prompted to download the Zoom app or join from your browser. Zoom works best on the Chrome browser.
Having trouble? Contact our visitor experience team at info@hammer.ucla.edu or 310-443-7000.
Give back: This program is free. The Hammer relies on your support in order to present its programs and exhibitions. Please consider making a contribution.
Please note that this event will be recorded. By attending, you grant the Hammer permission to use your image, statements, and actions in any medium or context without further authorization or compensation.
Hammer Forum is an ongoing series of timely, thought-provoking discussions addressing current social and political issues.