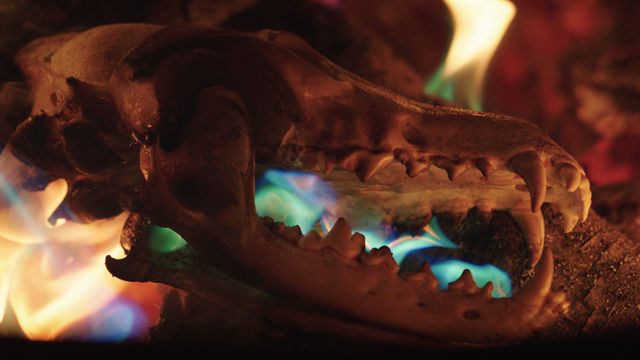 ONLINE: Christopher Richmond's Hyperway (Spectre) with Q&A
THURSDAY AUG 6, 2020 5 PM PDT
This special online program includes a screening of an extended excerpt from Hyperway, 2018, by Los Angeles–based video artist Christopher Richmond, followed by a conversation between the artist and Hammer Museum curatorial assistant Nicholas Barlow.
Richmond's videos, photographs, and drawings explore alternate realities, metaphysical conundrums, and space travel, using conventions of science fiction and cinema as both framework and subject matter. Taking years to formulate and construct, his videos emulate Hollywood film productions: working on location and in make-shift film sets and utilizing a team of close collaborators including actors, writers, musicians, prop-makers, and special effects artists.
In Hyperway, Richmond presents a cast of allegorical characters and fantastic creatures. These include a celestial being having an existential breakdown (played by art critic, writer, actor, and comedian, Christina Catherine Martinez); philosophizing astronauts (played by actor, Augusto Aguilera, and art-writer and teacher, Jan Tumlir), and a "Silver Surfer" roaming a mini-mall parking lot on a hoverboard. These visionary elements share space with the everyday, a Los Angeles made to feel unearthly and strange, juxtaposing the absurd and the mundane.
All public programs are free and made possible by a major gift from an anonymous donor. Generous support is also provided by Susan Bay Nimoy and Leonard Nimoy, Good Works Foundation and Laura Donnelley, the Elizabeth Bixby Janeway Foundation, The Samuel Goldwyn Foundation, an anonymous donor, and all Hammer members.
Readings are supported by GRoW @ Annenberg.
Digital presentation of Hammer public programs is made possible by The Billy and Audrey L. Wilder Foundation.
Hammer public programs are presented online in partnership with the #KeepThePromise campaign—a movement promoting social justice and human rights through the arts.