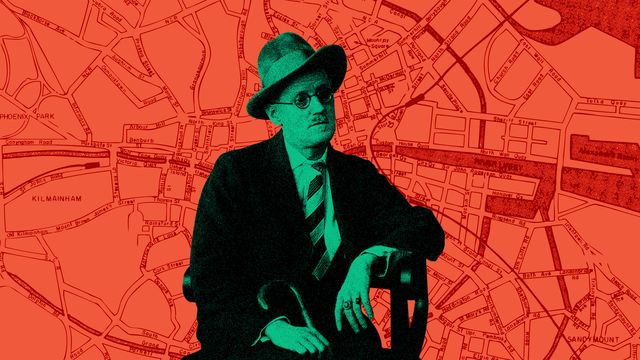 ONLINE: Bloomsday 2020
TUESDAY JUN 16, 2020 7 PM PDT
Grab your copy of James Joyce's Ulysses, pour your favorite Irish drink, and join a cast of veteran actors for dramatic readings from the landmark novel interspersed with live songs! This year's cast includes Síle Bermingham, Sonya Macari, Johnny O'Callaghan, James Lancaster, and John Rafter Lee. With a finale featuring Molly Bloom's famously passionate soliloquy—for mature audiences only—you'll blush to find out why Ulysses was once banned in the United States!
Adaptation of James Joyce's Ulysses by Mary Durkan.
Program
Song: "Cockles and Mussels (Molly Malone)"
Martello Tower, Chapter 1: "Telemachus"
Blooms at Home, Chapter 4: "Calypso"
Bloom and Mrs Breen, Chapter 8: "Lestrygonians"
Song: "Oft in the Stilly Night"
Davy Byrne's, Chapter 8: "Lestrygonians"
Bookstore, Chapter 10: "Wandering Rocks"
Song: "Down by the Liffeyside"
Dilly & Dedalus, Chapter 10: "Wandering Rocks"
Master Dignam, Chapter 10: "Wandering Rocks"
Song: "The Croppy Boy"
Barney Kiernan's, Chapter 12: "Cyclops"
Gerty, Sandymount Strand, Chapter 13: "Nausicaa"
Song: "The Last Rose of Summer"
Nighttown, Chapter 13: "Circe"
Song: "Hallelujah Chorus"
Molly's Soliloquy, Chapter 18: "Penelope"
Song: "Love's Old Sweet Song"
Performers
Síle Bermingham
Síle Bermingham is an accomplished film and theater actress. Her film credits include Waiting for the Miracle to Come opposite Charlotte Rampling and Willie Nelson, produced by Bono and Wim Wenders; 2:22 with actors Gabriel Byrne and Val Kilmer; and A Kiss and A Promise. Her theater credits include The Ruffian on the Stair, Who's Afraid of Virginia Woolfe, A Touch of the Poet, Loot, Good Bobby, and Crimes & Crimes. A lover of the spoken word, Bermingham also narrates audio books, including those by Irish authors Maeve Binchy and Cecelia Ahern. Síle is a member of The Actors Studio (New York and Los Angeles). From a family of Gaeilgeoirí (Irish Speakers) hailing from Dublin and the West of Ireland, Bermingham is uachtarán (president) of Conradh na Gaeilge Los Angeles, a global organization devoted to raising awareness of Irish as a spoken language.
John Rafter Lee
John Rafter Lee has acted in everything from Beckett to Shaw in American regional theatre. His voice can be heard in MTV's Aeon Flux, as Trevor Goodchild, the most evil man in the world; in HBO's Spawn as Jason Wynn, the most evil man in the world; and in Jet Li's The Black Mask as The Commander, the most evil man in the world. He has narrated close to 1,000 audiobooks. He wrote, produced, and played the lead role in the feature film Breathing Hard, which won awards at eight film festivals across the country and internationally, including the Texas Film Festival and the International Festival of Film in Ajijic, Mexico. He wrote and coproduced the feature film Forfeit, which premiered at the 2006 SXSW Film Festival.
Sonya Macari
Born in Ireland and of Italian descent, Macari made her acting debut in the Irish hit show The Clinic, followed by a recurring role on Showtime's The Tudors, for which she also appeared in the global print campaign. She now resides in Los Angeles and has built on her success as a stage and screen actress in Ireland, playing a variety of roles including a feature in the ten-time Oscar nominated silent movie The Artist, the title role for Mary Magdalene on the Hallmark channel, an Italian spy Antonia for the hit show Chuck on NBC, Francesca in the TV series Caravaggio And My Mother The Pope, the lead role in the apocalyptic sci-fi film Protocol, and Eva Clark in film noir homage and festival favorite Behind The Curtain. In Kiss the Devil in the Dark, a fantasy thriller in which Macari stars alongside Doug Jones, she was nominated for Best Supporting Actress at The Utah Film Festival and won best actress at the Dreamachine International Film Festival. Macari also played the lead in Business, a short film that premiered at the Santa Barbara Film Festival. Sonya has voiced over many commercials and has also narrated several audio books for Penguin Random House International, including All We Shall Know by acclaimed Irish author Donal Ryan and the anthology Tales Of Two Planets. She has received rave reviews for singing and dancing in lead roles in Dublin Theater, including Sex Lies & Murder, Twelfth Night, Oleanna, and Little Women. Her dancing has also led to work on the set of Glee and music videos for Michael Bublé and Ozzy Osbourne. Macari is also in demand as an MC, and bookings have included a star-studded event on The Fox Studio Lot with Kobe Bryant for Turkish Airlines and the Irish Technology Leadership Group event at Sony Pictures. Sonya trained at The Herbert Bergoff Studios in New York and The Gaiety School of Acting in Dublin. She was also selected to work with Sir Anthony Hopkins in an intimate masterclass. She is the author of The Actor's Passport, which is a go-to guide specifically geared for younger actors starting off in the business. Macari is currently working on a forthcoming 3D animation sci-fi project entitled The Rise Of Atlantis. When not working on set, Macari is writing a comedy series, taking care of her two young children, and enjoying her home in Los Angeles with her musician husband, Colin Devlin. Being part Italian Sonya is also very passionate about La Cucina Italiana and is currently working on a book with her mother Clara on Italian rustic cooking from the Lazio Valcomino region of southern Italy.
James Lancaster
James Lancaster was a member of the Abbey Theatre in Ireland. Since his move to the United States, his theater credits include Arsenic and Old Lace, Noises Off (La Mirada), Steward of Christendom, Hapgood (Center Theater Group L.A.), The Weir, The Caretaker, Dancing at Lughnasa (South Coast Rep.), A Nightingale Sang (Old Globe Theatre), Rat in the Skull, Galileo, Christmas Carol (Chicago), and Twelfth Night (NYSF, Delacorte Theater in Central Park). His film credits include Titanic, Pirates of the Caribbean: Dead Man's Chest, The Prestige, Spanglish, Lost Souls, and Gettysburg, and his television credits include CSI: NY, King of Queens, Numb3rs, Judging Amy, and Even Stevens. This is Lancaster's eleventh year performing in Bloomsday at the Hammer.
Johnny O'Callaghan
Johnny O'Callaghan has been in Bloomsday at the Hammer since 2010, and is excited to be playing Leopold Bloom this year. He has also played Stephen Dedalus in Bloomsday on Broadway. His one man show, Who's Your Daddy?, chronicling the adoption of his Ugandan son, has played in Los Angeles, New York, Edinburgh, and Toronto. The movie adaptation is still in development. O'Callaghan began acting in Ireland with the Belfast Youth and Community Theatre. The North American premiere of Conor McPherson's Rum and Vodka followed in New York, Los Angeles, and Toronto, leading to recordings with NBC and HBO. Other Off-Broadway successes include Howie The Rookie and Ladies and Gents at The Irish Arts Center as well as The Hostage at The Irish Repertory Theatre. Regionally he has played The Cleveland Playhouse, The Lonesome West at the Odyssey, The Full Monty at the New Yorker, and starred as Anatol in The Affairs of Anatol. He joined the sci-fi world by recurring as Niam in Stargate Atlantis. Other film and television credits include Joyce Carol Oates's We Were The Mulvaneys, CBS's The Agency, the independent hit Clutch, the CBS movie of the week Deep In My Heart, Haven't We Met Before, and Martin Scorsese's Gangs of New York. He most recently completed the miniseries ZOS: Zone of Separation and Forest for Comedy Central. O'Callaghan maintains a busy counseling practice in the Hollywood Hills and was named the 141st Irishman of the Year by the City of Los Angeles in 2016.
Musicians
Stephen Karr, Musical Director
Praised in the Los Angeles Times for his "well-articulated rhythmic track," Stephen Karr is a compelling interpreter of opera and orchestral works. He is artistic administrator at Long Beach Opera, for which he will lead The Lighthouse in January 2021. He was founding music director of Pacific Opera Project, for which he conducted The Turn of the Screw, Ariadne auf Naxos, and The Rake's Progress, among others. He has taught at Chapman, Michigan State, USC, and UCLA. He holds degrees in organ from Mercer University and Westminster Choir College as well as a master's degree in conducting from UCLA.
Dermot Kiernan, Vocals and Guitar
Dermot Kiernan is a native of Ireland now based in Los Angeles. Graduating with a master's degree in medieval music performance from The Sorbonne, Kiernan performs regularly as a vocalist across America and Europe. His work in Los Angeles has been focused mainly on concert, early music, and studio singing. Television and film credits include Vikings, Quantico, The Last Tycoon, and Star Wars: The Rise of Skywalker. He is a member of the Los Angeles Master Chorale and recently joined the acclaimed world tour of Lagrime di San Pietro (di Lasso) staged by Peter Sellars.
Morgan O'Shaughnessey, Fiddle and Sound Mixer
Morgan O'Shaughnessey is free-lance studio musician based in Los Angeles whose credits include Coco Live-to-Film at the Hollywood Bowl, NieR Automata concert at Microsoft Center, Da 5 Bloods, Empire, Birds of Prey, Tenet, Green Eggs and Ham, The Big Ugly, American Knights, and Lyosacks. His video game credits include The Pathless, League of Legends, and Minecraft Norse Mythology. O'Shaughnessey served as the violist for UCLA's VEM Ensemble from 2016 to 2019. Visit moshalto.com for more information.
ATTENDING THIS PROGRAM?
Join live: The program will play live on this page. RSVP to receive an email reminder on the day of the program.
Watch later: This program will be recorded. The recording will be available soon after on Hammer Channel, our video platform where you can watch 1000+ talks, performances, artist profiles, and more.
Need help?: Contact our visitor experience team at info@hammer.ucla.edu or 310-443-7000.
Give back: This program is free. The Hammer relies on your support in order to present its programs and exhibitions. Please consider making a contribution.
All public programs are free and made possible by a major gift from an anonymous donor.
Generous support is also provided by Susan Bay Nimoy and Leonard Nimoy, Good Works Foundation and Laura Donnelley, the Elizabeth Bixby Janeway Foundation, The Samuel Goldwyn Foundation, the City of Los Angeles Department of Cultural Affairs, an anonymous donor, and all Hammer members.
Digital presentation of Hammer public programs is made possible by The Billy and Audrey L. Wilder Foundation.
Hammer public programs are presented online in partnership with the #KeepThePromise campaign—a movement promoting social justice and human rights through the arts.