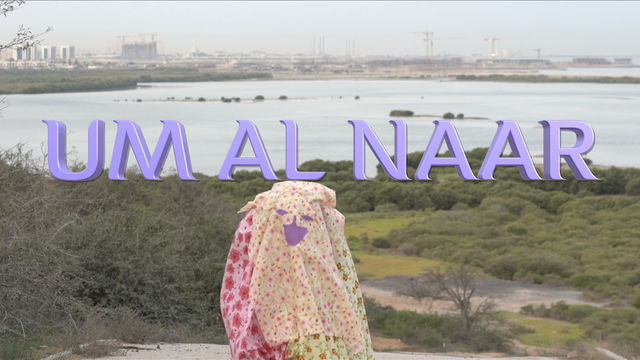 Farah Al Qasimi "Um Al Naar (Mother of Fire)" with Q&A
WEDNESDAY OCT 14, 2020 5 PM PDT
This online program includes a screening of Farah Al Qasimi's Um Al Naar (Mother of Fire), 2019. Following the screening, the New York City–based artist joins Hammer Museum curatorial assistant Ikechukwu Onyewuenyi in conversation.
About the Film
Um Al Naar (Mother of Fire)
(2019, dir. Farah Al Qasimi, 42:07 min.)
On the surface, Farah Al Qasimi makes images—both still and moving—that seem to conform to the trite orientalist framework that the West associates with artists hailing from the Persian Gulf. Living and working in both New York and Dubai, Al Qasimi is unbothered by this—it's her hybrid reality, her culture. It is hard to say to what degree passion for one's culture can redeem its shortcomings, especially when Al Qasimi experiences her culture as incongruous, which is to say it's the stuff of comedy. The late American literary theorist Kenneth Burke suggests that a comedic attitude towards history is riddled with incongruity. And Al Qasimi's approach to her subject matter is chock full of it. Whether she's delving into home life as a proxy for gendered realities or the affective hangover of British and Portuguese colonial rule in the Persian Gulf, Al Qasimi approaches these tough subjects with a sensibility that is, in the artist's words, "part celebration, part criticism."
Torn this way and that, what do we do with an unsettling feeling towards change? Do we adapt to the vicissitudes of life or adopt an attitude of stasis? These questions trouble the titular, ghostly protagonist in the film Um Al Naar (Mother of Fire), the first feature-length black comedy from Al Qasimi. Navigating multiple geographies, Al Qasimi probes these questions that call on us to either mimic or adapt for survival. Her protagonist, a supernatural spirit, or jinn, shrouded in floral-patterned sheets, doesn't settle on a strategy for reckoning with all the cultural changes sweeping the emirate of Ras Al Khaimah. These changes are deep-seated, with Um Al Naar recounting via a fictional reality television program how the region was first settled by Bedouins, colonized by the Portuguese and British for trade, and then annexed in 1972 to the federation of the United Arab Emirates (UAE). However, in a gesture that parallels magical realism, we learn the jinn "feels off…depressed…weaker…[and] lonely" as Emirati society increasingly turns away from traditional forms of spirituality. As peoples' belief in the supernatural wanes, Um Al Naar laments that her powers lessen, her invisibility all the more apparent.
This revelation from Um Al Naar gets at mimicry through a different route: affect. In one of his more well-known seminars, French philosopher Jacques Lacan shares that while he was on a small fishing boat one of the fishermen pointed to a can in the water and mockingly asked, "You see that can? Do you see it? Well it doesn't see you." Lacan did not take kindly to the humorous gestures of the fisherman, feeling "rather out of place," like a "stain." Even though Um Al Naar adopts a disguise that mimics the ornate fabrics found at market stalls, the contemporary landscape of Ras Al Khaimah sees the jinn as an incongruent stain—something they cannot picture even though she attempts to be witnessed. What happens when we see the failings of mimicry through affective dejection? Does mimicry lose its resistance to colonial change? Al Qasimi's film get us to that place of reckoning.
ATTENDING THIS PROGRAM?
Join live: The program will play live on this page. RSVP to receive an email reminder on the day of the program.
Watch later: This program will be recorded. The recording will be available soon after on Hammer Channel, our video platform where you can watch 1000+ talks, performances, artist profiles, and more.
Need help?: Contact our visitor experience team at info@hammer.ucla.edu or 310-443-7000.
Give back: This program is free. The Hammer relies on your support in order to present its programs and exhibitions. Please consider making a contribution.
Please note that this event will be recorded. By attending, you grant the Hammer permission to use your image, statements, and actions in any medium or context without further authorization or compensation.
All public programs are free and made possible by a major gift from an anonymous donor.
Generous support is also provided by Susan Bay Nimoy and Leonard Nimoy, Good Works Foundation and Laura Donnelley, the Elizabeth Bixby Janeway Foundation, The Samuel Goldwyn Foundation, the City of Los Angeles Department of Cultural Affairs, an anonymous donor, and all Hammer members.
Digital presentation of Hammer public programs is made possible by The Billy and Audrey L. Wilder Foundation.
Hammer public programs are presented online in partnership with the #KeepThePromise campaign—a movement promoting social justice and human rights through the arts.