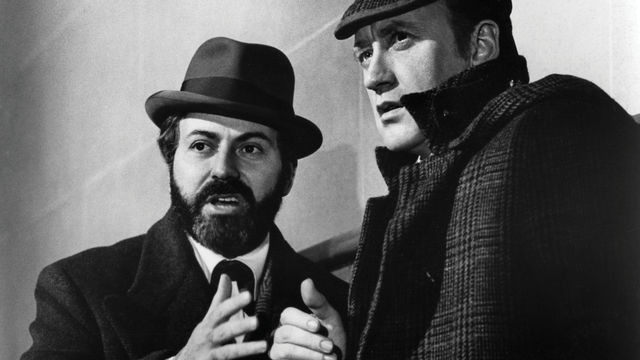 The Seven-Per-Cent Solution
Friday
Nov 8, 2019
7:30 PM
This is a past program
The
UCLA Film & Television Archive
presents classic film and contemporary cinema in the Hammer's Billy Wilder Theater. Archive tickets are $9 general admission and free for UCLA students.
Searching for Sherlock: The Game's Afoot
Sir Arthur Conan Doyle's Sherlock Holmes is one of the most popular characters in all literature, so it's no surprise that he's also one of the most-filmed characters in history. The first celluloid appearance of the Victorian detective was in Sherlock Holmes Baffled, a 30-second loop released originally for Mutoscope arcade machines in 1900. In the decades since, more than 100 adaptations, shorts, and features, have followed. Sadly, many of these big screen incarnations are lost or in dire need of preservation. To crack the case, UCLA Film & Television Archive and The Baker Street Irregulars, the international Sherlock Holmes society, have launched a worldwide search for the lost Holmes films. With Robert Downey Jr. as the honorary project chair, a blue-ribbon committee has been formed to lead the search. Committee member Nicholas Meyer, the celebrated author of numerous Holmes novels, joins us to help to raise awareness about this vital undertaking and to celebrate the publication of his latest Holmes mystery, The Adventure of the Peculiar Protocols, with a special screening of The Seven-Per-Cent Solution (1976), based on his Academy Award-nominated screenplay.
The Seven-Per-Cent Solution
When Dr. Watson (Robert Duvall) finds a disheveled Sherlock Holmes (Nicol Williamson) in a cocaine-fueled delirium muttering about vast criminal conspiracies and one Professor Moriarty (Laurence Olivier), the detective's loyal companion hatches his own ingenious conspiracy to get Holmes under the care of Sigmund Freud (Alan Arkin). Once in Vienna there's no time for the couch, however, as the two great minds are plunged into a new mystery and a trans-continental race against time. (1976, dir. Herbert Ross, 35mm, color, 113 min.)