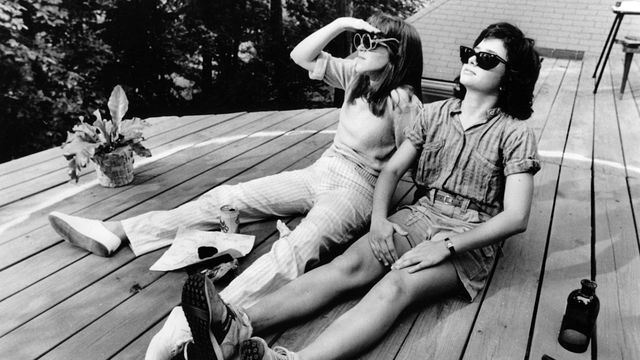 Something Special (Willy/Milly)
Saturday
Oct 5, 2019
7:30 PM
This is a past program
The
UCLA Film & Television Archive
presents classic film and contemporary cinema in the Hammer's Billy Wilder Theater. Archive tickets are $9 general admission and free for UCLA students.
Part of the 
Outfest UCLA Legacy Project Screening Series
Outfest members receive free admission at the box office.
This screening will be introduced by LGBTQ film historian and Outfest UCLA Legacy Project advisory board member Jenni Olson, and followed by a conversation between Olson and filmmaker Rhys Ernst (Adam, Transparent).
With an astounding plot premise offering unique pleasures for contemporary viewers, Something Special (aka Willy/Milly) is a whimsical teen comedy about a teenage girl who wants to be a boy... and, thanks to a magical eclipse powder, actually gets her wish. Imagine an ABC Afterschool Special with a queer sensibility. After she wishes for her "deepest, darkest heart's desire," Milly Niceman wakes up in the middle of the night to discover she's grown "a guy's thing down there." When their parents insist Milly must now choose between being a boy or being a girl, Milly wisely asks, "Can't I be both?" As Muddy Waters sings "Mannish Boy" on the soundtrack, Milly becomes Willy and begins to learn what it means to be a boy: his previously platonic girlfriend develops a new kind of interest in him, and so does Willy's new pal Alfie. When Alfie confesses his shame about his "unnatural desires" for Willy, Willy confesses his past and decides he wants to be a girl again. Although the film ultimately doesn't allow for either the gay or transgender option, it plays extensively on homoerotic potentials, and has a blast with gender identity. Patty Duke gives an outstanding performance as Mrs. Niceman, and Pamela Adlon (formerly Seagall) is uncannily butch and boyish as Willy (and as Milly). Briefly released in 1986, Something Special quickly disappeared from view and has been virtually unseen since. Also featuring Seth Green, Corey Parker and JD Cullum. Print courtesy of Jenni Olson. (1986, dir. Paul Schneider, 35mm, color, 93 min.)