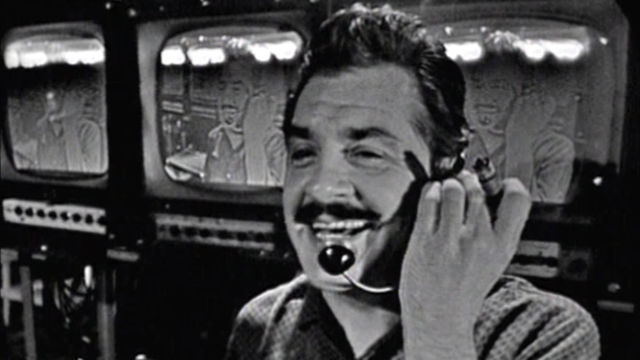 Ernie Kovacs: Tele-visionary at 100
The
UCLA Film & Television Archive
presents classic film and contemporary cinema in the Hammer's Billy Wilder Theater. Archive tickets are $9 general admission and free for UCLA students.
The Archive concludes its Ernie Kovacs Centennial celebration with an appropriately idiosyncratic evening of television curios illuminating but a few of the innumerous aspects and talents of the legendary entertainer. Born in Trenton, New Jersey in 1919, Kovacs rose from obscurity in local radio in the 1940s to pioneering the television morning show format on NBC's Philadelphia affiliate WPTZ by the early 1950s. By the end of that decade, Kovacs had costarred in several major motion pictures and boasted a credit list that included television series (of varying formats and time slots, including a game show) on every major network. The start of the 1960s brought more roles in features as well as the pinnacle of his artistic achievements, his remarkably innovative swan song, The Ernie Kovacs Show on ABC-TV. Tragically killed in a car accident in the prime of his creativity, Kovacs remains a highly-influential, true original who defies simple categorization: surrealist, postmodernist, broadcaster, video artist, comedian, and more.
In addition to the programs listed below, the evening includes a specially curated reel of outtakes and video rarities.
Program curated and notes written by Mark Quigley, John H. Mitchell Television Archivist.
Cards & Cigars: The Trenton in Ernie Kovacs (WNJN-TV)
Produced locally by New Jersey Public Television, this affectionate hometown documentary traces Kovacs's formative years in Trenton, where he was born. Through candid interviews with his wife, the actress and entertainer Edie Adams, as well as close friends and acquaintances, an intimate portrait of Kovacs emerges, gently revealing the talents and eccentricities of the beloved genius. Courtesy of the Library of Congress. (1980, color, 30 min.)
Take a Good Look (ABC)
Recently rediscovered and not available on home video, this final episode of Kovacs's wildly unconventional network program includes sketches featuring the pioneering comedian as the characters Super Clod and Miklos the Chef. Kovacs gleefully flouts the traditionally rigid framework of the game show format, giving way to his singular brand of sincere affability and convention-breaking anarchy. Courtesy of Retro Video Inc. (1961, dir. Joseph Behar, black and white, 30 min.)
Ernie Kovacs Special No. 6: "Eugene" (ABC)
Kovacs restages his acclaimed "silent show," originally presented in color on NBC in 1957. Produced here on "state-of-the-art" black and white videotape, Kovacs sublimely orchestrates audio and visual effects as his hapless character Eugene upends the physics of the medium of television. For their surreal work, Kovacs and Joseph Behar were honored for outstanding directorial achievement by the Directors Guild of America. From the John H. Mitchell Television Collection at UCLA Film & Television Archive. (1961, Dir. Ernie Kovacs and Joseph Behar, black and white, 30 min.)