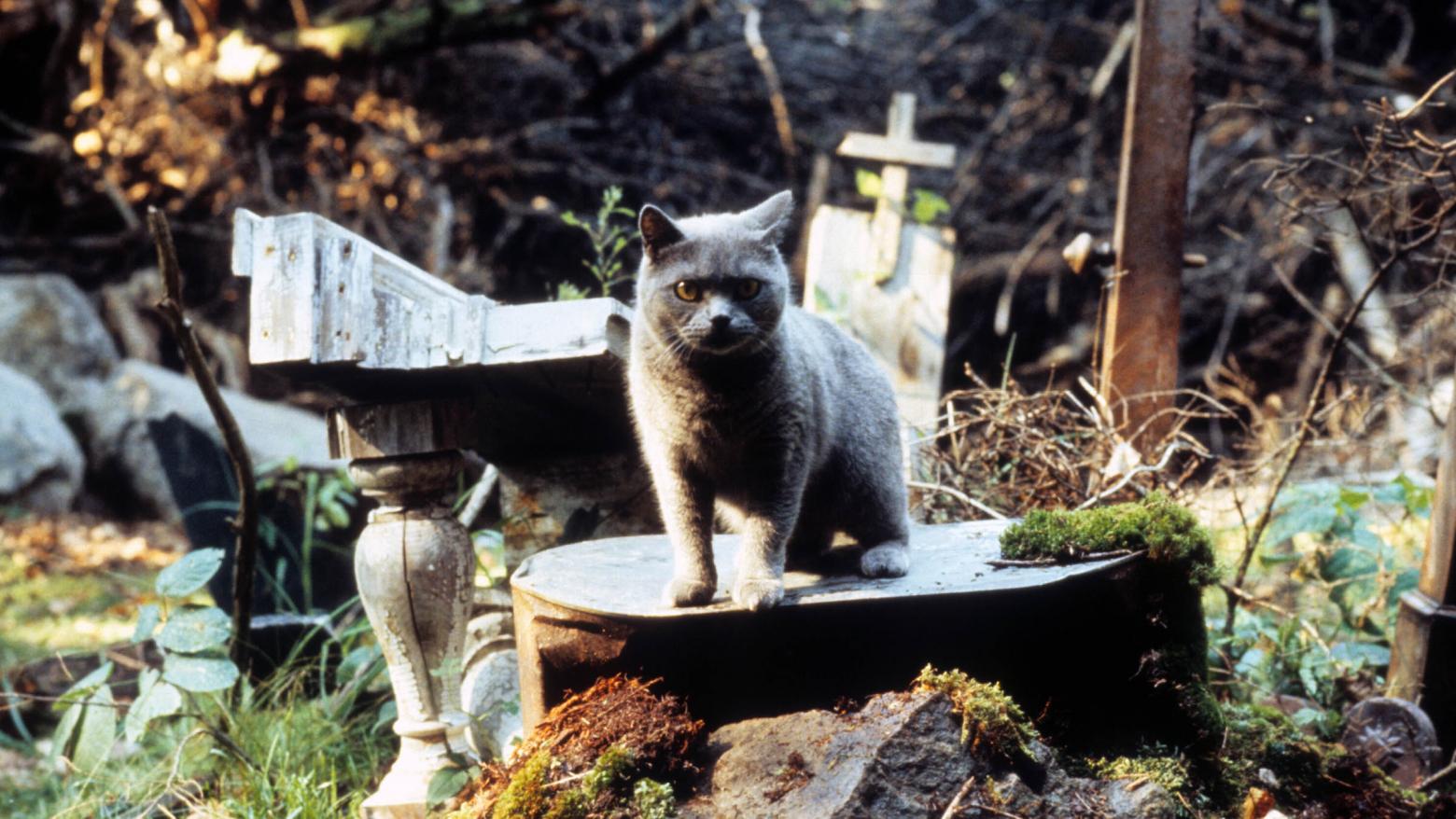 Pet Sematary / Pet Sematary II
Saturday
Aug 3, 2019
7:30 PM
This is a past program
The
UCLA Film & Television Archive
presents classic film and contemporary cinema in the Hammer's Billy Wilder Theater. Archive tickets are $9 general admission and free for UCLA students.
Part of Spirits in the Sky: A Weekend with Mary Lambert. 
August 3—Director Mary Lambert; actors Brad Greenquist, Miko Hughes, and Dale Midkiff; additional editor Tom Finan. Moderated by film writer and Switchblade Sisters podcast host April Wolfe.
Pet Sematary
30th anniversary screening and world theatrical premiere of new 4K restoration
After his toddler Gage is killed in a tragic accident, grieving father Louis (Dale Midkiff) attempts the unspeakable after learning of the regenerative powers of the nearby woods. Initially a story that Stephen King refused to publish, believing for once he had gone too far, King and director May Lambert decided to shoot in Maine, where nature's visual beauty inspired the autumnal, gripping aesthetic of the picture. Working with a screenplay adapted by the King of Horror himself (his first ever from one of his own books), Lambert and cinematographer Peter Stein (Friday the 13th Part 2) render this devastating tale with a distinct brand of emotional horror, laced with the soul of classic fairy tales. As King himself said of the film in Cinefantastique magazine in 1991, "I think it does what horror movies are supposed to do. It's an outlaw genre. It's an outlaw picture." (1989, dir. Mary Lambert, DCP, color, 102 min.)
Pet Sematary II
"What is the worst thing that could happen to a 12-year-old boy?" In a recent Los Angeles Times interview, director Mary Lambert claimed this question served as the the guide for her follow-up to the well-received 1989 Stephen King adaptation. Lensed by Russell Carpenter (Titanic) and starring a fresh-from-Terminator 2: Judgement Day Edward Furlong, the most critically-lauded contribution to the film is Clancy Brown's performance, which was nominated for Best Supporting Actor at the Fangoria Chainsaw Awards. Somewhat maligned upon its release, Pet Sematary II has since gained a massive cult following among Gen X-ers and metalheads who can't get enough of soundtrack featuring The Jesus and Mary Chain, Traci Lords, and L7. (1992, dir. Mary Lambert, 35mm, color, 103 min.)