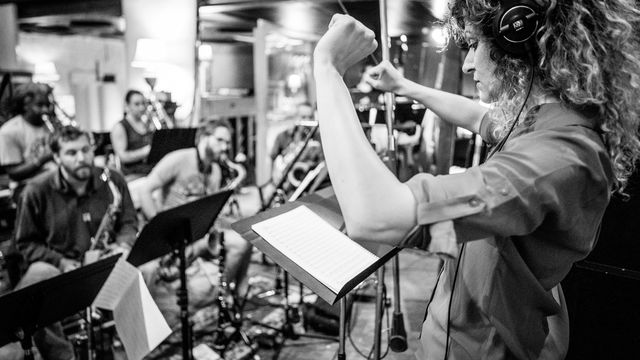 Lauren Elizabeth Baba: theBABAorchestra
An in-demand violinist in both commercial and experimental music scenes in Los Angeles, Lauren Elizabeth Baba formed her big band, theBABAorchestra, between string-section gigs at the Oscars, the Grammys, the Hollywood Bowl, and film soundstages. She conducts 17 of L.A.'s best and brightest improvisers through her dynamic compositions, which meld free-jazz, contemporary classical, drone rock, and Middle Eastern folk music. A recipient of the ASCAP Young Jazz Composers Award, Baba tailors her writing to the unique musical voices of her bandmembers, letting the music simmer in intimate, hypnotic passages, and also letting it rage in wild collective flights: "she's establishing adventurous new territory… Baba is an artist to watch" (Downbeat Magazine). Listen to audio.
Lauren Baba, conductor and composer
Michael Mull, alto saxophone/clarinet
Joe Santa Maria, alto saxophone/clarinet
Kirsten Edkins, tenor saxophone
Andrew Conrad, tenor saxophone/clarinet
Tim McKay, baritone saxophone
Tony Bonsera, trumpet
Nathan Johnson, trumpet
Chris Lawrence, trumpet
Greg Zilboorg, trumpet
Ido Meshulam, trombone
Garrett Smith, trombone
Bob Lawrence, trombone
Juliane Gralle, trombone
Greg Uhlmann, guitar
Cathlene Pineda, piano
Emilio Terranova, bass
Mike Lockwood, drums
JazzPOP
JazzPOP, the Hammer's creative jazz festival, celebrates its 13th season with three concerts featuring the music of visionary West Coast musician/composers. Expect brilliant improvisation nested in carefully-crafted compositions, and jazz colored with the nuances of contemporary chamber music, and sounds and grooves from across the world.
Organized by San Francisco Bay Area bassist Lisa Mezzacappa.
Attending this program?
Ticketing: This free program is not ticketed.  
Member Benefit:  Hammer members receive reserved seating up until 15 minutes before the start of the program, available on a first-come, first-served basis.
Parking: Parking is available under the museum. Rates are $6 for the first three hours with museum validation, and $3 for each additional 20 minutes, with a $20 daily maximum. There is a $6 flat rate after 6 p.m. on weekdays, and all day on weekends. Cash only. 
All Hammer public programs are free and made possible by a major gift from an anonymous donor.
Generous support is also provided by Susan Bay Nimoy and Leonard Nimoy, Good Works Foundation and Laura Donnelley, The Samuel Goldwyn Foundation, an anonymous donor, and all Hammer members.
Public programs advancing social justice are presented by the Ford Foundation.
Digital presentation of Hammer public programs is made possible by the Billy and Audrey L. Wilder Foundation.