Cut Chemist with Buyepongo + KCRW DJ Anthony Valadez
Copresented with KCRW 89.9FM.
Music, Food Trucks, Cash Bar: 7:30–10:30 p.m.
Extended Gallery Hours—Made in L.A. 2018 open until 10 p.m.
Free live concerts and KCRW DJs in the museum's courtyard. Food trucks and cash bars. 
Cut Chemist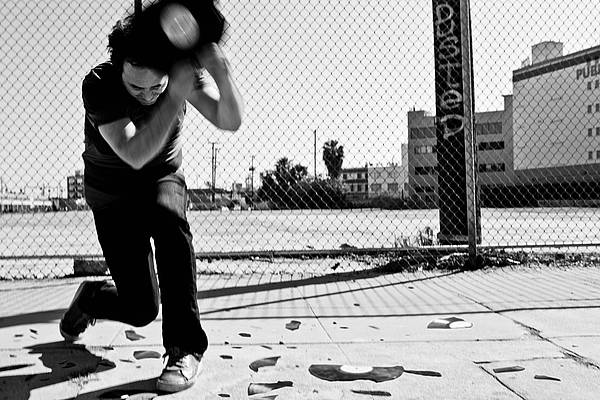 Life moves in cycles. Every death yields a rebirth. Every rebirth unfolds into a new life. Cut Chemist can attest. On his long-awaited second full-length solo album Die Cut, the trailblazing DJ and producer underwent a creative birth reflected in its 17 tracks. The artist augments his signature approach famously earmarked by impeccable sample selection, searing scratching, and big-screen worthy arrangements with the inclusion of A-list musicians, "songwriter structure," and a whole lot of team spirit  in only his second artist album, 11 years after his debut, The Audience's Listening. Stocked with various collaborations including longtime friend Carlos Nino as associate producer and production coordinator, Cut holed up in Comp-ny Studios four blocks from home and invited a revolving door of high-profile musicians to contribute such as drum superstar Deantoni Parks [The Mars Volta], rap legend Biz Markie, actress Erika Christensen, tune-yards, Farmer Dave Scher, Dexter Story, Chali 2Na, Edna, Mr. Lif and more. Die Cut is coming Mar 2, 2018 and new music is already out.
Attending this program?
Ticketing: This free program is not ticketed.
Member Benefits: All Hammer members receive priority entry through a dedicated members line and access to an exclusive members lounge with snacks, seating, a dedicated bar, and two free drinks. Become a member today. Space is limited and available on a first-come, first-served basis. 
Parking: Event parking is available at 11020 Kinross Ave (UCLA Parking Lot 36) with a flat rate of $5 payable by credit card/cash at the Pay Station or pay by cell phone through the Park Mobile App. Enter Lot 36 from Kinross Avenue between Gayley and Veteran Avenues. The Hammer Museum is located one block east. Limited parking is available under the museum for a flat rate of $6 cash.
Public Transportation: The 20/720 buses and Santa Monica and Culver City Bus Lines all stop within one block of the museum. You can also take the Metro Expo Line to Westwood/Rancho Park and transfer to the northbound 8 bus, which stops just outside the museum.
Bags: All bags will be inspected. Items larger than 12" x 6" x 12" (including purses, bags, and backpacks) will not be permitted at the summer concerts. The museum also reserves the right to inspect or prohibit any items deemed to be a security risk.
Accessible Seating for Guests with Disabilities: The Hammer Museum strives to provide accessible seating to our patrons needing specific accommodations and to ensure that wheelchair-accessible locations are reserved for guests who require such an accommodation. A limited amount of wheelchairs available upon request (request in advance by calling 310-443-7912).