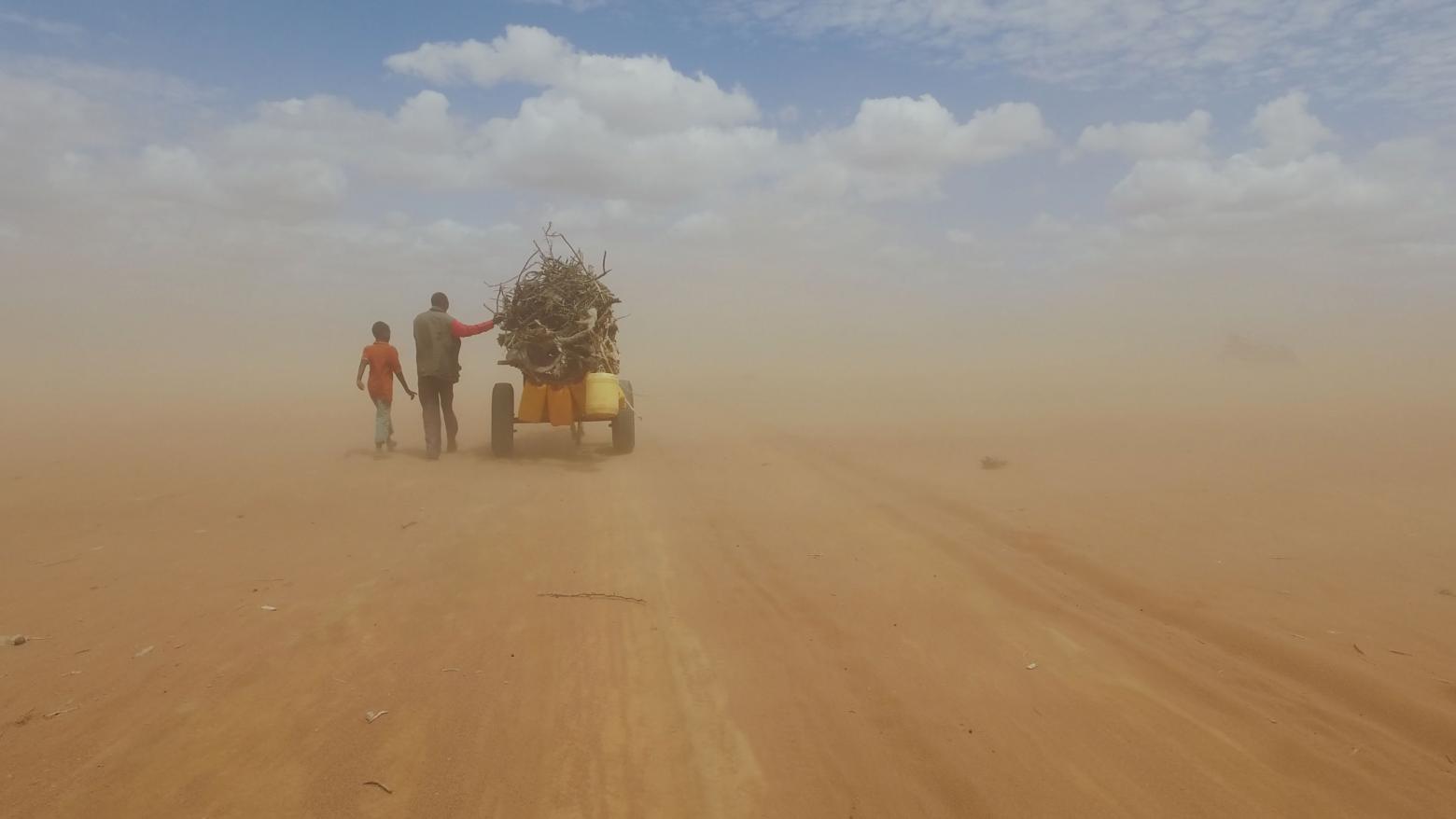 Human Flow Screening and Q&A
Thursday
Jan 4, 2018
6:30 PM
This is a past program
UPDATE: Due to severe winter weather on the east coast, Ai Weiwei's flight from New York has been cancelled and he will not be in attendance at tonight's screening of Human Flow. The film screening will continue as scheduled, followed by a special Q&A with Karen Koning AbuZayd, former Special Adviser on the UN Summit for Refugees and Migrants and one of the world's leading experts on the global refugee crisis. We are hoping to connect with Ai Weiwei via Skype, and we encourage everyone to attend tonight's screening of this incredibly important film.
This epic film by renowned artist Ai Weiwei is a detailed and heartbreaking exploration of the global refugee crisis. Captured over the course of a year in 23 countries, the film follows a chain of urgent stories that stretches through Afghanistan, Greece, Iraq, Kenya, Mexico, Turkey, and beyond. From teeming refugee camps to perilous ocean crossings to barbed-wire borders, Human Flow witnesses its subjects' desperate search for safety, shelter, and justice. (2017, dir. Ai Weiwei, 140 min.)
A Q&A with Karen Koning AbuZayd, former Special Adviser on the UN Summit for Refugees and Migrants, follows the screening.
Biography
United Nations Commissioner Karen Koning AbuZayd is the former Special Adviser on the UN Summit for Refugees and Migrants. Ms. AbuZayd worked for the Office of the United Nations High Commissioner for Refugees (UNHCR) for 19 years, including as Chief of Mission in Sarajevo during the Bosnian war, as well as positions in Sudan, Namibia, Sierra Leone, Geneva and Washington. Ms. AbuZayd also served for 10 years as (first) Deputy and then Under Secretary General and Commissioner General of the United Nations Relief and Works Agency (UNRWA), overseeing public services and emergency response in Gaza, West Bank, Jordan, Syria and Lebanon for Palestine Refugees in the Near East. Currently she is the Commissioner on the UN Geneva Human Rights Council's International Independent Commission on The Syrian Arab Republic.
Before joining UNHCR, Ms. AbuZayd lectured in political science and Islamic studies at Makerere University in Kampala, Uganda, and at Juba University in southern Sudan. AbuZayd earned her Bachelor of Science at DePauw University in the United States and her Master of Arts in Islamic Studies at McGill University in Canada.
attending this program?
ALL HAMMER PROGRAMS ARE FREE
Location: Billy Wilder Theater 
Ticketing: Tickets are required and available at the Box Office one hour before the program. General admission tickets are available one per person on a first come, first served basis following member ticketing. This program will also be shown in high definition in the courtyard, where complimentary refreshments are available.
Member Benefit: Members receive priority ticketing (until 15 minutes before the program) by skipping the general admission line and can choose their seats, subject to availability.
Parking: Under the museum, $6 flat rate after 6 p.m., cash only. Additional event parking is available at 11020 Kinross Ave (UCLA Parking Lot 36) with a flat rate of $5 payable by credit card/cash at the Pay Station or pay by cell phone through the Park Mobile App. 
Food and drink may not be carried into the Billy Wilder Theater. Read our food, bag check, and photo policies. Our café is closed, but you are welcome to bring food into the courtyard.
All Hammer public programs are free and made possible by a major gift from an anonymous donor.
Generous support is also provided by Susan Bay Nimoy and Leonard Nimoy, Good Works Foundation and Laura Donnelley, The Samuel Goldwyn Foundation, an anonymous donor, and all Hammer members.
Public programs advancing social justice are presented by the Ford Foundation.
Digital presentation of Hammer public programs is made possible by the Billy and Audrey L. Wilder Foundation.