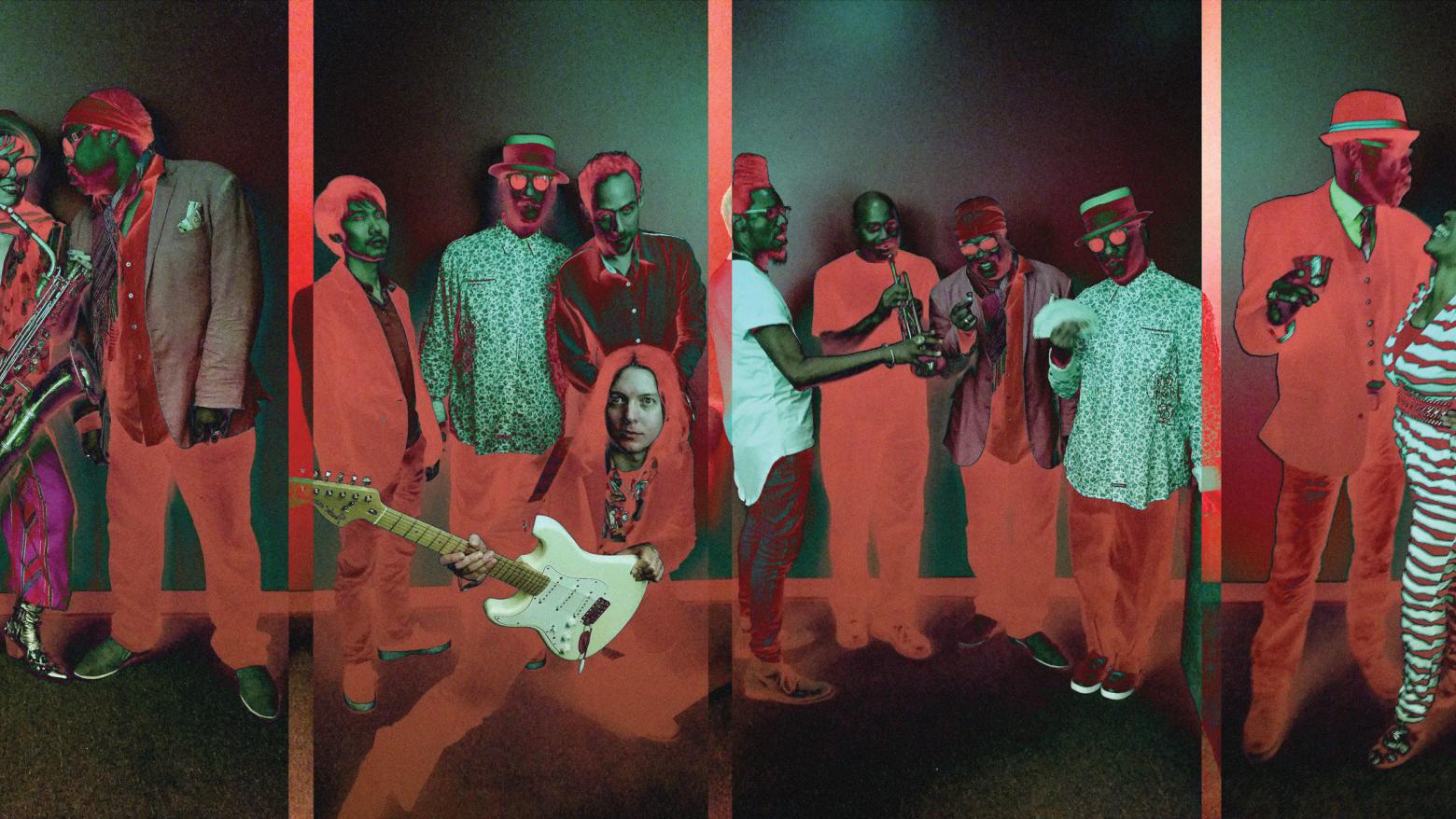 Burnt Sugar the Arkestra Chamber: We Insist! Max Roach's Freedom Now Suite
Thursday
Oct 26, 2017
7:30 PM
This is a past program
Described by Rolling Stone as "a fleet-footed big band, sliding and swaggering through galactic R&B, brawny jazz, and electric funk like a Sun Ra–sized spin on Miles Davis's On the Corner band," Burnt Sugar the Arkestra Chamber began as a forum for New York City's improvisational musicians to compose, record, and perform an eclectic range of music. Led by Greg Tate, these masters of experimental soul-jazz-hip-hop have ranged from eight to twenty seven players at a time. 
For BSAC's Hammer debut, Tate brings an eight-piece crew, with performance backgrounds, consisting of Shelley Nicole (Erykah Badu, Toshi Reagon), Mikel Banks (Vernon Reid), Lewis 'Flip' Barnes (William Parker, The Holmes Brothers), V. Jeffrey Smith (Billy Ocean, Debbie Gibson), Ben Tyree (Valerie June, Dr. Cornel West), Leon Gruenbaum (James Blood Ulmer, Nana Vasconcelos), Greg Gonzalez (Patti LaBelle, Cecil Taylor), and Jared Michael Nickerson (The The, Wadada Leo Smith) to "caramelize" Abbey Lincoln and Max Roach's legendary We Insist! Freedom Now Suite.
ATTENDING THIS PROGRAM?
ALL HAMMER PROGRAMS ARE FREE
Location: Billy Wilder Theater; seats 285.
Ticketing: Free tickets will be issued at the Box Office beginning at 6:30 p.m. Tickets are available one per person on a first come, first served basis. Early arrival is recommended.
Member Benefit: Members receive priority ticketing until 15 minutes before the program and can choose their seats, subject to availability.
Parking: Under the museum, $6 flat rate after 6 p.m. Cash only. 
Food and drink may not be carried into the Billy Wilder Theater. Read our food, bag check, and photo policies.
Biographies
Greg Tate: conductor/guitar/laptop
Greg Tate is a cultural critic, musician, lecturer, and record producer. Tate was a Staff Writer at The Village Voice from 1987-2003. His writings on culture and politics have also been published in The New York Times, The Washington Post, Artforum, Rolling Stone, VIBE, Premiere, Essence, Suede, The Wire, One World, Downbeat, and JazzTimes. He was recently acknowledged by The Source magazine as one of the "Godfathers of Hiphop Journalism" for his groundbreaking work on the genre's social, political, economic, and cultural implications in the period when most pundits considered it a fad.
His published interviews include dialogues with Miles Davis, George Clinton, Richard Pryor, Carlos Santana, Lenny Kravitz, Sade, Erykah Badu, Wayne Shorter, Joni Mitchell, Lisa Bonet, Samuel R Delany, Ice Cube, Dexter Gordon, Betty Carter, King Sunny Ade, Chuck D of Public Enemy, Cassandra Wilson, Jill Scott, Wynton Marsalis, Branford Marsalis, Ornette Coleman, Henry Threadgill, and Vernon Reid of Living Colour. 
Tate has also written for The Museum of Modern Art, the Whitney Museum, ICA Boston, ICA London, Museum of Contemporary Art Houston, The Studio Museum in Harlem, The Gagosian Gallery, Deitch Projects, and the Tate Museums London and Liverpool. His writing about visual art includes monographs and essays about Chris Ofili, Wengechi Mutu, Jean Michel Basquiat, Ellen Gallagher, Kehinde Wiley, and Ramm El Zee. 
His books include Everything But The Burden, What White People Are Taking From Black Culture (Harlem Moon/Random House, 2003), Midnight Lightning: Jimi Hendrix and The Black Experience (Acapella/Lawrence Hill, 2003); and Flyboy In The Buttermilk, Essays on American Culture (Simon and Shuster, 1993). Next year Duke University Press will publish Flyboy 2:The Greg Tate Reader. He recently completed 'The 100 Best Hiphop Lyrics' for Penguin and is now working on a book about the Godfather of Soul, James Brown, for Riverhead Press.
His play My Darling Gremlin (with live music score by Lawrence Butch Morris) was produced at Aaron Davis Hall in 1993 and at The Kitchen in 1995. His short feature film Black Body Radiation was completed in 2006. He also collaborated on the librettoes for Juluis Hemphill's opera Long Tongues (Apollo Production) and for Leroy Jenkins's Fresh Faust, (Boston ICA Production).
Greg is currently teaching at Princeton University leading a course entited "The Loud Black and Proud Musicology of Amiri Baraka." He has served as the Sterling Brown Fellow in Africana Studies at Williams College, in Williamstown MA teaching the course, "Hiphop and The Changing Same: African American Consciousness And Music"; has been a Visiting Professor of Africana Studies at Brown University leading a course titled "The History of AfroFuturism and Black Science Fiction"; has also taught in Yale's graduate art department and as a Louis Armstrong Fellowship Professor at Columbia University's Jazz Studies Center. 
A founding member of the Black Rock Coalition (a Black musicians support organization that began operation in 1985), Tate has produced numerous events for the BRC. Since 1999 Tate has founded and co-led Burnt Sugar The Arkestra Chamber, a 12-to-26 member conducted-improvisation ensemble, which has released 16 albums.
Shelley Nicole: vocals/percussion
Since Shelley Nicole's arrival on the New York music scene, she founded Red Butterfly Music the label through which she released her albums, she who bleeds… and The Quick & Dirty EP. 
Her co-ed septet band, blaKbüshe, has performed at hot spots all over New York City, the US and Europe, including the Manhattan Center Grand Ballroom, B.B. King Blues Club & Grill, The Blue Note, New Jersey Performing Arts Center, World Café Live, Endenu, Genghis Cohen, and the Mau Mau Bar (London). 
Shelley Nicole also has shared the stage with notable artists such as Erykah Badu, Corey Glover (Living Colour), Vicki Randle (The Jay Leno Show), Les Nubians, Natalie Stewart (the Floacist/Floetry), Julie Dexter, Joi, V. Jeffery Smith (the Family Stand), India.Arie, Hanifah Walidah, and Toshi Reagon.
Prior to the band's inception, Shelley Nicole released "Being Me" on Imani/King Street Records. The song topped charts in London and received rave reviews in New York, Europe, and Japan's dance music scene. Critically acclaimed by Curve Magazine Music Reviews Editor Margaret Coble as "an irresistible dance groove," Shelley Nicole's single "blaK Girls" is featured in the documentary and soundtrack of the film U People, and was recently released on the Boldaslove.us compilation Fire in the Dark. The band's London tour helped secure Shelley Nicole's song "3/4 Shit" on the UK released Jazz Re:freshed Vol. 1. 
While exhibiting her acting talents in the rock documentary Electric Purgatory, Shelley Nicole's melodic, edgy song "Release" is featured on the film's soundtrack. Chosen out of 120 submissions, Shelley Nicole's fiery, powerful soulful voice, riveting bass riffs, poignant lyrics, and unforgettable theatric performances also secured her placement as an In House Artist during the 2009 Silver Starr Art Studios LLC (SSAS) competition.
The Village Voice calls Shelley Nicole's blaKbüshe "an ingenious musical evolution." Author and associate professor of Black Popular Culture at Duke University, Mark Anthony Neal says, "On she who bleeds… Nicole created a vibrant synthesis of Rock and Jazz, which ultimately aimed to tweak the staid sensibilities of both mainstream America and the gatekeepers of African-American culture and identity."
Her latest release The Quick & Dirty EP features bonus tracks from producers Ian Friday (Tea Party Music), Daz-I-Kue (i-Kue Productions/Bugz in the Attic) and Lionel Sanchez Jr. (Audioglyph Productions). Boldaslove.us adds, "If [Shelley Nicole's EP] is any evidence of what's to come, we should expect more greatness from this soul-funk-rock queen."
Mikel Banks aka the Spirithood: vocals/harmonica                                                          
As a vocalist, musician (digital horn,harmonica, percussion, flute), actor (Beyonce & Jay Z videos), storyteller & teaching artist, Mikel Banks has been performing with a wide variety of artists, in many styles, for many years. 
Mikel is currently performing with the Burnt Sugar the Arkestra Chamber, Digital Diaspora, the Roughstars and the Dustbin Brothers, Mikel's DJ duo. 
His new project, "Mr. Mikel's Tot Rock & Reggae Experience" (abc's, 123's, and positives for pre-schoolers and 1st graders), is an outgrowth of being a pre-school music teacher. Mikel has developed new songs & adapting some traditional ones to reggae & rock styles,all with sing-along messages for the little ones. 
Lewis 'Flip' Barnes: trumpet
Lewis 'Flip' Barnes is Virginia born, NYC reared and Howard University educated. Lewis has lent his trumpet, vocal, and electric bass stylings to bassist William Parker, JC Hopkins Biggish Band, guitarist Jean-Paul Bourelly, The Holmes Brothers, Norah Jones, and numerous other musical projects. He has written and recorded original music for films by actress/cinematographer Sandye Wilson, So Many Things To Consider and Notsoprivatethoughts.
Ben Tyree: guitar
Ben's staggering versatility and creativity is spotlighted by the wide-ranging list of collaborators with whom he's worked, including artists as varied as Vernon Reid, Kyp Malone (TV On The Radio), Nicholas Payton, Dr. Cornel West, Res, Nomi, The Family Stand, Clark Terry, and Elliot Sharp's SyndaKit, among others, sharing high-profile stages such as the Apollo, New York City's Blue Note, Lincoln Center, Tonic, D.C.'s Blues Alley, and the Kennedy Center. 
He performs regularly with Stephanie Rooker & the Search Engine, Soul Understated (featuring Mavis "Swan" Poole) and Michael Veal's Aqua Ife, to name a few.
V. Jeffrey Smith: soprano, alto, and tenor sax
Vernon Jeffrey Smith was born in Harlem New York but raised in Brooklyn. He learned to play the saxophone at the age of thirteen in Junior high school. However, at the age of nine, he taught himself how to play the guitar as well as a number of different instruments. He is also an accomplished record producer with credits that include artists like Daryl Hall (Hall and Oates) Corey Glover (Living Color) Paula Abdul, Heather Headley, Tamia, and many more.  
He's been on many major hit records. Every Billy Ocean record with a sax on it that was a hit was V. Jeffrey Smith ("Get Out Of My Dreams Get Into My Car," "When The Going Gets Tough," and of course "Caribbean Queen"). Teen sensation Debbie Gibson's album "Out Of The Blue" and "Electric Youth" (sax solos on "Only In My Dreams" and "Foolish Beat") was V. Jeffrey Smith. 
He is the co-founder and member of the group The Family Stand with Sandra St Victor and Peter Lord, which originated in 1988. The Family Stand made some nice strides in the underground and R&B world and had a radio hit in the early 90s called "GHETTO HEAVEN." The Family Stand released four albums on Atlantic/Elektra Records, accumulating a massive cult following worldwide with their intense live performances and poignant thumping sound.
Leon Gruenbaum: keyboards & samchillian
Leon Gruenbaum has been a vital force in the New York music scene for over 25 years. After early classical training on piano and clarinet, Mr. Gruenbaum developed an interest in jazz, funk, and avant-garde music. Mr. Gruenbaum conceived of the world's first relativistic music keyboard, a patented MIDI controller called the Samchillian Tip Tip Tip Cheeepeeeee. 
He has recorded and performed internationally with this instrument with guitarist Vernon Reid (Living Colour) and others. He also plays this keyboard while vocalizing in his most recent project, "Genes and Machines", which features, in addition to another vocalist/keyboardist, two drummers, one acoustic and one electronic. 
Genes and Machines has performed at the Stone, BAMCafe, and regularly at Nublu. In 2003-4 Mr. Gruenbaum was a visiting artist at Harvard University, where he led students in an "Interactive Anti-Fashion Show."  
Artists with whom he has performed on Samchillian include The Roots, Vernon Reid, Burnt Sugar the Arkestra Chamber, Chaka Khan (Summerstage '99), Yohimbe Brothers, James "Blood" Ulmer (Grammy-nominated, 2003), Nana Vasconcelos (Pat Metheny's percussionist), Cyro Baptista (Paul Simon's percussionist), Micah Gaugh, Beans (Warp Records), and M.C.P.S.
Greg Gonzalez: drums
"Greg is one funky drummer who knows how to push me so well. He's bankable." -Patti LaBelle
Greg Gonzalez is the Music Director and drummer for the Tony Award winning Broadway show FELA! and its current touring company FELA! The Concert. His resume includes performance and recording credits with top artists including Beyonce, Patti LaBelle, Cecil Taylor, Femi Kuti, Seun Kuti, Red Baraat, Falu, Jazz Mandolin Project, Danielia Cotton, Chop and Quench, Antibalas, Don Braden, and many more. 
Growing up in Venice, CA, Greg attended the UCLA School of Music and had the privilege of studying with drumming legends Freddie Gruber, David Garibaldi, Louis Conte, and Mitchell Peters. 
More recently Greg has become an educator, performing and teaching for the Mark Morris Dance Center. His signature contribution is integrating Latin and African rhythms to children's dance classes taught throughout various Brooklyn public schools. 
Jared Michael Nickerson: electric bass
Born in Cleveland, Ohio and raised in Dayton, Ohio, Jared starting playing bass in high school talent shows as part of the legendary Dayton funk scene which spawned the Ohio Players, Slave, Roger Troutman & Zapp, Sun, Dayton, Steve Arrington's Hall of Fame, Faze-O, and members of Heatwave. He continuing his musical development at the University of Notre Dame under the direction of Father Wiskerchen, noted for his development of three members of the band Chicago's horn section; after graduating with a B.A. in Business Management, Jared then moved to Boston and studied for two years at the New England Conservatory of Music. 
Returning to Ohio, Jared joined The Human Switchboard, where after three years of touring the Midwest & East Coast, moved with the band to New York City and immersed himself in it's 80s music scene (Danceteria, Peppermint Lounge, Hurrahs, Maxwells, the World). After Human Switchboard dissolved Jared started his own band JJ Jumpers; eventually joined the Black Rock Coalition becoming the B.R.C.'s first Director of Operations and booked the BRC's first two-day mini-fest at CBGBs entitled Stalking Heads. When he left the BRC his position had transformed into an East and West Coast Booking Committee led by a select number of BRC band leaders, whom had access to rock rooms all across the country. 
As a freelancer Jared has played with The Roots, Katell Keineg, Marc Anthony Thompson, Catie Curtis, Marc Cary, John Paul Bourelly, The Raybeats, and DJ Logic. He has recorded and toured with Melvin Van Peebles, England's The The, Bernie Worrell, Wadada Leo Smith, Darlene Love, Freedy Johnston, Vernon Reid (solo) and with The Yohimbe Brothers (Vernon Reid & DJ Logic), Gary Lucas's Gods and Monsters, Jeff Buckley, and Tammy Faye Starlite and the Angels of Mercy. 
Jared co-wrote a tune, recorded and toured with blues great Charlie Musselwhite in support of "Sanctuary," on Peter Gabriel's Real World label. This CD found itself on numerous critic top ten lists at the end of the year and also received a Grammy nomination for best blues recording in 2004.  
As business manager for Burnt Sugar Index LLC since it's inception in 1999, Jared has booked Sugar performances throughout the United States and in France, England, Portugal, Spain, Finland, the Netherlands and Italy. Jared arranged an eight-week residency at BRICstudios (the organization that presents Celebrate Brooklyn) and negotiated the two-night debut of Melvin Van Peebles theatrical version of Sweet Sweetback's Badasssss Song for two sold-out performances at the Sons D'Hiver Festival in Paris in 2010. Jared recently tour-managed emerging Concord Records Alt-Folk artist Valerie June for her Midwest, South and Northeast tour legs, including the set-up of her debut television performance on the August 21, 2013 edition of the David Letterman show.   
Jared's television appearances include Late Night With David Letterman, The Jools Holland Show, MTV, VH1, The Tonight Show with Conan O Brien, The John Stewart Show and The Kennedy Center Honors BB King Tribute Band, which included Bonnie Raitt, Dr. John, Etta James and the late Joe Williams. Jared also appeared in Nelson George's "Finding The Funk" documentary that has been accepted to numerous film festivals and can be found on VH1's website.
Jared has toured extensively performing at venues such as the Toronto Skydome, the L.A. Forum, the Oakland Coliseum, England's Brixton Academy & Reading Festival,The Beacon Theater, and Madison Square Garden. 
All Hammer public programs are free and made possible by a major gift from an anonymous donor.
Generous support is also provided by Susan Bay Nimoy and Leonard Nimoy, Good Works Foundation and Laura Donnelley, an anonymous donor, The Samuel Goldwyn Foundation, and all Hammer members.
The Hammer's digital presentation of its public programs is made possible by the Billy and Audrey L. Wilder Foundation.