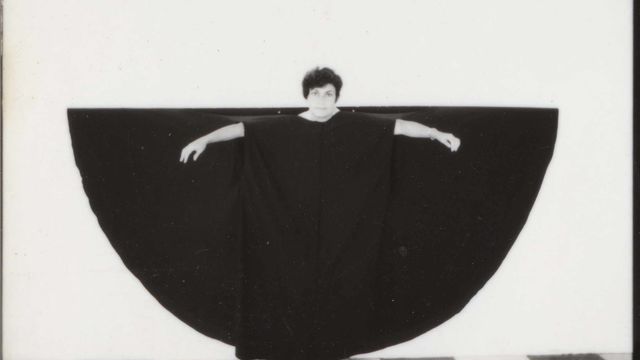 The Political Body in Latina and Latin American Art
to

This is a past program
Image: Martha Araújo (Brazilian, b. 1943). Hábito/Habitante(Habit/inhabitant), 1985. Documentation of performance: four black-and-white photographs. 6 7/8 × 8 7/8 in. (17.5 × 22.5 cm) each. Collection of Martha Araújo; courtesy of Galeria Jaqueline Martins.
What does it mean to be a radical woman artist? How did Latin American women artists and Latinas working in the United States between 1960 and 1985 defy dominant patriarchal narratives through new perceptions of the body? What is the relationship between Latina and Latin American art practices and political feminisms? How is the body political? 
The political body, a key concept of the exhibition Radical Women: Latin American Art, 1960-1985, is bound by the poetics of subjectivity, shaped by desire, and disobedient and resistant in the face of political turmoil such as oppression, violence, and dictatorship. In this symposium, scholars, artists, and curators from around the world convene to consider ideas of radicality, feminism, and the emancipated body.
This symposium is free and bilingual in Spanish and English. Optional boxed lunch from Simple Things is available for purchase for $15. You may wish to indicate any dietary restrictions in the registration form.
Confirmed speakers include: Julia Bryan-Wilson, Claudia Calirman, Graciela Carnevale, Isabel Castro, Karen Cordero Reiman, Karen Lamassonne, Miguel A. López, María Evelia Marmolejo, Mónica Mayer, Adriano Pedrosa, Sylvia Salazar Simpson, and Patssi Valdez.
Symposium moderators are Cecilia Fajardo-Hill and Andrea Giunta, guest curators, and Hammer chief curator Connie Butler.
SYMPOSIUM SCHEDULE
Arrival and Coffee
9–9:45 a.m.
Welcome and Introduction
10–10:30 a.m.
Panel I: What Does It Mean to Be a Radical Woman Artist?
10:30 a.m.–noon
Moderator: Cecilia Fajardo-Hill
Panelists: Graciela Carnevale, Karen Lamassonne, Adriano Pedrosa, Patssi Valdez
The period of 1960-1985 was a time of great experimentation all over the world, and a period where many of the languages of contemporary art, such as conceptual art, video art, and performance, were shaped. In particular, Latina and Latin American women artists in Radical Women defied canonical ideas of art and normative definitions of the body, specifically of the female body. They reinscribed ideas of femininity, sexuality, gender, the political, the social, and the conceptual. This session proposes to explore and discuss the multiple meanings and definitions of radicality as it is found in the works of Radical Women. How can we describe the singular contributions by the Latina and Latin American women artists to contemporary art of this period? What defines their unique radicality?  
Lunch Break
Noon–1 p.m.
Panel II: New Topics, New Bodies: The/An Iconographic Turn
1–2:30 p.m.
Moderator: Andrea Giunta
Panelists: Claudia Calirman, Miguel A. López, María Evelia Marmolejo, Sylvia Salazar Simpson
Between the 1960s and 1980s, different creative processes contributed to diverse understandings of the body. Several generations of Latina and Latin American artists elaborated a new perception of the body: one approached from dissident subjectivities with respect to the systems of power that order and normalize sexualities. Their representations questioned the patriarchal and normative canon of "correct" bodies and questioned the social classification of bodies as feminine and masculine. Their productions introduced many new topics and approaches that gave rise to a radical iconographical turn, the largest that has taken place in the 20th century. They contributed thus to a new understanding of the body—indeed new bodies that questioned regulations and correctness—in which we are still immersed. The purpose of this session is to analyze the artistic, academic, and curatorial agendas and languages through which this new body emerged. 
Break
2:30–3 p.m.
Panel III: Feminist Exchanges
3–4:30 p.m.
Moderator: Connie Butler
Panelists: Julia Bryan-Wilson, Isabel Castro, Karen Cordero Reiman, Mónica Mayer
Is there a history of feminist art in Latin America? In Latin America, feminism was seen by the left as a bourgeois ideology associated with imperialism. In the United States, Chicanas and Latinas were often excluded from mainstream feminism. Feminist or not, the artists in Radical Women explored female subjectivity and subverted patriarchal ideology and culturally and biologically determined roles of women in society. As Mónica Mayer writes for the Radical Women catalogue, it is necessary to ask: 'What is feminist art and how and by whom has it been produced?' and 'What social factors enabled artists in the mid-20th century to approach or reject feminist art in each region in Latin America?' What are the points of exchange and dissidence between Latin American, Latina, and international artistic and political feminisms?
Closing Remarks
4:30–5 p.m.
PANELIST BIOGRAPHIES
Julia Bryan-Wilson
is a professor of modern and contemporary art at UC Berkeley and the director of Berkeley's Arts Research Center. She is the author of
Art Workers: Radical Practice in the Vietnam War Era
(University of California Press, 2009);
Art in the Making: Artists and Their Materials from the Studio to Crowdsourcing
(Thames & Hudson, 2016); and 
Fray: Art and Textile Handicraft
(University of Chicago Press, 2017).  
Claudia Calirman is associate professor at John Jay College of Criminal Justice, New York, in the Department of Art and Music. Her areas of study are Latin American, modern, and contemporary art. She is the author of Brazilian Art under Dictatorship: Antonio Manuel, Artur Barrio, and Cildo Meireles (Duke University Press, 2012), which received the 2013 Arvey Book Award by the Association for Latin American Art. She has received an Arts Writers Grant from Creative Capital/Warhol Foundation to write her second book on contemporary women artists from Latin America. Calirman is also a lecturer at the Museum of Modern Art in New York and has cocurated several exhibitions, including Basta! Art and Violence in Latin America for the Anya and Andrew Shiva Gallery at John Jay College in 2016.
Graciela Carnevale is an artist and teacher. She was a member of the Grupo de Artistas de Vanguardia de Rosario, an Argentine collective that organized such seminal exhibitions as Tucumán Arde (Rosario, Argentina) and Ciclo de Arte Experimental (Rosario, Argentina) in the 1960s. She halted her artistic career upon the group's dissolution, but returned to work with several collectives in the 1990s. She has since established an extensive archive of the Grupo's artwork, including other work from the 1960s and 1970s in Argentina. Since 2003 Carnevale has also organized El Levante, an independent initiative for the research and production of critical knowledge from established art practices, with Mauro Machado. From this platform she participates in collaborative projects and became a member of the Red de Conceptualismos del Sur. Carnevale's work is included in Radical Women: Latin American Art, 1960-1985 at the Hammer Museum in Los Angeles.
Isabel M. Castro is a visual artist, educator, and curator. She is a graduate of the USC Roski School of Fine Arts and the USC Rossier School of Education and holds an M.A. from the Specialized Arts Program at the USC Annenberg School of Journalism. As a photographer she has had numerous exhibitions in the United States, Latin America, and Europe. She has also curated numerous milestone Chicano and Latino art music/sound exhibitions. Early in her career served as founder, board member, and executive director of Plaza de la Raza Center for Arts, Education, and Culture. She continues to work in photography, employing both traditional and new technologies. She teaches in Los Angeles and lectures in the United States and abroad. Castro's work is included in Radical Women: Latin American Art, 1960-1985 at the Hammer Museum in Los Angeles.
Karen Cordero Reiman is an art historian, curator, and writer. She is professor of modern and contemporary art, art theory, and historiography at the Universidad Iberoamericana and  has taught at the Universidad Nacional Autónoma de México (UNAM) in Mexico City. Her numerous publications on modern and contemporary Mexican art focus on the relationship between the so-called fine arts and popular arts; the historiography of Mexican art; body, feminism, gender, and sexual identity; and museological and curatorial discourses. She is cocurator of Another Promised Land: Anita Brenner's Mexico at the Skirball Cultural Center, a part of Pacific Standard Time: LA/LA, and contributed an essay about Mexican women artists to the Radical Women: Latin American Art, 1960-1985 exhibition catalogue.
Karen Lamassonne was born and raised in a multicultural and multilingual environment, and has lived and worked in the United States, Colombia, France, Germany, and Italy. Her work as an artist is always autobiographical, responding to her environment and emotions in which eroticism is a silent participant. During the 1980s, Lamassonne lived in Cali, Colombia where she bonded with a dynamic group of artists and filmmakers known as The Grupo de Cali. During this period she began to incorporate her cinematographic experience to create works in photography and video. She also experimented with art direction, costume design, and acting, creating a multifaceted work across the disciplines of fine art, design, film, theater, and music. Since 1990 she has exhibited in Atlanta, Georgia where she  lives and works. Lamasonne's work is included in Radical Women: Latin American Art, 1960-1985 at the Hammer Museum in Los Angeles.
Miguel A. López is a writer, a researcher, and the chief curator of TEOR/éTica in San José, Costa Rica. He curated Fragile: Patricia Belli. Works, 1986–2015, TEOR/éTica, San José, Costa Rica; Teresa Burga: Structures of Air with Agustín Pérez Rubio, Museo de Arte Latinoamericano de Buenos Aires; the section God Is Queer for the 31st Bienal de São Paulo, Brazil; and was cocurator of Losing the Human Form: A Seismic Image of the 1980s in Latin America with Red Conceptualismos del Sur, Museo Nacional Centro de Arte Reina Sofía, Madrid, Spain. He is cofounder of the independent art space Bisagra, active in Peru since 2014. He has written for Afterall, Manifesta Journal, E-flux Journal, Art in America, ArtNexus, and Art Journal. In 2016 he received the Independent Vision Curatorial Award from Independent Curators International (ICI), New York.
Maria Evelia Marmolejo is a pioneer of performance art in Colombia. Due to political turmoil in her country, she self-exiled to Madrid in 1985 and is currently based in New York. Her work focuses on political oppression and gender, and sociopolitical and ecological issues in Latin America and internationally. In the 1980s, her work was shown at the VIII Salon Atenas, Bogotá, Colombia; Museum Modern Art, Cartagena, Colombia; San Diego Gallery, Bogotá, Colombia; and III Trienal of Bogotá, Colombia. ;More recently she exhibited in re.act.feminism #2, Berlin, Germany; Mandragaroas Art Space, New York, United States; 19th Bienal de Art Paiz in Guatemala; Prometeo Gallery di Ida Pisani, Milan, Italy. She was the recipient of a CIFO's Grants & Commission Program Award, Miami, USA. Marmolejo's work is included in Radical Women: Latin American Art, 1960-1985 at the Hammer Museum in Los Angeles.
Mónica Mayer's art work includes performance, drawing, and interventions. She also considers writing, teaching, and community participation as part of her artistic production. She founded the group Polvo de Gallina Negra with Maris Bustamante in 1983. She and Víctor Lerma initiated Pinto mi Raya, an applied conceptual art project intended to "lubricate" the art system in 1989. Mayer has published several texts in Mexico and abroad, including Rosa chillante: mujeres y performance en México (Conaculta/Fonca, 2014), in addition to 20 years of writing for El Universal newspaper. She is a member of the Sistema Nacional de Creadores. Mayer's work is included in Radical Women: Latin American Art, 1960-1985 at the Hammer Museum in Los Angeles.
Adriano Pedrosa is artistic director of the Museu de Arte de São Paulo, Brazil and former curator in charge of exhibitions and collections at Museu de Arte da Pampulha, Belo Horizonte, Brazil. He was adjunct curator of the 24th Bienal de São Paulo; cocurator of the 27th Bienal de São Paulo; curator of InSite_05, San Diego Museum of Art, Centro Cultural Tijuana; artistic director of the 2nd Trienal de San Juan; curator of 31st Panorama da Arte Brasileira--Mamõyaguara opá mamõ pupé, Museu de Arte Moderna, São Paulo; cocurator of the 12th Istanbul Biennial; and curator of the São Paulo pavilion at the 9th Shanghai Biennale. Other exhibitions include F[r]icciones, Museo Nacional Centro de Arte Reina Sofia, Madrid, Spain; artevida, Casa França Brasil, Museu de Arte Moderna do Rio de Janeiro, Escola de Artes Visuais e Cavalariças do Parque Lage, Biblioteca Parque Estadual, Rio de Janeiro; and Histórias Mestiças, Instituto Tomie Ohtake, São Paulo. 
Sylvia Salzar Simpson is a photographer and a performance, installation, and book artist born in Santa Fe, New Mexico and was raised in Mexico City. She originally planned to study medicine in Mexico, but due to her undocumented status she did not receive a medical degree. After moving to Los Angeles, she studied at the Otis Art Institute and California Institute of the Arts with Allan Kaprow and John Baldessari. Simpson's experimental and ephemeral oeuvre can be described as a combination of art happenings and environmental, conceptual, and performance art. Regarding the nature of her practice, she writes, "I grew up in Mexico City. The nostalgia I still feel for its exuberance lives on inside me as a hole in my heart. I try to fill it up by making the kind of art and life I make." Simpson's work is included in Radical Women: Latin American Art, 1960-1985 at the Hammer Museum in Los Angeles.
Patssi Valdez received her BFA from Otis Art Institute in Los Angeles and is best known for her vibrant paintings, installations, and performance work with the avant-garde art group ASCO, of which she is a founding member. She has received awards from the Getty Foundation, National Endowment for the Arts, and Brody Arts Fellowship in Visual Arts. Her work is included in major public collections including the National Museum of American Art, Smithsonian Institution, Washington D.C., and The Whitney Museum of American Art, New York, as well as the private collections of Cheech Marin, Nely Galan, Cástulo de La Rocha, and Walter Ulloa. She was named "Latina of Excellence in the Cultural Arts" by the U.S. Congressional Hispanic Caucus in 2005 and remains one of the most impactful Mexican-American female artists in the contemporary art world. Valdez's work is included in Radical Women: Latin American Art, 1960-1985 at the Hammer Museum in Los Angeles.
ATTENDING THIS PROGRAM?
ALL HAMMER PROGRAMS ARE FREE
Location: Billy Wilder Theater
Ticketing: Tickets are required and available on Eventbrite on a first come, first served basis. Visitors may attend individual panels, subject to capacity restrictions. Early arrival is recommended. Questions about the program or schedule? Contact academicprograms@hammer.ucla.edu. 
Parking: Parking is available at the Hammer Museum. Rates are $6 for the first three hours with museum validation, and $3 for each additional 20 minutes, with a $20 daily maximum, cash only. Additional parking is available at UCLA Parking Structure 32, just a few blocks from the museum, with a day-rate of $12 payable by credit card or cash at the Pay Station or pay by cell phone through the Park Mobile App. Enter UCLA Parking Structure 32 from Kinross Avenue between Weyburn Place and Veteran Avenue.
Public Transportation: We also encourage visitors to consider biking, public transportation, or ride-sharing. Ride-sharing vehicles and taxis should pick up and drop off at the Lindbrook Dr. entrance, located on the north side of the Hammer Museum between Westwood Blvd. and Glendon Ave. 
Radical Women: Latin American Art, 1960-1985 is organized by the Hammer Museum, Los Angeles, as part of Pacific Standard Time: LA/LA, an initiative of the Getty with arts institutions across Southern California. The exhibition is guest curated by Cecilia Fajardo-Hill, Andrea Giunta with Marcela Guerrero former curatorial fellow, in collaboration with Connie Butler, chief curator, Hammer Museum.
Radical Women: Latin American Art, 1960–1985 is made possible through lead grants from the Getty Foundation.
Major funding is provided by the Diane and Bruce Halle Foundation and Eugenio López Alonso. Generous support is provided by the Vera R. Campbell Foundation, Marcy Carsey, Betty and Brack Duker, Susan Bay Nimoy, and Visionary Women.
Additional support is provided by the Radical Women Leadership Committee and the Friends of Radical Women.

Media sponsorship is provided by Cultured magazine, KCET, and KCRW 89.9 FM.