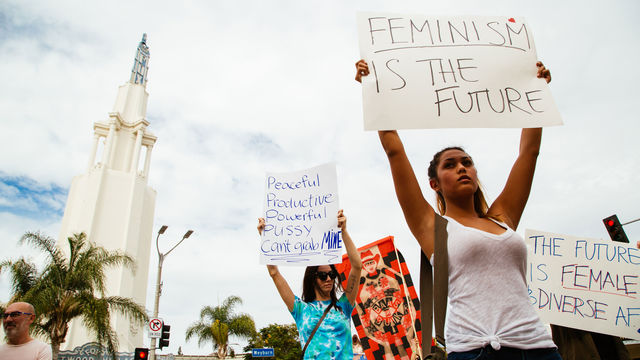 Conversations
Special Programs
"Show up, dive in, stay at it": Post-Election Community Gathering at Royce Hall
This public forum by the Hammer focused on creating space for learning, organizing, and taking action under the new administration. Due to overwhelming interest the event was moved to Royce Hall on the UCLA campus.
"Show up, dive in, stay at it" —Barack Obama, January 10, 2017
Jessica Yellin, former chief White House correspondent for CNN, moderates a panel of organization and community leaders who will share their respective points of view about potential or likely consequences of the election and the confirmation of the new administration, and offer suggestions to those who are interested in getting involved and taking action.
Participants are:
Susan Dunlap, President & Chief Executive Officer of Planned Parenthood Los Angeles
Hector Villagra, Executive Director at the ACLU of Southern California
Lorri L. Jean, CEO of the Los Angeles LGBT Center
Angelica Salas, Executive Director of the Coalition for Humane Immigrant Rights of Los Angeles (CHIRLA)
Devon Carbado, Honorable Harry Pregerson Professor of Law, UCLA
Ann Philbin, the Director of the Hammer Museum, will give opening remarks.
Thanks to Royce Hall and CAP UCLA for opening their doors to this program.
ATTENDING THIS PROGRAM?
ALL HAMMER PROGRAMS ARE FREE
Location: Royce Hall on the UCLA campus
Ticketing: This drop-in program is not ticketed.
Parking: We strongly encourage using ridesharing services or public transportation. Lyft users can enter code CAPGENERAL for 5% off a ride, or new Lyft users can enter CAPUCLA for up to $20 off their first ride. Parking is available in UCLA Structure 5: $12 cash; accessible parking is $6. Enter Structure 5 from Sunset Boulevard and Royce Drive. Lot opens at 6 p.m.
Biographies
Devon Carbado, the Honorable Harry Pregerson Professor of Law, is the inaugural associate vice chancellor of BruinX, a multidisciplinary unit within UCLA's Office of Equity, Diversity and Inclusion. The unit encourages equity, diversity and inclusion by engaging with current research, development and intervention projects. Its goal is to effectively translate findings based on evidence, experiments and analysis into policy change and action.
Carbado will lead the BruinX unit by providing critical scholarly engagement, strategic planning and project management. With nearly 20 years of experience as a faculty member and two-time vice dean for faculty and research at the UCLA School of Law, Carbado is an experienced administrator. Jerry Kang, UCLA's vice chancellor for equity, diversity and inclusion, said in his announcement that he could not think of anyone better suited than Devon to take on this new role.
Carbado graduated from Harvard Law School in 1994 where he was editor-in-chief of the Harvard Black Letter Law Journal, a member of the Board of Student Advisors and winner of the Northeast Frederick Douglass Moot Court Competition. In 2005, Carbado was named an inaugural recipient of the Fletcher Foundation Fellowship for his work in promoting the goals of Brown v. Board of Education. He has also won numerous teaching awards, including UCLA's Distinguished Teaching Award and the School of Law's Rutter Award for Teaching Excellence.
Carbado focuses on employment discrimination, criminal procedure, constitutional law and identity. He is currently working on a series of articles on race, law and police violence.
Susan Dunlap is the President and CEO of Planned Parenthood Los Angeles (PPLA). PPLA is one of the largest Planned Parenthood affiliates in the country, with close to 250,000 patient visits each year and providing comprehensive sex education in schools and communities across L.A. County.  
Dunlap's twenty year career with Planned Parenthood has included work with the Planned Parenthood Federation of America leading advocacy efforts in battleground states across the country, as well as with Planned Parenthood Affiliates of California as a registered lobbyist ensuring that California's public policy framework truly aspires to reproductive health and justice for all Californians.
Prior to her work with Planned Parenthood, Dunlap worked as an award-winning producer for public radio.  
Dunlap is an accomplished public speaker and author who has been recognized and honored by numerous organizations, including the American Political Science Association, the California Legislature, and Equality California.
Lorri L. Jean is nationally recognized as one of the most effective leaders in the lesbian, gay, bisexual and transgender ("LGBT") civil rights movement.  Jean serves as CEO of the Los Angeles LGBT Center, the world's largest LGBT organization. Previously, Jean served as the Executive Director of the National Gay and Lesbian Task Force. OUT Magazine has twice named her one of the 50 most powerful gay people in the nation, Los Angeles magazine named her one of L.A.'s 100 most influential people and in 2014 it named her one of the ten most inspiring women in Los Angeles.
Jean has been an activist on LGBT issues since 1979. She was one of the lead plaintiffs in the successful landmark lawsuit against Georgetown University in the 1980's to prohibit discrimination on the basis of sexual orientation. She also was the first openly LGBT person to receive a top secret security clearance from the Central Intelligence Agency. In 1989, with her appointment as Deputy Regional Director of the Federal Emergency Management Agency ("FEMA"), she became the highest-ranking openly LGBT person in the Federal government.
While serving at the helm of the Center, Jean has driven a period of unprecedented expansion, increasing revenues from $8 to $97 million and the numbers of people served every month to more than 42,000. While running the Task Force, Jean oversaw an organizational turnaround that brought the organization to financial solvency and increased annual revenues to an all-time high.
Jean and her wife of 25 years, attorney Gina M. Calvelli, live in Hollywood. They were legally married in 2008.
Angelica Salas is the Executive Director of the Coalition for Humane Immigrant Rights of Los Angeles (CHIRLA), and is widely regarded as one of the most gifted activist/organizers in the country today.
Since becoming CHIRLA's director in 1999, Salas has spearheaded and won several ambitious campaigns. She helped win in-state tuition and access to financial aid for undocumented immigrant students, and most recently helped win drivers licenses for the undocumented community in California. Salas is also a leading national spokesperson and organizer on federal immigration policy. She is a prominent figure in ethnic and mainstream press and is often quoted on the all issues related to immigrant well-being.
Under Salas' leadership, CHIRLA and its national partners have built the foundation for the upsurge in immigrant rights activism. She is a leader in national coalitions of organizations which have successfully mobilized millions of immigrants to demand comprehensive immigration reform with a path to citizenship, family reunification, and protection of civil and labor rights. One of her greatest accomplishments at CHIRLA has been the transformation of a social service provision coalition into a statewide mass membership organization that empowers immigrants to engage in advocacy on their own behalf. Today CHIRLA weaves together organizing, electoral civic engagement, community education, policy advocacy and legal services to fully engage and empower immigrant families.
Salas comes by her understanding of the immigrant experience firsthand. As a five year old, Angelica came to the U.S. from Mexico to rejoin her undocumented parents who had come to the U.S. to provide for their family. She grew up in Pasadena, California, and is a graduate of Occidental College. Angelica Salas is married to Mayron Payes, an immigrant from El Salvador, and has two children, Maya and Ruben Payes. 
Hector Villagra is executive director at the ACLU of Southern California, a post he has served since February 2011.
Hector launched the Orange County Office of the ACLU of Southern California in September 2005 and served as its director until October 2009, when he became legal director for the affiliate.
Before joining ACLU SoCal, Hector served as regional counsel for the Los Angeles Regional Office of the Mexican American Legal Defense and Educational Fund (MALDEF) from 2001 to 2005 and as a staff attorney at MALDEF from 1999 to 2001. He has led numerous civil rights cases involving such issues as educational equity, religious discrimination, immigrants' rights and voting rights.
Hector received the Daniel Levy Award for outstanding achievement in immigration law from the National Lawyer's Guild in 2008. In 2012, he received the Attorney of the Year Award from the Hispanic Bar Association of Orange County, the Excellence in Leadership Award from the National Latina/o Law Student Association and the Latino Law Students Association of Columbia Distinguished Alumnus Award.
Hector graduated from Columbia University and Columbia University School of Law, where he received the Jane Marks Murphy Prize, awarded to students who show promise of a professional career applying the highest standards of the lawyer's craft to service of the public interest. After graduation, he served as a law clerk to the Honorable Robert Wilentz, Chief Justice of the New Jersey Supreme Court, and the Honorable Stephen Reinhardt of the U.S. Court of Appeals for the Ninth Circuit.
He currently serves on the board of Just Detention International.
Jessica Yellin is the Emmy and Gracie award winning former Chief White House correspondent for CNN. She has interviewed Presidents Barack Obama and Bill Clinton, Secretary of State Hillary Clinton, Mrs. Obama, former Treasury Secretary Larry Summers and more. Yellin has covered Capitol Hill, domestic politics, state and national elections, the culture wars and issues facing women in the workplace. Her work has been published in The New York Times, The Daily Beast, Details, Entertainment Weekly and Los Angeles Times. She is serving a fellow at the USC Annenberg Center on Communications Leadership and Policy.