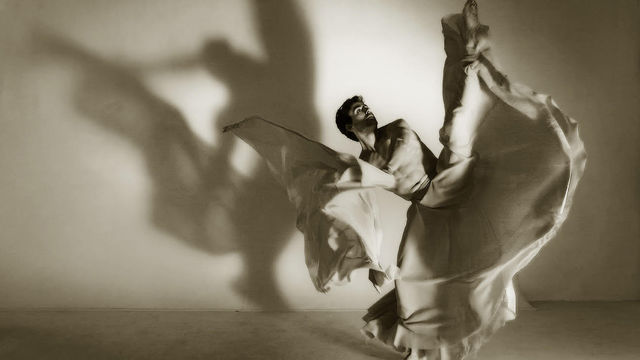 Stephen Beitler: Instruments of the Present Moment
OCT 14, 18 & 19, 2016; JAN 19, 25 & 26, 2017
In Real Life: Studio provides a glimpse into the working processes of artists. Throughout the fall a select group of artists utilizes spaces in the museum to convene and rehearse new material, including theater, dance, music, and performance. While some artists and collectives will simply discuss or workshop material, others will produce a new project from rehearsal to final performance. 
Project Statement
Pulling from all of our skills we have cultivated over the decades, we will be "Instruments of the Present Moment." Through ritual, ceremony, chanting, singing, movement, dance, breath, yoga, presence, healing, and all we have acquired in our decades of practice, we will be doing our best to allow the present moment to sing through the instruments of our bodies, minds, and hearts. Come and join, and become a part of the music. By your very presence, the present shall change; and so too, will we change.
I will be exploring listening in the present moment while sharing this mindfully artistic process as a live love performance art installation. What happens when we create art mindfully? How can we consistently create from the present moment? Can this immediacy be trained, taught, recreated, and experienced? Come and find out with us! —Stephen Beitler
Thursday, October 14, 2016, 2–6 p.m.
Tuesday, October 18, 2016, 11 a.m.–12 p.m.
Wednesday, October 19, 2016,  11 a.m.–12 p.m.
Thursday, January 19, 2017, 11 a.m.–12 p.m.
Wednesday, January 25, 2017, 11 a.m.–12 p.m.
Thursday, January 26, 2017, 11 a.m.–12 p.m.
Thursday, January 26, 2017, 2–6 p.m.
Biography
Stephen Beitler teaches and practices mindful artistry.  His work has been called "Virtuosic" (The New Yorker), "Showstopping" (LA Weekly), "Intoxicating" (TGTB). He is interested in the immediacy of artistic expression. How do we allow community connected-ness, even in a performance/audience setting? Can we create inclusive artistic experiences in the midst of a modern and chaotic world?
Attending This Program?
ALL HAMMER PROGRAMS ARE FREE
Location: Courtyard
Ticketing: This drop-in program is not ticketed.
Parking: Under the museum. Rates are $6 for the first three hours with museum validation, and $3 for each additional 20 minutes, with a $20 daily maximum. Cash only.