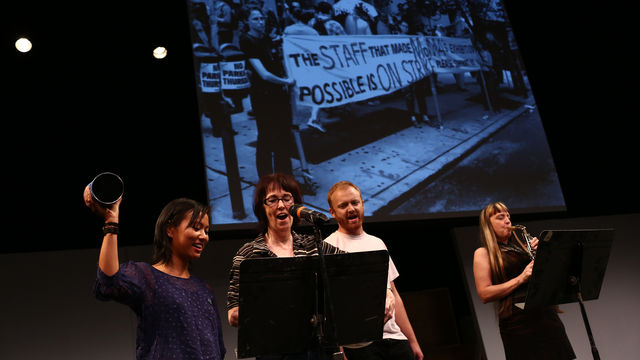 Simon Leung
NOV 29 & 30; DEC 6, 8 & 9, 2016, 11:00AM-6:00PM
In Real Life: Studio provides a glimpse into the working processes of artists. Throughout the fall a select group of artists utilizes spaces in the museum to convene and rehearse new material, including theater, dance, music, and performance. While some artists and collectives will simply discuss or workshop material, others will produce a new project from rehearsal to final performance. 
Project Statement
During his In Real Life: Studio sessions, Simon Leung rehearses for his ACTIONS! / ADJUNCTS! performances on December 10 and 11, 2016.
Originally presented in 2013 at The Kitchen in New York, ACTIONS!, a contemporary form of "art workers' theater" that revisits political and art "actions," including a workers' strike against The Museum of Modern Art in 2000, presented alongside ADJUNCTS!, a new work conceived as a dance/collective poem addressing current education and labor issues in L.A. art schools. ACTIONS!/ADJUNCTS! features participants from the original performance as well as students, graduates, and adjunct faculty from throughout the L.A. art community. 
Attending this program?
ALL HAMMER PROGRAMS ARE FREE
Location: Courtyard
Ticketing: This drop-in program is not ticketed.
Parking: Under the museum. Rates are $6 for the first three hours with museum validation, and $3 for each additional 20 minutes, with a $20 daily maximum. Cash only. 
In Real Life: Studio is a Public Engagement project organized by January Parkos Arnall, curatorial associate, Public Engagement.
The Hammer Museum's Public Engagement program is supported, in part, by the Los Angeles County Board of Supervisors through the Los Angeles County Arts Commission.