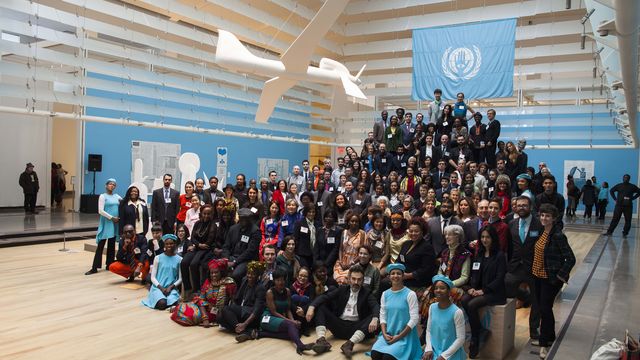 The People's United Nations General Assembly
to

This is a past program
to

This is a past program
The People's United Nations (pUN) General Assembly, presented as part of Hammer Projects: Pedro Reyes, is an experimental gathering of volunteers enlisted to represent the 195 member and observer states of the UN. Over the course of two days, the volunteer delegates test Reyes's hypothesis that conflict-resolution techniques used in social psychology, theater, and art can help solve the world's most challenging problems, from climate change, to fair wages for women, to food shortages. Prior to the pUN General Assembly, volunteer delegates are selected based on family connections to the nations represented at the UN.
Represent your country at this event!
Email us at pUN@hammer.ucla.edu or Carolina Guillermet cguillermet@hammer.ucla.edu to volunteer.
Read more about the program, and see a list of which countries still need representatives.
EVENT SCHEDULE
SATURDAY, MAY 2
11-11:45AM | pUN Times
11:45AM-12PM | Blessing of the Bees/Grasswhopper
12-1:15PM | Lunch
1:15-2:30PM | Chemotherapy for Gaia
2:30-4:30PM | Speed Dating
SUNDAY, MAY 3
11AM-12:15PM | Force Field Analysis 
Topics: Equal Pay, Marijuana Legalization, Planting Trees
12:15-12:45PM | Group Photo
12:45-2:00PM | Blessing of the Bees/Lunch
2:00-3:00PM | Panglossian Spontaneity
3:00-4:00PM | Population Growth
4:00-5:00PM | Ghost of Garcia-Robles
---
Parallel Activities:
Foreign Affairs Therapy
ATTENDING THIS PROGRAM?
ALL HAMMER PROGRAMS ARE FREE
Location: Various
Ticketing: The public is invited to observe the delegates over the course of the two day event and to participate in hourly guided tours of the assembly and exhibition from 11:30AM - 4:30PM. See a Visitor Experience Representative for more details.
Parking: Under the museum, $3 flat rate on weekends (cash only)
Part of the curatorial department, the Public Engagement program collaborates with artists to develop and present works that create an exchange with the institution and with visitors. Enacted both inside and outside the galleries, Public Engagement projects range from re-envisioned security guard uniforms to library and orchestra residencies. The Hammer Museum's Public Engagement program is supported, in part, by the Los Angeles County Board of Supervisors through the Los Angeles County Arts Commission.