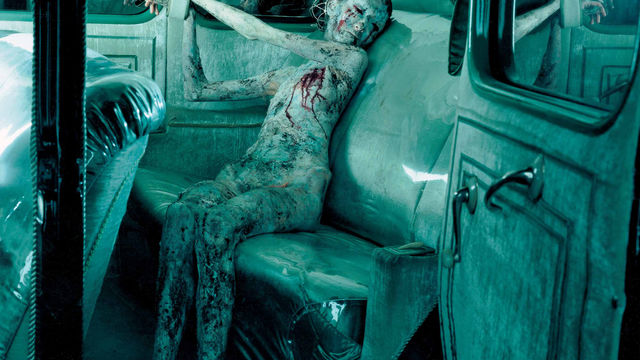 The Hammer presents Matthew Barney's epic masterwork The Cremaster Cycle, screened in its entirety over the course of several days. With near cult status in the art world, The Cremaster Cycle is an evocation of the creative process by Barney, a sculptor and performance artist and arguably one of the most important artists of his generation. Visually arresting and often disturbing, The Cremaster Cycle is a grand mixture of history, mythology, and autobiography exploring the creation of form. Each of the five films is projected on 35mm film, and presented in the order of its making. 
Cremaster 3 (2002)
Set in New York City and narrating the construction of the Chrysler Building, which is itself a character: the host to inner, antagonistic forces at play for access to the process of (spiritual) transcendence. These forces take form in the struggle between Hiram Abiff or the Architect (played by Richard Serra), and the Entered Apprentice (played by Barney), who are both working on the building while reenacting scenes from Masonic mythology. The film pauses midway for a choric interlude which rehearses the initiation rites of the Masonic fraternity through allegorical representations of the five-part Cremaster Cycle, all staged in the Guggenheim Museum. Features Aimee Mullins as the Entered Novitiate. (182 min.)
The Cremaster Cycle is screened in conjunction with the West Coast premiere of River of Fundament: A Film by Matthew Barney & Jonathan Bepler at UCLA's Royce Hall on Saturday, April 25, presented by Center for the Art of Performance (CAP UCLA). Click here for tickets and more information.
All Hammer public programs are free and made possible by a major gift from the Dream Fund at UCLA. 
Generous support is also provided by Susan Bay Nimoy and Leonard Nimoy, Good Works Foundation and Laura Donnelley, an anonymous donor, and all Hammer members. 
The Hammer's digital presentation of its public programs is made possible by the Billy and Audrey L. Wilder Foundation.