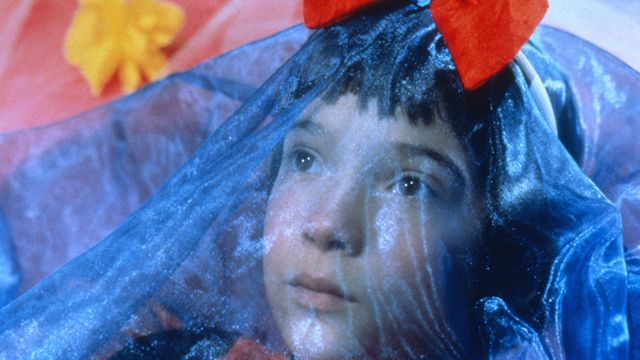 (Untitled) film marathon
to

This is a past program
(Untitled) film marathon is a 12-hour marathon of films about power, gender, desire, repression, diversity, art, society, culture, and identity. 
Jim Hodges' collaborative film Untitled (2010) juxtaposed archival footage, mainstream network news broadcasts, artists' documentation, and popular TV, film, and music for a reflection on the personal and the political. (Untitled) film marathon continues the discourse with screenings of documentaries, features, and short films that explore related themes by filmmakers past and present from all over the world.
Schedule
11:30AM: Born This Way, 82-min, Dir. Shaun Kadlec and Deb Tullmann
1:00PM: Jaurès, 83-min., Dir. Vincent Dieurtre
3:00PM: Ma Vie en Rose, 89-min. Dir. Alain Berliner
5:00PM: Lovepuzzle, 20-min., Dir. Carlos Marques da Cruz
Flaming Creatures, 43-min., Dir. Jack Smith
One Day Pina Asked, 57-min., Dir. Chantal Akerman
7:30PM: Women Without Men, 95-min., Dir. Shirin Neshat and Shoja Azari
9:30PM: What Now? Remind Me, 164-min., Dir. Joaquim Pinto
Born this Way
An intimate portrait of four young Africans, the award-winning documentary Born This Way offers a vivid, poetic portrait of day-to-day gay life in Cameroon, a country with the dubious distinction of having the world's highest number of arrests for the 'crime' of being homosexual. Lyrical imagery and a hidden-camera courtroom drama coalesce into a story of how transformation is possible in the global fight for equality.
Jaurès
Jaurès is a diary film 'consisting of tiny but precious reinventions from the exhausted notions of love and politics bequeathed us by the twentieth century. But in Jaurès my neighbor is not like me, my lover is not my boyfriend, my right is not my due, nothing is gained,' wrote Vincent Dieurtre of his evocative memoir, winner of awards at Berlin and Locarno film festivals, and one of the most extraordinary, unusual, and unorthodox love stores of many years, where the deeply personal merges with the political.
Ma Vie en Rose / My Life in Rose
Youngest child of the Fabre family, Ludo insists he is a girl, not a boy. Ma Vie en Rose / My Life in Pink tells of a family and community confronting a small child who knows his sex even when the adult world seems to dissent. Winner of The Golden Globe Award for Best Foreign Film, Ma Vie en Rose presents trans-gender issues through the innocence of childhood.
Lovepuzzle
A video love letter to an ex-beloved in the age of crystal meth, Lovepuzzle assembles desperate pieces of passion, music, and betrayal in a poetic song of despair and hope.
Flaming Creatures
Jack Smith's subversive gender-bending masterpiece Flaming Creatures depicts a bacchanal in a crumbling loft space, and in the celebratory words of film critic Amy Taubin, "a democratic mix of male transvestites, women and a couple of guys in merchant-marine uniforms who seem to have wandered in by mistake." Artist Jack Smith's most sensational 'scandal', Flaming Creatures is a joyous touchstone of 1960s New York underground film art. 
One Day Pina Asked
An encounter between two of the most remarkable women artists of the 20th century, One Day Pina Asked …, Chantal Akerman's documentary about the world of choreographer Pina Bausch, probes the emotional complexity of memory, bodies, gender, and relationships-in-motion within the  Wuppertal, Germany-based dance theater.
Women Without Men
Shirin Neshat's adaptation of Shahrnush Parsipur's magic realist novel, Women Without Men chronicles the intertwining lives of four women in Iran during the summer of 1953, a thriller that addresses human rights, voting rights, and especially the equal rights of women during a cataclysmic moment of Iranian history, when an Anglo-American backed coup d'état brought down the democratically elected Prime Minister to reinstall the Shah to power.
What Now? Remind Me
In his newest film, What Now? Remind Me, winner of the Jury Prize at the Locarno Film Festival, Joaquim Pinto looks back at his life in cinema, at his friendships and loves, and at the mysteries of art and nature–while undergoing an experimental drug treatment. In What Now? Remind Me Pinto, who has been living with HIV for more than two decades, moves freely between past and present, fact and fantasy, to create the portrait of a man looking beyond his own mortality at the world around us.
All Hammer public programs are free and made possible by a major gift from the Dream Fund at UCLA. 
Generous support is also provided by Susan Bay Nimoy and Leonard Nimoy, Good Works Foundation and Laura Donnelley, an anonymous donor, and all Hammer members. 
The Hammer's digital presentation of its public programs is made possible by the Billy and Audrey L. Wilder Foundation.