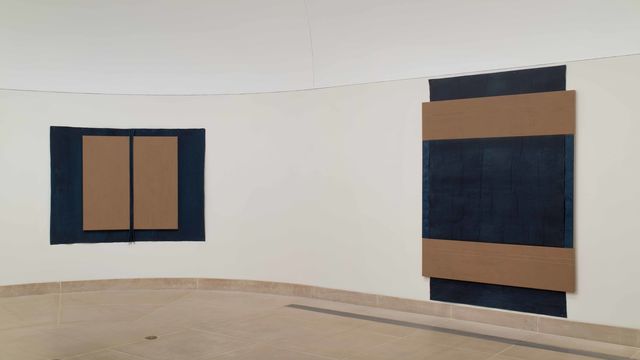 Public Engagement Flash Talk: Britt Browne on N. Dash
to

This is a past program
Public Engagement Flash Talks provide an opportunity for visitors to glean a unique perspective on art works displayed in the galleries through speakers who are connected to the art in sometimes unusual ways. 
For this talk on Hammer Projects: N. Dash, interdisciplinary artist, Britt Browne, will discuss the history of indigo, a plant material often used by artists. The compositions of N. Dash are made using unique methods involving indigo and graphite as well as traditional adobe on jute; prepared oil and acrylic paints; canvas and linen. In her own work, Browne has used and researched indigo extensively, especially in her 2007 collaborative art work with Robert Young, Growing Indigo, inspired by the Black Mountain School's Art Farm in North Carolina.
Biography
Britt Browne is an artist and aspiring farmer living in Los Angeles. 
Britt founded Growing Indigo, an art and agriculture concept project in 2007, with Robert Young when she began growing indigo varietals in the Champlain Valley of Vermont. Fascinated by the ideas of Black Mountain College in the 30's and indigo farmers like Rowland and Chinami Ricketts working today, she saw modern art and the tradition of craft functioning in a way that could meet the needs of a society.  
Riveted by the deep-rooted traditions around the world and known to go to extremes for these pursuits, Laura Silverman once wrote, "Britt has a mad case for the blues; she's in love with indigo." The author would like to add that she is equally keen on working with the elements; she likes to have a good time. "Likely to wake up so early she catches the first ray of sun breaking in the garden or, even better; on the water in Topanga," to swim in a perfect green blue hue.
At one point she took stock in the artifacts and objects she had collected, saved by people in the past, and realized that her work was really fueled by this behavior; the culture around passing things down that we hold onto so dearly. "We can see our nature, what matters most to us and what still thrives. I especially love a good fade; things sun-beaten or well-worn from a good useful life," she says.
The contours of Britt's attraction to color and process have been detailed before and seen inside The Shelburne Museum, The Standard Hotel, For Your Art, Fellows of Contemporary Art, W Magazine, The Plant Journal and most recently her film Jean de Oro screened inside the Hammer Annex. 
You can find her growing old world French lettuces and rare melons, among other things in Montecito Heights. She's made a collection of linens by hand called Growing Indigo for Early Birds sold in California, Tokyo and Kamkura, Japan... all naturally dyed in small batches with a forecast of heirloom pieces from the field in 2015.
ATTENDING THIS PROGRAM?
ALL HAMMER PUBLIC PROGRAMS ARE FREE. 
Parking is available under the museum for $6 for the first three hours with validation.
Part of the curatorial department, the Public Engagement program collaborates with artists to develop and present works that create an exchange with the institution and with visitors. Enacted both inside and outside the galleries, Public Engagement projects range from re-envisioned security guard uniforms to library and orchestra residencies. The Hammer Museum's Public Engagement program is supported, in part, by the Los Angeles County Board of Supervisors through the Los Angeles County Arts Commission.