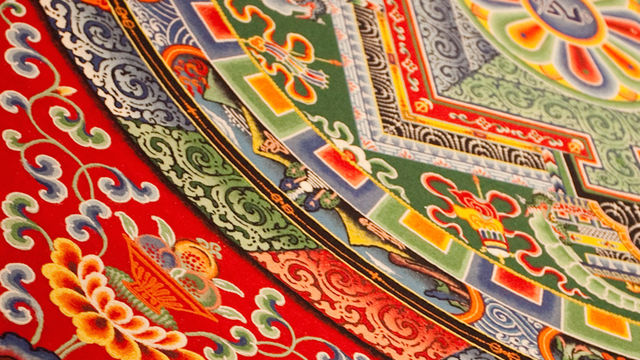 Public Engagement Flash Talk on Mandala of Compassion, with Venerable Gelong Kalsang Rinpoche
Saturday
Oct 11, 2014
1:30 PM
This is a past program
Venerable Gelong Kalsang Rinpoche, one of the esteemed mandala artists working on the Mandala of Compassion, will discuss the Chenrezig Mantra and explain its special importance to Tibetan Buddhists. 
This talk will take place in the Billy Wilder Theater; seats are available on a first-come, first-served basis. Please be aware that Ven. Gelong Rinpoche will speak to the audience through an interpreter.
Biography
Venerable Gelong Kalsang Rinpoche is the former Vajra Master of Rigdzin Drub-Pai Ghatsal, His Holiness Chatral Rinpoche's seat in Pharping, Nepal. Ven. Gelong Kalsang Rinpoche is a fully ordained bikshu monk and lama of the Nyingma lineage. Ordained as a monk at the age of eleven, Rinpoche studied with and has received empowerment and teachings from the foremost lamas of the Nyingma lineage of this era. Ven. Gelong Kalsang Rinpoche currently serves as abbot and spiritual director at Kunkhap Yoesal Thonkdol Choeling in Nepal as well as the Taiwan Nyingmapa Padmasambhava Pureland Buddhist Association in Taiwan, where Rinpoche oversees activities, teaches, and serves as spiritual adviser to his students.
Part of the curatorial department, the Public Engagement program collaborates with artists to develop and present works that create an exchange with the institution and with visitors. Enacted both inside and outside the galleries, Public Engagement projects range from re-envisioned security guard uniforms to library and orchestra residencies. The Hammer Museum's Public Engagement program is supported, in part, by the Los Angeles County Board of Supervisors through the Los Angeles County Arts Commission.