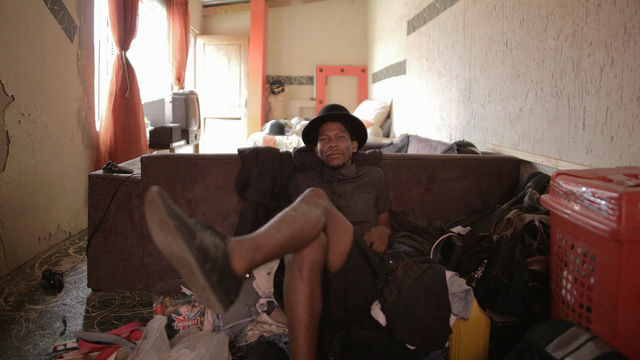 Shield and Spear: West Coast Premiere
What does democracy mean in South Africa today? Some of the country's most prominent artists examine hate crimes against the LGBT community, death threats for a political satirist, identity, race and creativity. With this emotionally gripping and beautifully filmed documentary, the Hammer commemorates the recent death of freedom fighter Nelson Mandela and the 20 year anniversary of the end of Apartheid. A Q&A with director Petter Ringbom and producer Alysa Nahmias  follows the screening. (2014, Dir. P. Ringbom, 89 min.) 
SPECIAL POST-SCREENING MUSICAL PERFORMANCE: THE BROTHER MOVES ON
"Jo'burg performance-art collective The Brother Moves On sidestep reductive genre pigeonholing. Thematically and sonically, their music is as much academic as it is soul, combining insightful social commentary and folk narratives with a hybrid of musical influences and ideas that speak to where they're at and where they're from." -Bongani Kona, Okayafrica.com
Joining us for a very special post-screening musical performance are Siyabonga Mthembu (aka Mr. Gold) and Zelizwe Mthembu (aka Makongela) of The Brother Moves On, a South African performance art ensemble from Johannesburg, Gauteng who are featured in the film Shield and Spear.
Their Hammer gig marks the US debut of The Brother Moves On, whose A New Myth was counted among the 50 best albums of 2013 alongside Daft Punk, Tyler the Creator, Boards of Canada, Earl Sweatshirt and The National on Platformonline.co.za. 
The group was founded in 2008 as a self-proclaimed art movement, mainly of graphic and fine artists. They have since incorporated instrumentalists for the live performance environment. Their moniker is a grammatical misconfiguration of The Brother Mouzone, a fictional transient assassin (whose name means "judicious" in Arabic) from the American television drama series The Wire. In their emerging stages, The Brother Moves On interrogated the notion that members were each an impermanent part of the process.
In its current configuration, The Brother Moves On performs mainly as a band. Members include Nkululeko Mthembu (costuming, performance artist, visuals), Nkululeko Mthembu's older brother Siyabonga Mthembu aka Mr.Gold (storyteller, lead vocalist, performance artist), their first cousin on their father's side Zelizwe Mthembu aka Makongela (vocalist, guitarist, flautist), Raytheon Moorvan/ Raytheism (vocalist, guitarist, synthesizer), Ayanda Zalekile (vocalist, bassist, multi-instrumentalist), Simphiwe Tshabalala (vocalist, drummer). As of 2012 Rob Scher joined on saxophone.
All Hammer public programs are free and made possible by a major gift from the Dream Fund at UCLA. 
Generous support is also provided by Susan Bay Nimoy and Leonard Nimoy, Good Works Foundation and Laura Donnelley, an anonymous donor, and all Hammer members. 
The Hammer's digital presentation of its public programs is made possible by the Billy and Audrey L. Wilder Foundation.