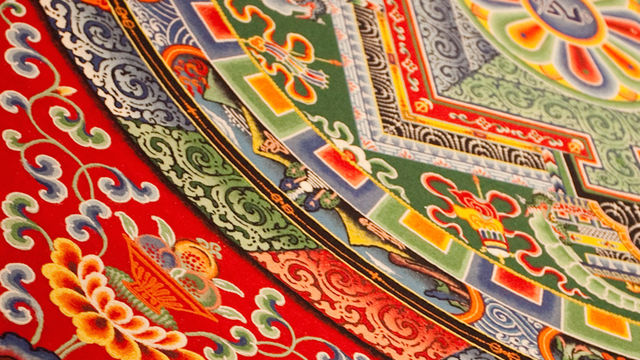 Public Engagement Flash Talk on Mandala of Compassion, with Tsarak Pema Namdol Thaye
Sunday
Sep 28, 2014
2:00 PM
This is a past program
Tsarak Pema Namdol Thaye is a widely respected Tibetan painter, sculptor, 3-D Mandala specialist and educator who is trained in the ancient traditions and artistic lineage of Tibet. Pema Namdol will speak about the unique paints and tools, often crafted from precious gemstones and other rare organic materials, that he uses to create his intricate T'hangka paintings. An example of Pema Namdol Thaye's exquisite work is currently on view as part of Mandala of Compassion exhibition in the Lobby Gallery.
This talk will take place on the courtyard level, in the LAB.
Part of the curatorial department, the Public Engagement program collaborates with artists to develop and present works that create an exchange with the institution and with visitors. Enacted both inside and outside the galleries, Public Engagement projects range from re-envisioned security guard uniforms to library and orchestra residencies. The Hammer Museum's Public Engagement program is supported, in part, by the Los Angeles County Board of Supervisors through the Los Angeles County Arts Commission.