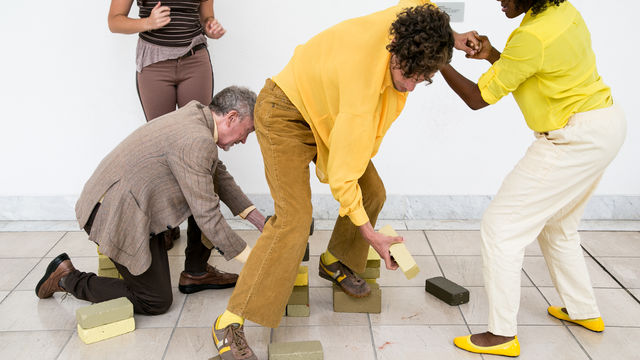 Public Engagement Flash Talk on Emily Mast, ENDE (Like a New Beginning)
to

This is a past program
Emily Mast's contribution to Made in L.A. 2014, ENDE (Like a New Beginning), is a multi-media work that draws on the languages of visual and performing arts. This work includes videos, objects, and unannounced performances throughout the Hammer's spaces and is characteristic of the way Mast often plays with viewer expectations by manipulating the style of theatrical staging and reinterpreting inherent means of communication.
For this Flash Talk, Luke Johnson, one Mast's collaborators who activates the objects in ENDE (Like a New Beginning), will give visitors a glimpse into the inner workings of this performative piece. Johnson will illuminate the improvised format of the work and discuss the unusual experience of intervening in the gallery space.
Part of the curatorial department, the Public Engagement program collaborates with artists to develop and present works that create an exchange with the institution and with visitors. Enacted both inside and outside the galleries, Public Engagement projects range from re-envisioned security guard uniforms to library and orchestra residencies. The Hammer Museum's Public Engagement program is supported, in part, by the Los Angeles County Board of Supervisors through the Los Angeles County Arts Commission.