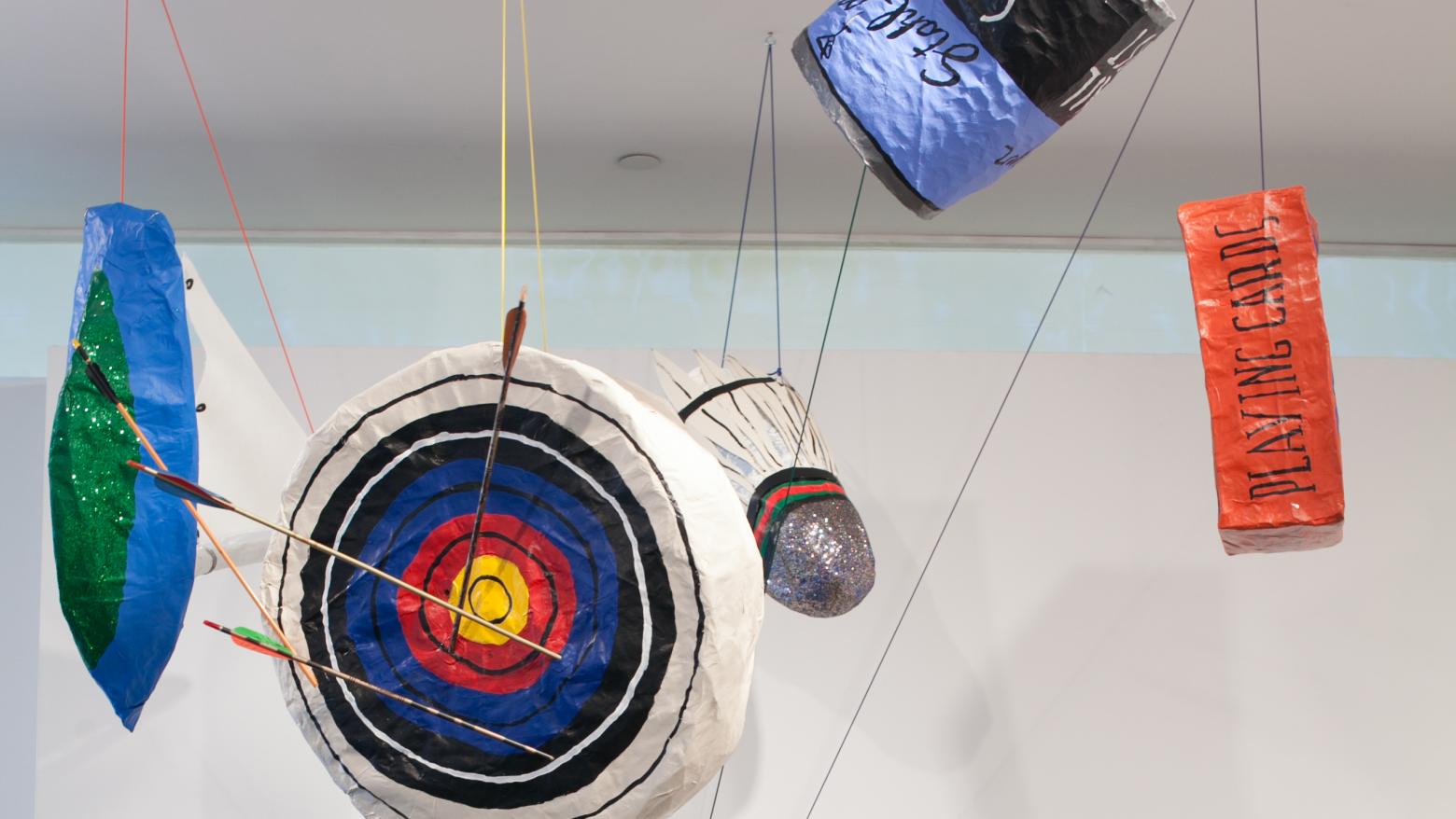 Piñatas: Recreational Items from Unfortunate Events
Sunday
Feb 17, 2013
2:00 PM to 5:00 PM
This is a past program
Join artist Sarah Bay Williams for the concluding event of the Hammer Museum's Game Room, an exhibition of multiplayer, analog, and interactive games designed by contemporary artists.
Visitors are invited to destroy a number of papier maché piñatas crafted by Williams, as part of the series, Recreational Items from Unfortunate Events. Each piñata represents an unfortunate historical or contemporary event involving a game or a competition, and according to Williams, "smashing them will frustrate misfortune and deliver catharsis." Piñatas include a Deck of Cards (in memory of Jack Strauss who swept over $750,000 from live poker tournaments), a Shuttlecock (in celebration of Shon Seung-mo, a partially blind badminton Olympics silver medalist from South Korea), and a Sailboat (commemorating the unfortunate Sydney to Hobart Yacht Race), to name a few examples.
A storyteller, Tabitha Christopher, will accompany Williams, reading the macabre anecdotal narratives related to each piñata and explaining the rules of the game.
After 2pm and until 5pm, every half an hour, one of the piñatas will be destroyed by willing volunteers, spilling forth toys, games, and gold confetti, creating what the artist calls "an impossible moment when something bright is generated from something destroyed."
About Game Room
From December 1, 2012 – February 17, 2013, Hammer Museum hosts a collection of multiplayer games designed by contemporary artists. The participating artists in Game Room explore a variety of concerns, such as Noa P. Kaplan's investigation of food production and consumption systems and Sarah Bay Williams's simultaneously sweet and aggressive confrontation of loss. Jakob Penca, Marek Plichta, and Till Wittwer harness human movement to create a mechanical-looking conveyance procedure, while Alexis Smith unfurls a layered version of Americana. Eddo Stern, also engaged in the realm of digital games, addresses head-on the detachment that electronic games can create head-on. And, Samara Smith's place-related game, tailored to Westwood, calibrates players to their physical surroundings. Collectively the artworks represent a game ethos of a bygone time, reverting to the tactile and grounded in face-to-face interaction.
Part of the curatorial department, the Public Engagement program collaborates with artists to develop and present works that create an exchange with the institution and with visitors. Enacted both inside and outside the galleries, Public Engagement projects range from re-envisioned security guard uniforms to library and orchestra residencies. Public Engagement was established in 2009 thanks to a James Irvine Foundation Arts Innovation Fund grant. In kind support provided by Ikea.