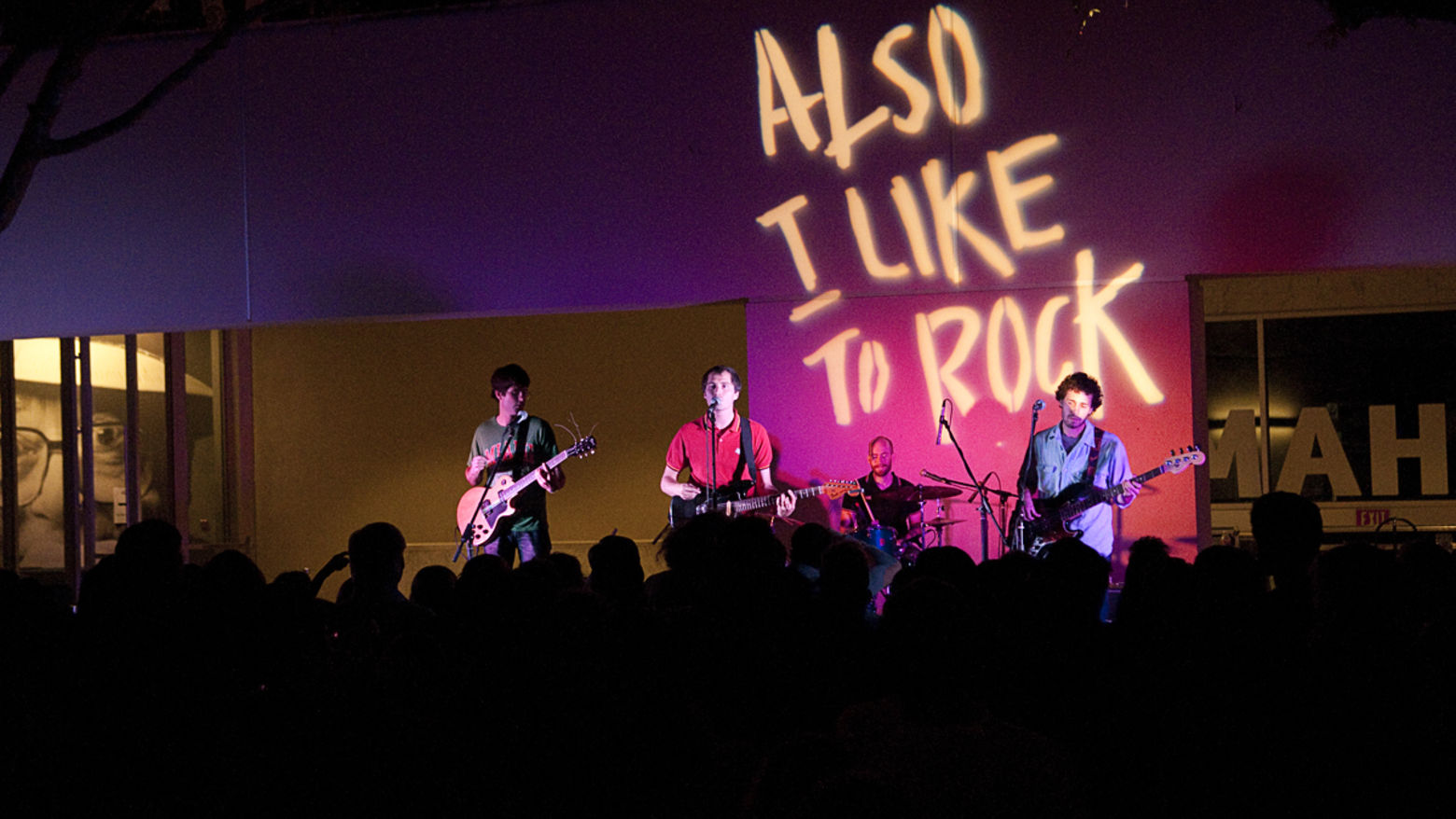 Also I Like to Rock: The Soft Pack & Hanni El Khatib
Friday
Jul 15, 2011
7:00 PM to 11:00 PM
This is a past program
The Hammer courtyard turns electric in July, when Also I Like to Rock returns for a series of free concerts featuring today's top emerging bands. Presented in partnership with KCRW 89.9 FM and curated by Buzz Bands LA, two bands per night will perform, with KCRW DJs spinning between sets.
Featuring KCRW DJ Chuck P.
Photos
View photos from the event here.
The Soft Pack
"At a time when a lot of retro-garage types are playing it languid and low-fi, the Soft Pack exude wide-eyed angst." —Rolling Stone
"The Soft Pack makes fast, scrappy music full of guitar riffs that ricochet between low-fi recklessness and sunny euphoria." —Los Angeles Times

Launched in 2008 in San Diego (as the Muslims, a name the quartet has since dispatched) by guitar-playing friends Matty McLoughlin and Matt Lamkin, the Soft Pack rocketed to success in 2009 with a punk-meets-garage rock sound inspired by the Modern Lovers, the Fall, the Velvet Underground and the Ramones. With bassist Dave Lantzman and drummer Brian Hill, the foursome released its self-titled debut in 2010 on Kemado Records and has toured the world, including dates at the Coachella and Lollapalooza festivals.
Hanni El Khatib
"El Khatib's voice is like woodsmoke or bourbon, acrid yet sweet, as timeless as jeans and a T-shirt." —Los Angeles Times
A multi-instrumentalist who serves as singer, songwriter and producer for his one-man band, Hanni El Khatib wields a sinewy guitar and a wry, whiskey-glazed voice to fashion a mix of bluesy garage-rock soul meets malt shop music for those who drink them spiked with bourbon. "These songs were written for anyone who's ever been shot or hit by a train," says Hanni, who's joined live by drummer Nicky Yaryan.
Public programs are made possible by Hammer Members and the generosity of Bronya and Andrew Galef, Good Works Foundation and Laura Donnelley, and an anonymous donor.