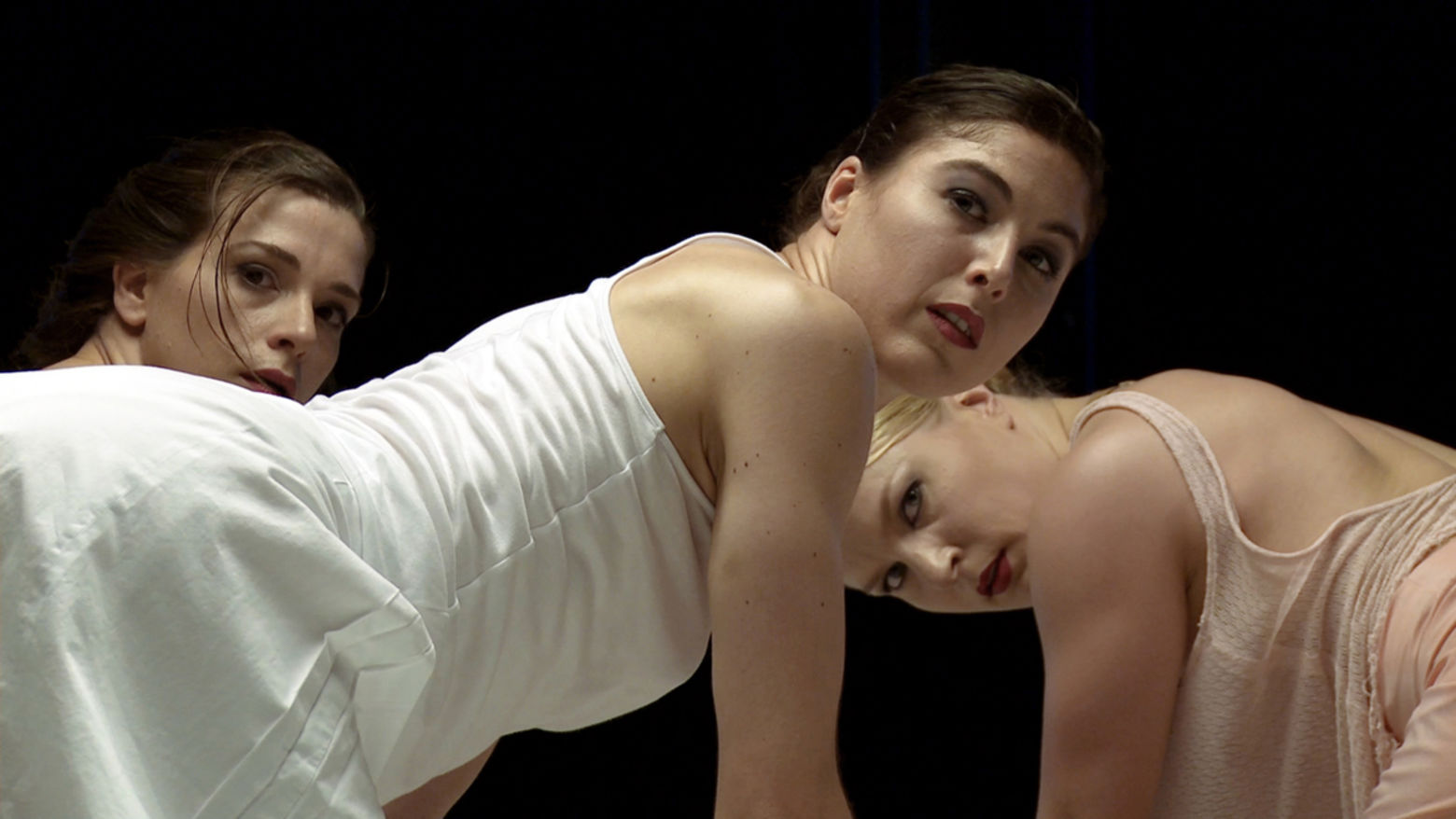 Dance Camera West
Saturday
Jun 18, 2011
2:00 PM to 9:00 PM
This is a past program
Schedule
2:00PM–3:15PM

The Last Tightrope Dancer in Armenia
Two of Armenia's most celebrated tightrope dancers, both in their late 70's, search for an apprentice to take over this ancient art form or face having it lost forever. Winner of the Grand Prix of the 19th International Festival of Ethnological Films, along with a dozen awards for Best Documentary and Special Jury Awards throughout Europe. (Dir. Inna Sahakyan and Arman Yeritsyan 2009, Armenia. 72 min)
4:00PM–5:15PM 

Screendance Shorts 3
Eight short films of screendance from Mexico, Australia, Canada, and the United States, and a live performance relay featuring dancer Louise Lecavalier with choreography by Edouard Locke of La La La Human Steps.
From art historical references to political statements, this program of international short dance films cover everything from Montreal's night life, an homage to Joseph Cornell's boxes, some Radiohead, insanely brilliant performers with directors who "get it", and a video memorial of people from around the world performing the Tank Man Tango on the 20th Anniversary of the protests at Tiananmen Square.

Slow Dance
2010 Canada, 4 min.
Dir. Joe Cobden, Chor. Joe Cobden
A young woman has to literally fight her way through the bar just to meet a guy worth considering. Produced by Bravo! FACT Festivals: Cinedans; Amsterdam, Dance for Camera; NY

Training Session
2010 Canada, 6 min.
Dir. Christian Lalumiere, Chor. Helene Blackburn
A simple training routine becomes a ballet when five athletes play the role of chords in a musical score. Produced by Bravo! FACT

Status Quo
2011 Canada, 7 min
US Premiere
Dir. Kenneth Sherman, Chor. Amber Barton and Josh Martin
An intimate portrait of the empty spaces in a failing relationship. Produced by Bravo! FACT, Canada Council–Dance on Screen Program World Premiere at Cannes 2011

Figment
2010 USA, 3 min
West Coast Premiere
Dir. Gabrielle Lamb, Chor. Gabrielle Lamb
Inspired by the specific imagery and sense of movement in artist Joseph Cornell's boxes, Produced by Gyre and Gimble; Festivals: American Dance Festival, VideoDanza; Buenos Aires

Vias de Vuelo
2011 Mexico, 10 min
US Premiere
Dir. Alfredo Solomon, Chor. Gilberto Gonzalez
Following a contemporary Icarus in search of his own freedom, this film provides a brief, humorous glimpse into the meaning of freedom in human life. Produced by Santas Producciones, Onirico, danza-teatro del cuerpo Secretaria de Cultura del Estado de Puebla

The Rose Seller
2010 Canada, 8 min
Dir. Kevin Barnes, Chor. ProArteDanza
Nostalgic and in search of love, Augusto shuffles through the downtown café district, selling roses to young couples. When a heavy rain chases away his customers, he is rescued by a former love, the Tango. Produced by Bravo! FACT

Vertiges
2009 Canada, 4 min
West Coast Premiere
Dir. Stephanie Decouteille and Charles Pomerlo, Chor. Stephanie Decouteille
This film depicts the mad rush of modern women––the one who wants everything, who seeks to hold control over her life, and she is breathless and exhausted.

Tank Man Tango: A Tiananmen Memorial
2009 Australia, 5 min
US Premiere
Dir. Deborah Kelly and Jane McKerman
In 2009, people gathered all around the world to remember the 20th anniversary of the massacre at Tiananmen Square. In 20 cities, the memorial took the form of a dance based on the steps of Tank Man, who defied the tanks and became an icon of resistance to state brutality. Reeldance International Dance on Screen Festival, Australia

A Few Minutes of Lock
2009 Canada, 13 min
Dir. Marlene Millar, Chor. Edouard Lock
In her 19-year career with La La La Human Steps as Édouard Lock's muse and collaborator, Louise Lecavalier became an icon of Canadian contemporary dance. Now working with her own company, Fou Glorieux, Lecavalier revisits three duets from her final years with La La La Human Steps, alongside dancer Elijah Brown. Produced by Marlene Millar and Fou Glorieux Festivals: Cinedans; Amsterdam
6:00PM–7:15PM
Director's Talk with Mike Figgis
Writer, director, and composer Mike Figgis has roots in experimental theatre and music, which are just two primary influences that contribute to the creative vision in all of his feature films and documentaries. Figgis has emerged as a visionary filmmaker who thrives on taking artistic risks which leave his audience with a long lasting aesthetic impression and visceral experience. His film Leaving Las Vegas which he wrote, directed and scored was nominated for four Academy Awards including the win for Best Actor by Nicholas Cage. He will talk about how film is different from the performance. Figgis will be in conversation with Krista Smith, west coast editor of Vanity Fair.
8:00PM–9:00PM

The Co(te)lette Film
U.S. Premiere
The Co(te)lette Film is Mike Figgis' film version of the dance performance "Co(te)lette," by Dutch choreographer Ann van den Broek and WArd/ward. The dance performance won the Zwaan (Swan) in 2007/2008 – Holland's most prestigious dance award. "Co(te)lette" is an intimate piece for three female dancers caught in a vicious circle between desire and fulfillment. The dance is a portrait of women, torn between attractiveness, sensuality, lust, carnality, fame, success, reflection, control and stillness. The Co(te)lette Film premiered at the Cinedans Festival 2010 in Amsterdam. Followed by Q& A with Director Mike Figgis. (Dir. Mike Figgis. 2010 Belgium/ U.K. / Netherlands, 58 min)
Public programs are made possible by Hammer Members and the generosity of Bronya and Andrew Galef, Good Works Foundation and Laura Donnelley, and an anonymous donor.