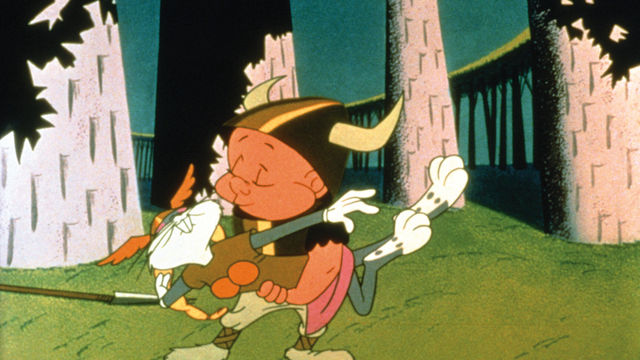 Family Flicks Film Series: Classical Cartoons
Sunday
Jul 11, 2010
11:00 AM to 2:00 PM
This is a past program
Four animated shorts offer an entertaining introduction to classical music by composers Sergei Prokofiev, Richard Wagner, Gioachino Rossini, and Franz Liszt.
What's Opera Doc?
Wagner's opera Der Ring des Nibelungen gets the classic Looney Tunes treatment, with Bugs Bunny as Brunhilde and Elmer Fudd playing Siegfried. (1957, 35mm, color, 7 min. DIR: Chuck Jones. SCR: Michael Maltese)
Rabbit of Seville
The Hollywood Bowl features prominently in the operatic mayhem that ensues after Elmer Fudd chases Bugs Bunny backstage during a performance of Rossini's opera in which they both end up with starring roles. (1950, 35mm, color, 7 min. DIR: Chuck Jones. SCR: Michael Maltese)
Rhapsody Rabbit
Bugs Bunny is in a classical mood, trying to perform Franz Liszt's Second Hungarian Rhapsody were it not for the mouse scampering through his grand piano. (1946, 35mm, color, 7 min. DIR: Friz Freling. SCR: Ted Pierce, Michael Maltese)
Peter and the Wolf
Director Suzie Templeton's Academy Award-winning stop-motion adaptation brings a dark, dreamy edge to the magic and wonder of Sergei Prokofiev's timeless symphony for children. After playing in the woods with his friends, Duck, Cat and Bird, the young Peter is confronted by a menacing wolf with each animal represented by the sound of different musical instrument. Featuring a new recording of Prokofiev's symphony by the Philharmonia Orchestra, Templeton's enthralling film offers a unique way to introduce children to classic music. (35mm, color, 32 min. 2006, DIR/SCR: Suzie Templeton)
Public programs are made possible, in part, by a major gift from Ann and Jerry Moss.
Additional support is provided by Bronya and Andrew Galef, Good Works Foundation and Laura Donnelly, an anonymous donor, the Hammer Programs Committee, and Susan and Leonard Nimoy.